| | |
| --- | --- |
| | The Words of the Jenkins Family from 2008 |
National Family Summit UPDATE
Michael Jenkins
June 21, 2008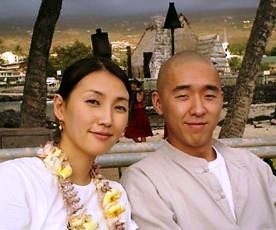 What is the FFWPU- USA National Family Summit?
What is Happening?
We will welcome and worship with the new International President of FFWPU- Rev. Hyung Jin and Yeon Ah Moon, with thousands of Blessed Families from across America. We will be graced by Dae Mo Nim's participation, and other Special Guests. We will also have special program "tracks" for parents, young adults, teens, and children.
Where is it Happening?
We are finalizing the preparations for the summit at either the University of Maryland at College Park (10 miles from downtown DC) or Towson University (north of Baltimore, 45 miles from downtown DC). We will announce the venue in the coming week.
When is it? We plan to begin first thing Sunday morning, Aug. 10th, and finish by early afternoon on Monday, Aug. 11th.
Where can we Stay? We recommend that families consider the following three options:
1) We will secure low-cost accommodations on the campus where the summit will be held.
2) We will recommend low-cost hotels in the summit area.
3) Many Washington, Maryland and Virginia Family Church members will be opening their homes to welcome families from out-of-town. Stay tuned for further information.
What is in it for Our Families?
In addition to the main program, the following breakout "tracks" are being considered:
Marriage Education
Youth Sportsfest
Young Adults
Youth Concertfest
Children's Program
Family Festival (booths, displays, resources)
Family Resources (BFD, BFA, etc)
Outreach / Family Fellowship
Stay Tuned For Further Updates and Information!