| | |
| --- | --- |
| | The Words of the Jenkins Family from 2008 |
Universal Peace Federation Report - Kenya GPF Tremendous Success
Michael Jenkins
September 9, 2008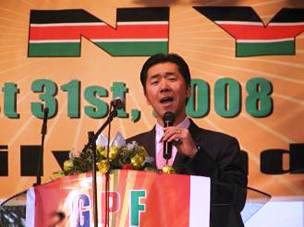 Universal Peace Federation: Kenya GPF
2008 Kenya GPF Victory Report - Nairobi's sensation goes beyond Kenya and spreads across the African continent
Kenya, Africa is the third nation to hold '2008 GPF' (Global Peace Festival). Programs including ILC and GPF were held in her capital, Nairobi, from August 29 to 31. Kenya is the center of trade and finance in Eastern Africa, and unlike her neighboring countries, she is a Christian nation with more than 70% of the people being Protestants or Catholics. Centering on the vision 'One Family under God,' GPF displayed the power of love; reassembling the broken puzzle for peace in the nation. An amazing wave is rising in this nation on the equator known for its Maasai Tribe reaching all of Africa.
Kenya is a nation prepared to realize God's ideal of 'One Family under God' in Africa. Centering on Christianity and Catholicism, a majority of the people naturally love and follow God, and they lead harmonious lives with other religions. In comparison to other African countries, Kenya values family, and a lifestyle of attending God is publicly fixed. GPF was introduced in a live, nationwide talk show called 'Good Morning Kenya' from a state operated TV station KBC (Kenya Broadcasting Corporation). The host started the show with a prayer, which shows that a faithful religious culture is rooted in their daily lives.
Based on such culture, the attitudes and interests of the Kenyan leadership participating in the ILC were exceptional. No one was late to the lectures, everybody listened attentively, and they did not forget to ask enthusiastic questions. The participants showed deep interest especially in God's vision, providence, and its direction.
On the other side, the participants' passionate interests and responses is relevant to Kenya's recent political crisis. As an aftermath of the presidential election in December 2006, conflict among tribes deepened in Kenya, which was known as Africa's politically model nation, and hundreds of people lost their lives. In the 2007 presidential election, counting of ballots stopped broadcasting after 70% of the votes had been counted, where the candidate from the opposition party was leading against President Kibaki by more than one million votes. And after three days, the government declared the president as being reelected. Political confusion in Kenya expanded from that event.
In order to straighten things out and prevent further confusion, many leadership including the former UN secretary general Kofi Annan and other African national leaders became the arbitrators. At this time, the presidential candidate Raila Odinga's brave decision brought an early end to the situation. He is the leader of the number one party not in office, Orange Democratic Movement, and has been investing his whole life to make Kenya a nation of peace and prosperity for God. He had been deeply moved by True Parents' UPF and its vision 'One Family under God.'
After he was appointed as a Peace Ambassador in the 2006 ILC held by True Parents in Korea, he participated in many ILCs, and he was inspired by True Parents' ideology. He is also the most popular politician in Kenya. He has once declared that 'One Family under God' is the core vision that could revive his country. The day after he was appointed the Prime Minister, he met with Thomas Walsh who was sent as the UPF special envoy and Hee Sun Ji, Chairman of Kenya, and stated that Rev. Moon's teachings have influenced him to make such decisions to settle the crisis. Even though GPF Kenya was facing the possibility of not taking place due to insecure political conditions, the righteous leader prepared by True Parents stood in the position of the Abel leadership and prepared the turning point for great victory.
President Hyun Jin Moon is coming back on stage for the speech after dancing with Odinga, the Prime Minister of Kenya, and Lady Ida and capturing the 20,000 crowd gathered for GPF Nairobi.
Prime Minister Raila Odinga gave welcoming remarks at the GPF banquet on August 30 and emphasized that "GPF is presenting a startling vision that before we or our nation is a member of the political faction, we are God's children. The vision of building a society of one humankind and one family centering on God is a precious vision that ultimately binds all mankind as brothers and sisters." After this remark, in a separate conversation between President Hyun Jin Moon and Minister Odinga, President Moon captured the attention of this prepared leader who will be representing Kenya and Africa.
While talking about the topic of cleaning the Nairobi River, President Moon moved Odinga's heart with the power of persuasion he has inherited from True Parents by saying that if Kenya moved forward with the heavenly fortune centering on the vision of GPF, time will come when she could revive the whole African continent along with the miracle at Nairobi River and awaken Europe as well, just like Korea, which was a nation of poverty, rose to be one of the top ten economically powerful nations through the Saemaeul Movement (new community movement) and the miracle at Han River. DSC_3696 The main festival for GPF Kenya 2008 was held at the Kenyatta International Conference Center (Kenyatta is Kenya's first president). A crowd of 20,000 started to gather hours before the event and showed their passion by standing throughout the whole festival.
Publicity about GPF by the media helped with such results, but the most effective advertisement and publicity was the vision and hope of GPF spread from people to people. Text Box: Prime Minister Odinga giving welcoming remarks Prime Minister Raila Odinga and his wife, who are also the people's idol, had been invited to American presidential candidate Obama's Danbury convention and were planning to attend, but they had canceled it to attend the GPF event. Through his welcoming remarks, he conveyed to the audience his deep testimonies about True Parents, President Hyun Jin Moon, and the vision of GPF. The most inspiring moment was when he introduced President Hyun Jin Moon so passionately and sincerely in front of all the audience and in front of all the press. Before giving the speech, President Hyun Jin Moon held hands with Prime Minister Odinga and his wife and danced together all the way to the end of the stage, capturing the hearts of the unfamiliar audience at once and showed his leadership.
In the introduction of the speech that followed, he opened by saying that "Prime Minister Raila Odinga is the first national leader that introduced my father and my family to the GPF participants most respectfully," and that "today is a historical day for not just Kenya but for Africa." In his keynote address, President Hyun Jin Moon testified about True Father's life and introduced Him as the Rev. Sun Myung Moon, his own father, and the audience responded with ardent cheers and applause. The crowd's enthusiastic reactions displayed how much the Kenyans love God and how much they long for peace. Due to such applauses, the speech had to be stopped and waited for the audience to calm down several times.
President Hyun Jin Moon is asking the audience if they are ready to dream big and go over the walls of race, religion, and nation under the ideology of One Family under God. The audience is responding with cheers.
What is even more inspiring is that he raised the pride of the Kenyans and got rid of any possible misunderstandings by stating that harmony and peace accomplished by Prime Minister Raila Odinga, our peace ambassador, and President Mwai Kibaki is the victory of great leadership and spirit of Kenya.
There was one incident where God's love for and presence in '2008 GPF Kenya' could be felt. At the beginning of the main festival, strong winds and dark clouds approached the area, and it became dark and the sky was filled with rain clouds as if it were going to rain any moment. However, surprisingly, before President Hyun Jin Moon's speech, the strong winds stopped quietly and the rain clouds passed through the area. One of the participants testified that "We Kenyans are very spiritual and religious, and the participants will attach great meaning to the natural phenomena that took place during President Hyun Jin Moon's speech. GPF is God's blessing and a vision that mankind should definitely accomplish." Special guests including the track athletes of Kenya who participated in the 2008 Beijing Olympics attended the festival as well. Kenya is well known for sweeping gold medals for marathons and long distance running at the Olympics. Gold medalists for men and women's marathons and 3,000 meter tracks at the Beijing Olympics attended GPF.
Countries adjacent to Kenya had their Cabinet members and major national leaders participate in the Kenya ILC and GPF, and the success stories of 2008 GPF Kenya are spread to other countries in Africa through them. Also from this opportunity, many African countries are informing us of their desire to hold ILC and GPF.
One of the reasons why '2008 GPF Kenya' is having such positive response from the Kenyans as well as other African countries is that GPF is not just an event but is a continuous education movement for the general public that is being settled as a culture of living for the sake of others. This time in Kenya, the extensive service project of cleaning up the badly polluted Nairobi River brought about great interest. Tens of thousands of volunteers participated in the project, and it was a significant experience especially for the Kenyan teenagers who realized once again the value and meaning of 'living for the sake of others.'
Nairobi riverside is occupied by people of the poor class and its pollution level is serious. Total of 70,000 volunteers divided into 10 regions continued to clean the area for one month.
Chairman of Japan Do Soon Im and his wife Myung Ok Shim were the ones who were filled with the most inspiration and gratitude from GPF Kenya. With True Parents' special blessing, they visited Kenya with 25 Japanese leaders. Chairman Do Soon Im reflected on the past 10 years he worked as the National Messiah of Kenya while surviving malaria and cancer, and testified in front of the Japanese leaders that Hyun Jin Nim has brought completion to the 10 years of effort and that he has shown us how restoration of a nation starts through GPF.
The newly appointed continental director Hee Sun Ji who took over the preparation for GPF, which the former Chairman Dokuno Aigi had been working on, right after his inauguration on May 18 and led to great victory also expressed his sentiments. Between Congo that has many members and Kenya with no foundations, choosing Kenya for the purpose of a bigger challenge was not an easy decision. The background reason for deciding on Kenya was that even though the members' foundation in Kenya was small, they were strongly united internally and the continental headquarters was located in Kenya. To set conditional foundations, Continental director Hee Sun Ji held a 40 day DP workshop with over 60 public leaders and national presidents working in Africa and led external activities during the day. Such victory was possible because every member became one in their conditions and worked with passionate hearts centering on the vision of GPF.
Africa is still one of the continents known for its suffering from poverty, starvation, and dispute. That is why the African people's hope and expectations for peace is deeper and more sincere than those in any other continent. They are still devoting themselves to various efforts to put the broken pieces of the puzzle of peace. However, the efforts of politics, economy, culture, and religion for building a peaceful world should all be connected and focused centering on one vision. In this content, as GPF continues in each continent, we can confirm that the vision of GPF, 'One Family under God' is the vision that today's mankind has been waiting and hoping for.
President Hyun Jin Moon held the victory celebration with the members on the morning of September 1 to offer victory of GPF Kenya to God and True Parents. Afterwards, he left for Japan, the mother nation, to check the preparation for GPF Japan to be held on November 15 and to give passion and conviction for GPF to the leaders, members, and peace ambassadors in Japan before attending GPF Mongolia on September 9.
We ask all leaders and members of the Unification movement for your prayers and conditions for all 2008 GPF events, including Mongolia, to be successful to aid in the providence toward the completion of Cheon Il Guk in the year 2013.