| | |
| --- | --- |
| | The Words of the Jenkins Family after 2008 |
Major Pastors Call for Greater Reverence to God and His Power as Well as Community Partnerships to stop the Violence in Chicago
Michael Jenkins
July 12 2010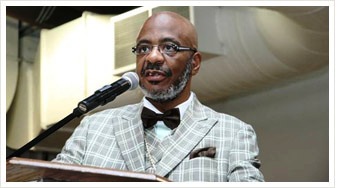 The nationally well-known Bishop Larry Trotter kindly hosted our ACLC Prayer Breakfast in Chicago on June 22, 2010. Rev. Steven Thurston, President of the National Baptist Convention, gave the key message. He gave a powerful sermon on the situation of the violence in Chicago.
52 people had recently been shot over Father's day weekend. Rev. Thurston really called upon the ACLC pastors to get involved with the police, the alderman and the community, and then brought down the fire of the Holy Spirit and really dealt with the need for God. He said familiarity breeds contempt and we shouldn't call God the "Man upstairs" but rather God, Jehovah. We must realize that we must become reverent to God and God's power will come. We can transform our communities.
Another major new pastor of the Church of God in Christ, Rev. Royce Cornelius told me that they are now with ACLC!! Altogether it was a powerful ACLC Prayer Breakfast.