| | |
| --- | --- |
| | The Words of the Jenkins Family after 2008 |
Women In Ministry National Conference, Oct. 28-30, 2010
Tanya Edwards, Ethel Hayes, Reiko Jenkins
September 14, 2010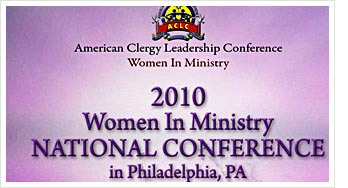 Dear Sisters in Christ,
We are happy to announce our 2010 National Conference of ACLC Women In Ministry, to be held on Thursday, October 28th -- Saturday, October 30th, on the theme "Women of Spirit, Liberty and Freedom." We will meet in Philadelphia, the first capital of America which is a symbol of liberty and the founding of America.
We have invited Rev. In Jin Moon as our Keynote speaker. She is the daughter of Father and Mother Moon, as well as Prelate and presiding spiritual head of ACLC. Throughout 2010 ACLC has been working with her for religious freedom in Japan. She herself has been visiting the Capitol every week with ACLC men and women clergy to meet congressmen and senators and has secured significant support to address this human rights issue. She is a righteous woman of God and we are grateful that ACLC leadership is so committed to do the work for religious freedom and human rights on every level.
We believe that we can strengthen our identity as women of faith to bring true freedom and liberty to the family, the nation and the world through this conference. As women, we also want to be strengthened in our divine role as Spiritual Leaders, mothers and sisters in Christ. The conference will also emphasize spiritual renewal, reconciliation and healing that blesses our spiritual and physical well being. We are planning to visit America's historic sites: the Liberty Bell, Mother Bethel AME Church (one of the first black churches in America), Independence Hall, and Betsy Ross's home on Friday October 29th.
DATES: Thursday Oct. 28th -- Registration opens at noon; conference begins 2:00 pm
(Lunch on your own)
Saturday, Oct. 30th -- Conference concludes at noon.
(Breakfast is the final conference meal.)
PLACE: Hilton Philadelphia Airport
4509 Island Ave Philadelphia, PA 19153
Tel: 215-365-4150
The registration fee for the 2 nights and 3 days of the conference is $295.00. This includes accommodations (double occupancy), 5 meals, tour of historical sites by bus, and Conference materials. (The registration form lists fees for those who will attend only part of the conference.)
This conference will be primarily financed through registration fees, but we will also be seeking sponsors and donors for expenses through the souvenir ad booklet and other efforts. We will be so appreciative if you can place an ad for your ministry, your family or your own personal message (form is attached). We look forward to seeing you In Philadelphia. God Bless you, your family and ministry!!
Sincerely yours,
Rev. Tanya Edwards
National Coordinator
ACLC WIM
Rev. Ethel Hayes
National Coordinator
ACLC WIM
Min. Reiko Jenkins
National Coordinator
ACLC WIM