| | | | |
| --- | --- | --- | --- |
| | The Words of the Jenkins Family | | |

ACLC Pastors' Prayer Breakfast
Michael Jenkins
October 25, 2005
Chicago, IL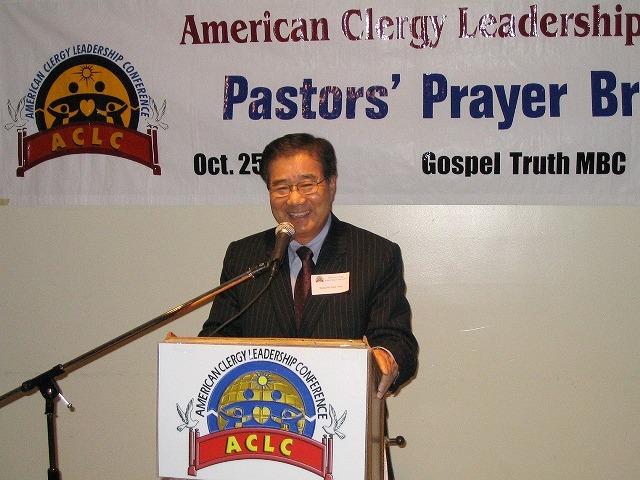 For Chicago's October Prayer Breakfast, I was given the honor of being chosen by Bishop Kim to deliver the sermon. As I drove the one and a half hours to Rev. Mobley's church, my mind was flooded with ideas of what to say. In essence I was going to narrate the PowerPoint slide show of True Father's 120 city speaking tour. Kazuo and Kunihiro had put together a montage of pictures from all over the world which even included the list of each of the speaking venues. I arrived shortly after 9am alongside of our beloved and longtime friend, Rev. Walter Butts. He attended Chicago's very first ICC Conference in 1984 and has stood with us all over the world for the past 21 years. About ten years ago Pastor Butts had outgrown his church and decided to purchase an old Jewel food store. Not long after construction began we were able to hold a beautiful blessing ceremony in this new church and today, it is filled with carpet and beautiful pews and is currently in need of an addition.
As Rev. Mobley's banquet hall began to fill up, I was given two very distinct themes for my sermon. The first was that of life and death. My bible verse was the story of the disciple who tells Jesus that he just has to return home and bury his father, before returning to join Jesus' ministry. Jesus retorts very strongly, "Let the dead bury the dead." (Mt; 8:22). Our gathering on this late October morning included several pastors who had literally faced death in the face and were present to tell about it. Some had been battling cancer, while our beloved Dr. Paul Swanson had just undergone quintuple bypass surgery. Dr. Swanson was amazing. This was his first trip (he lives 1 ½ hours away across the border in Indiana) since his surgery last month.
Our dear friend Dr. Hycel B. Taylor took the podium, had everyone join hands, and offered a prayer of healing for our pastors. Then Rev. Franklin Morris offered a prayer for our brothers and sisters on the Gulf Coast and in Florida and Bishop Weeks (who had risen at 3am along with Pastor David Kasbow to drive the 320 miles down to Chicago from Detroit), offered a beautiful prayer of unity.
The second theme that I experienced was that of family. As the room filled up, it felt more and more like a Thanksgiving dinner. In all seriousness, there was a very deep feeling that the banquet hall was filled with family—brothers and sisters. There was a deep experience of physical and spiritual bonding and binding together. The eye contact and physical hugs were more intertwining. We sang an 85th birthday song for Bishop Melvin Crawford, the father of Bishop Connie Banza, who had joined us with her husband Dr. Emmanual Banza and sister Evangelist Sheila Sims. The day before, while I was talking to Bishop Banza, a rainbow had suddenly appeared in the sky (this happens about 3 times a year in Chicago). Now as I was looking at this family gathering, I began to reflect on the scene of Esau embracing Jacob as they re-united after Jacob's 21 years in Haran (Gen: 33:10) For looking out at the faces of these ministers was like looking into the face of God. And right in front of the podium, there sat these two brothers, Pastor T.L. Barrett, Jr. and Dr. Hycel B. Taylor, Jr. While I confessed that I knew not which one was Jacob and which one was Esau, Pastor Barrett opted for the analogy of best friends David and Jonathan.
Preceding my sermon, our two Japanese missionaries , Mrs. Eiko Shimmoto and Mr. Nishio, each gave a presentation on their mission countries. Mrs. Shimmoto shared about the flight of her mission country, Rwanda. Then Mr. Nishio shared about the situation of Guinea Bisseau and how our missionary, Mrs. Baba, is changing the education and the landscape of this country—which is also the National Messiah country of our own Bishop Kim.
As I arose to speak I was deeply moved by the reception I received from our ACLC clergy. To be honest, I never got to the PowerPoint slide show. Our brother Kazuo eventually had to put it on "automatic pilot." Instead of describing the pictures of our True Parents speaking all over the world, I was called to talk about Father's calling from and covenant with God. I encouraged the ministers to think about how each and every one of them had been wrestled out of some personal life situation and called to put on the armor of God and become His champion. I shared that this was also the situation of Father Moon. And now, even at 86 years old, he is pushing himself to fulfill that covenant by speaking in over 120 countries all over the globe. I implored them to join Father Moon in Israel (one brother, Jack Toren immediately accepted this challenge).
Then I shared about the true meaning of the Universal Peace Federation. I shared about the history of the founding of the United Nations in San Francisco following World War II in 1948 and how nearly 609 years later, it has yet to fulfill its promise; how Father Moon is standing in the gap by creating the Universal Peace Council (UPC) and now the Universal Peace Federation (UPF).
Bishop Kim gave the concluding remarks. He then invited our ministers to join Dr. Yang and Dr. Jenkins next week in Chicago as they pass through in the midst of their 12 city outreach tour to the Korean community. Chicago is preparing an ACLC breakfast the morning following the Korean program and we are expecting a very special turnout.
God Bless you America.
Victory in Israel!
Victory in the 120 cities!
HAPPY Thanksgiving!


Download entire page and pages related to it in ZIP format


Table of Contents


Information


Tparents Home