| | | | |
| --- | --- | --- | --- |
| | The Words of the Jenkins Family | | |

A Report On The WIM Prayer Luncheon At Lively Stone Worship Center
Reiko Jenkins
September 17, 2005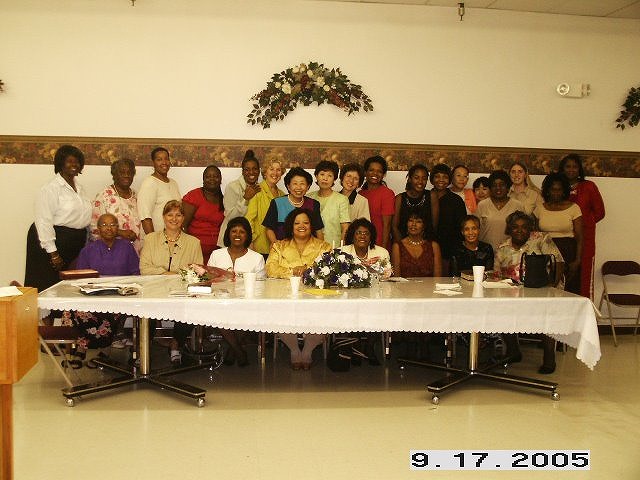 Our bi-monthly ACLC Women In Ministry event was blessed by a powerful speaker and wonderful food prepared by the women at Lively Stone Worship center led by Mother Yvonne Nelson. Our sisters, women clergy and wives of ministers from many churches gathered to prepare for Father's speaking tour at the Marriott Hotel on Friday , September 23rd. The title for the program was " True Mother's heart and love - Calling for the healing of the Nation". We announced Father's speech on 9/23 and everybody was excited to come.
Elder Sennie Johnson did a great work as MC. It began with songs by the sisters from Lively Stone Worship Center and a powerful prayer by sister Eilith Agbaza. The program was simple, but everybody could introduce themselves and could hear Mother Moon's speech by Rev. Angelika Selle with inspirational words. The atmosphere was prepared by a beautiful dance of praise by Elder Karen Thomas. Then Rev. Lezlie Downing (Heart to Heart Christian Center) gave the sermon. Rev. Downing gave us great power and conviction with her sermon on having God's authority .
It was a historical day for Dr. Yvonne Nelson, who is the first lady of Lively Stone Worship Center. Our sister Yoko Egoshi from Japan was there with her baby and Dr. Nelson testified that sister Yoko and the Japanese missionaries were the first people to come to her church from True Parents. They came when the church was under construction and even though the church wasn't ready, they kept coming. This inspired Bishop and Mother Nelson. She said that without them Bishop and Mother Nelson couldn't connect with ACLC. Although sister Yoko Egoshi had attended services together with Rev. Bob and Angelika Selle some times, this was the first time that Mother Nelson recognized her as the first connection. From that beginning time, Rev. Bob and Angelika Selle got actively involved with the Lively Stone Worship Center and became members there. Bob has been volunteering weekly with the after- school tutoring program and Rev. Angelika, after having taken Bible class training there, was ordained as an Elder of God's Vision International, which is an interdenominational Christian Fellowship also founded by Bishop Nelson; her ordination was in April of this year by Bishop Nelson.
Bishop and Dr. Nelson have been studying Father Moon's teaching and been closely working with the ACLC national leadership. Now they are some of the most prominent leaders of ACLC.
Also Rev. Lezlie Downing met our Japanese missionaries centering on Mrs. Keiko Yagi and Rev. Debbie Taylor at first. We felt very much that the merit and spiritual fortune coming from our Japanese missionaries' sacrifice and tears were deeply transferred to our hearts through this event. All of us felt tears from the testimony of Dr. Nelson. How can we keep our heart and love as our Japanese missionaries had poured to these ministers and churches? How can we keep the spirit of Rev. Debbie Taylor and Rev. Selle who continue to pour out love for the Christian leaders and their churches?
We are grateful to Rev. Hong, Rev. Francis, Rev. and Mrs. Bayo and Rev. Susan Fefferman for their support. Also we thank our WFWP leaderer Mrs. Caroline Betancourt, who came and supported this effort.
Next event will be at Imani Temple (Archbishop Stallings' church) on Saturday, November 12th.
We thank all the sisters and Mr. and Mrs. Ishida who attended this event and pray that we will receive more strength and love to go forward and reach out more people for God's Kingdom. Thank you!


Download entire page and pages related to it in ZIP format


Table of Contents


Information


Tparents Home