| | | | |
| --- | --- | --- | --- |
| | The Words of the Jenkins Family | | |

Report From Matching In Korea
Michael Jenkins
December 27, 2005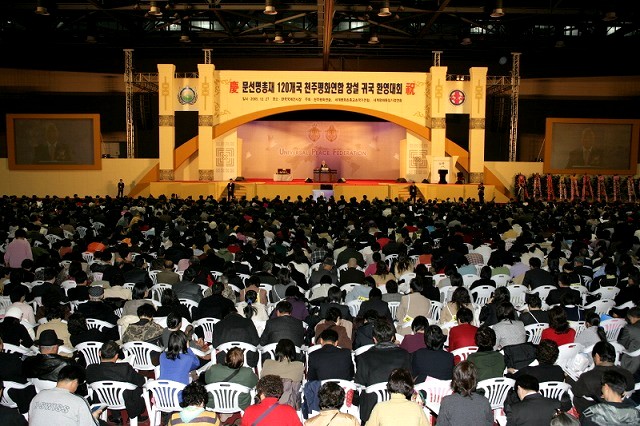 Dear Family,
Today we attended the final event of the 120 City World Tour. 50,000 jammed a massive convention center near Im Jin Gak. It was incredible. 10,000 Koreans (half pro north Korea, half pro South Korea) came from Japan. It was truly a glorious conclusion to Father's world tour. Also, our influence for Peace in Korea is growing, as is the case throughout the world, especially in America.
Father flew by helicopter to Chung Pyung. 10,000 are gathered here. Thousands are candidates for the blessing. Father started matching first generation around 10 pm. It is now 3 am. He is moving very fast. Our first generation candidates (some who are being re-blessed are now going before Father - most of those brothers and sisters came with a previously arranged match).
Most second generation have been matched at this time. Now he is matching first generation. The atmosphere is so high and uplifting. To see Father matching is one of the most profound and beautiful aspects of True Parents life and ministry. Many American second generation are now matched. Most received their match. From now lets prepare our second generation completely from this time on. Everyone should go to Father's matching if possible. Truly heaven is at work. Of course we need much more education, love and understanding. But if you could see what I saw tonight with Father "seeing" the destiny of these families before his eyes, you also will join in making a renewed effort to help our second generation understand and be prepared for the blessing from heaven.
The numbers of second generation are growing. I can see there is much more confidence in the hearts of our young people with each blessing. There are many beautiful couples here who are ready now for the blessing and have been matched by their parents. This is also totally acceptable before heaven. We must make much more institutional, church, local, family, parents and brother and sister effort to help our young people meet their destiny. Some of these matches are just astounding.
The joy is enormous here. Mrs. Erikawa, Rev. Schanker, Linda McKenzie, Rev. Mary Anglin and many other elders are on staff now counseling and guiding the young couples. Key education directors, the continental directors, myself are also giving special presentations and testimonies on the blessing.
Father will guide them at Hoon Dok Hae.
Thousands of fine first generation candidates are here !!! Many international Ambassadors for Peace are here from all the Continents.
Such faith is emerging at this time.
Thanks my Brothers and Sisters and families for sending such wonderful second generation youth. Our future is rising with their inspiration and faith.
Thanks to America and all continents for such great second generation.
MWJ


Download entire page and pages related to it in ZIP format


Table of Contents


Information


Tparents Home