| | |
| --- | --- |
| | The Words of the Jones Family |
Experiences visiting the International Blessed Children at the Little Angels School - Interview of Mrs. Betsy Jones
February 23, 1988
Director of the American Blessed Family Department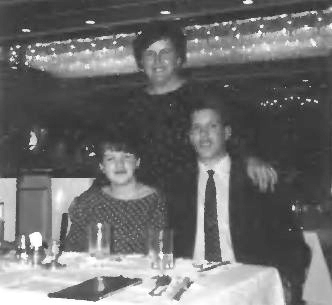 Mrs. Betsy Jones with her son Matthew, 15, and daughter Cara, 13.
I was able to go to Korea this year for True Parents' Birthday [February 23, 1988]. It was wonderful to see True Parents so happy, celebrating with the leaders and members. You could feel how many years they had worked, struggled, and suffered together and now could rejoice together. Father and Mother and Dr. Durst and many of the other leaders were dancing, and there was a great feeling of gladness. However, the next day there was a leaders' conference, and at this meeting Father was very serious.
He talked about how the first-generation Israelites had failed, with many of them marrying outside the faith and thinking only of their own material wellbeing. He said we have to center our whole mind and body around God's ideal now and be willing to come to Korea. He told us how concerned he was about our second generation and how imperative it was to educate the blessed children so that they can truly live within the Principle and carry on God's lineage.
My 15-year-old son Matthew and my 13-year-old daughter Cara are studying in Korea, and I had a chance to stay in the International Blessed Children's Dormitory at the Little Angels School. Mrs. Won Pok Choi had just been put in charge of the Institute of Korean Study for Foreign Students. I feel her appointment is a tremendous step forward. Mrs. Choi is eager to facilitate the development of Korean study for Western blessed children. There is a gap between Eastern and Western methods of teaching, and I feel Mrs. Choi will be able to harmonize the best of the two worlds because she has spent so many years in the West. She encouraged the establishment of Korean language institutes in America. She said that while many of our members' children will be able to study in Korea, good Korean language programs should be set up in every nation for all other blessed children, to prepare them for summer programs of study in Korea or even admission to Korean universities.
Deep Experiences
When I visited Korea two years ago, most of the Japanese and Western students were living separately but in one dormitory.
Since their Pentecost experience with Heung Jin Nim in 1987, I saw that the children had changed so much. They had grown into a deep appreciation and love for each other. I was there for one of the birthday celebrations they hold once a month. I took part in their games, and I was deeply happy to see their joy in being with each other, to see how they played so freely and naturally with one another, like true brothers and sisters. They had actually been able to transcend racial and national barriers. Korea was the place that they could finally do this, because, although in Korea they are in very humble surroundings, they are living under True Parents' big umbrella of protection and love.
Especially for the Western children, some aspects of life in Korea are hard. Externally, they don't have as comfortable a life as they would have in America. Many of them are lonely and deeply miss their parents. Some have learned how to nourish themselves by taking long walks in the mountains. Through those walks some of the children have had deep experiences of repentance and closeness with God, which they might never have had if their lives were full of distractions.
I think Heung Jin Nim has felt great compassion for their situation and has really blessed them and comforted them with his spirit. One day I wanted to take the children swimming. I couldn't just think of doing something for my own two children, or even for all the Western blessed children, because the whole dormitory was one, so I took all 45 of them swimming. As we played games in the water I felt incredible heavenly joy.
Shortly after the swimming trip I went with the ICC staff to Heung Jin Nim's Won Jun, and I had a very deep experience. In my prayer I thanked Heavenly Father for the profound happiness I felt being with the blessed children, and a voice like that of a young teenage boy came to me and said, "Betsy, don't you know that's the way I feel and Heavenly Father feels?" Then I began to cry and cry in regret that we hadn't expanded the foundation enough through witnessing, that we hadn't brought in more people who could have become blessed and had blessed children, so that Heavenly Father could experience much more happiness with His children, the joy He was just tasting now with these few precious blessed children.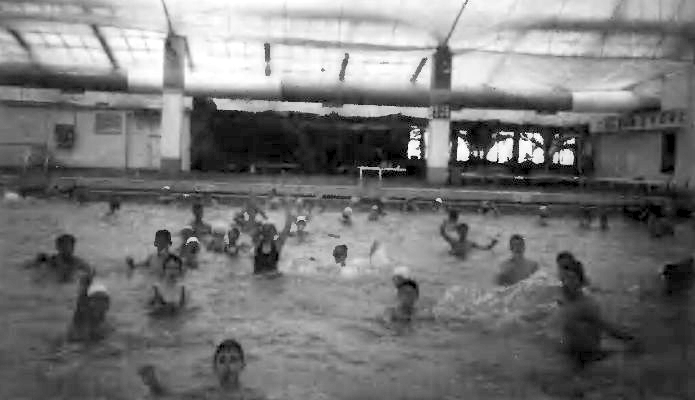 The whole dormitory was one, so I took all 45 blessed children swimming. As we played games in the water I felt incredible heavenly joy!
Claiming the Fatherland
I had a chance to have breakfast with a group of older Western children who will be studying on the college level. A few years before, these boys had pioneered foreign study in Korea and then had returned after one year to America. They are on a much different level now because their motivation for being in Korea this time is coming from within them. They all gained a great deal from a blessed children's workshop conducted by Hyo Jin Nim a few months earlier. I feel they are coming back to Korea to really claim the language, to claim the culture of the Fatherland, and become the leaders for all the blessed children who will come after them. It was very inspiring to see how much they had changed and grown and to feel their dedication and unity with Hyo Jin Nim.
True Mother asked for all these older boys to stay with the families of our elder Korean members. One of the boys, David Ang, who is now living with Rev. Young Whi Kim's family, wrote to his mother recently that his experiences have been "awesome" and that he is very happy to be getting this experience in preparation for his future mission, whatever it may be.
It is actually through True Parents' concern for the second generation that this foundation could be laid. I heard that Kook Jin Nim has recently been visiting the dormitory and speaking directly to the children, guiding them in understanding the heart of True Parents and how to prepare themselves for the future.
Whenever I rode on a train or bus in Korea and saw people pulling plows or doing simple, unmechanized types of labor, I would think, The Korean people are still doing so many things by hand. Many aspects of life here are way behind America." But then I realized that it is precisely because of their poverty and their long-suffering heart that the Korean people have developed such a profound understanding of God and the correct order of things. I was moved to see the blessed children learning these aspects of the Korean culture -- especially the importance of the positions of elder and younger. All the blessed children who are in Korea for over one year are taught how an elder brother or sister should act, and the newcomers are taught how to respect their elders with the proper attitude and heart. I asked them if there was anything their parents had done that helped prepare them for their experiences in Korea. Joni Ang said, "My parents were always strict, but also always positive." I felt how much children actually appreciate order and clarity in the family.
It's a great honor and blessing now to have Mrs. Won Pok Choi's presence in the dormitory. She played a very significant role in the creation of True Parents, so I feel like she's really a part of Father's family, the closest aspect of his own family he could offer to this program. While I was there, Mrs. Choi testified to me many times, quite spontaneously, about what Father went through, her deep love for Father and Mother, and her love for each of the blessed children. She invited me to visit her apartment, and in her room are pictures of all the True Children. Mrs. Choi knows many of the blessed children's parents and their sacrifices, so she feels very close to the students.
I'm sure what every parent wants his child to learn in Korea is True Parents' heart. I remember one time I asked Mrs. Lee, who has been taking care of blessed children's education in America, "What is the best thing we can do for the blessed children at summer camp?" She replied, "Have people around them who have deep faith." I feel that our children in Korea are truly blessed to have Mrs. Choi because her faith is so strong. The children are very happy with Mrs. Choi because through her, they are developing a much deeper relationship with God and True Parents.
Western Blessed Children Who Have Studied at the Little Angels School
1982
Young Oon Orme
Helga Kunkel
Johanna Vander Stok
1983
Naeran Verheyen
1984
Thelord Schuhart
Timothy Porter
Wesley Samuel
Tobias Fernsler
Jonathan Pumphrey
David Ang
Thirdson Samuel
Aaron Harms*
Hanida Porter
Andrea Spurgin
Goon Koch
Karin Kunkel
1985
Trenor Rapkins
Une Herzer
David Hose
Heather Burley
Tweeran Verheyen
Chris Spurgin
Matthew Jones
1986
Kim Rapkins
Joni Ang
Spring Koch
Tanya Burley
Junie Samuel
Maralisa Schuhart
1987
Hani Zaccarelli
Cara Jones
Ko-Francoise Blanchard
Marith Schuhart
Cathy Daugherty*
1988 (College level)
Thelord Schuhart
Timothy Porter
Wesley Samuel
Tobias Fernsler
Jonathan Pumphrey
David Ang
Isaac Durst*
Chaim Durst*
*Non-blessed chosen ones