| | | | |
| --- | --- | --- | --- |
| | The Words of the Kaufmann Family | | |

Report On The Speaking Tour Of Dr. Moon
Frank Kaufmann
July 2, 2005
I wrote this report on Father Moon's recent speaking tour frank_kaufmann.blogspot.com/2005/07/sun-myung-moon-speaks-in-four-american.html
Sun Myung Moon speaks in four American cities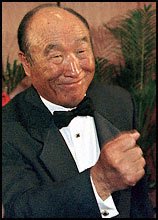 Sun Myung Moon is a man on the move. Rarely is he in one place for very long. He travels constantly. There are many reasons for this, including his mission to lead a complex, international movement with several major centers for operations.
On June 11, 2005, Father Moon stopped in New York for a week, scheduled to leave after a few days for Kodiak, Alaska. Kodiak is home to an expansive and prominent maritime enterprise founded and guided by Father Moon.
On June 13 something of note happened during his daily, 5 am public devotions. The first passage read was a prayer Father Moon uttered in 1958, 47 years ago. After listening he said, "This 47 year old prayer, is my very same prayer today." It is a typically long prayer (Reverend Moon's prayers are long.) In it he prays:
... A person who encounters Your true love could lose the entire world and not miss it.

Beloved Father, we must now establish the ideal world, our original homeland, where Your love saturates every person's life ...
On June 14 a second interesting thing happened during morning devotions. Father Moon departed from the tradition of progressing through the devotional book of Blessed Families (Chung Song Gyeong, meaning "Heavenly Scripture") and had the prior day's passage, re-read. He wanted us to hear the prayer again.
On June 15, at 04:00 as Father Moon dressed for public devotions his Kodiak departure plans were suddenly interrupted. He received from "Heaven" that he must speak to America yet again. He tells of this surprise commission in the speech he later gave on the tour itself. He beseeches his hearers:
/Please do not ever forget Heaven's wondrous will and love, which have guided my footsteps back to America even after I thought I would never return./
Indeed, June 15 was a morning for surprises. But we could not complain that we were being given directions to set up speeches for a total of 50,000 listeners in 4 cities in 4 straight days with just 10 days notice? Father Moon was caught off guard even worse than us! We were in this together.
June 18 departure plans for Father Moon were scrapped, and at 86 years old it was the streets again. "Heaven's" obligation. He had no choice. The tour was named, /NOW IS GOD'S TIME: Rebuild the Family, Restore the Community, Renew the Nation and the World/. The speech is named, /God's Peace Kingdom is the Eternal Homeland for All Blessed Families ww2.familyfed.org/usa/files/200506_SPEECH_book_6_24.pdf.
4 cities in 4 days:
June 25 - New York City, Jacob Javits Center
June 26 - Washington DC, the Atrium of the Reagan Federal Building
June 27 - Chicago, the grand ballroom of the Chicago Hilton and Towers
June 28 - Los Angeles, the grand ballroom of the Mariott, LAX
A straight reading of the speech text runs approximately 40 minutes. It contains guidance in such areas as what moments are historical, and how we catch them or miss them, the cycles in our daily life of trying to improve ourselves and overcome evil, the nature of God's love, the relationship between the physical and spiritual worlds, and the practical, daily-life application of this relationship. These valuable tools for a healthy life, and several more comprised the 40 minute text.
In addition to these vital guidelines for eternal life, Father Moon also spoke of matters of international and geopolitical significance. Most alarming from among these analyses and proposals was his revelation pertaining to the Bering Strait.
As I stand here today on this platform, I would like to make a truly important declaration to humanity. For thousands of years, Satan used the Bering Strait to separate East and West, North and South, as well as North America and Russia geographically. I propose that a bridge be constructed over the Bering Strait, or a tunnel be dug under it, so that it will be able to connect the world super highway starting from the Cape of Good Hope in South Africa to Santiago in Chile, and from London to New York, making the world a single community. I would call this, "The World Peace King Bridge-Tunnel."
The delivery of the speech never lasted a mere 40 minutes though. On average, additional exposition of the content generally brought the presentation time to approximately two and a half hours. In Chicago, Father Moon promised to be shorter because "he was scolded" for going so long the day before. I doubt he was scolded after his 2.5 hour Chicago speech.
Although Father Moon has spoken across America often in the past, there was a unique element on this tour. Each city's visit was slated as a two-day education seminar. The seminar consisted of :
A series of lectures expounding the essential teachings of Father Moon (God's ideal, marriage and family, principles of peace) given by lecturers during the day prior to the evening speech
The speech itself
A three hour study and teaching session lead by Father Moon at 5 am on the morning after the speech
And a post-breakfast wrap up and planning session concluding by noon the second day.
Father Moon managed to give close to 6 hours of personal teaching to 1000's of people in 4 cities in 4 days, from sea to shining sea, travel time notwithstanding.
One can never guess what goes through a man's heart, but there surely must have been something there as he sang a final song and sang a long GOOOOOOOOOOD BYYYYYYYYYYYYYYYE, as he waved farewell to the 1,000's waving back in Los Angeles at 8 am. "I don't know if I will ever do this again," he often explained to audiences in all 4 cities, cities in the country he served so far for 34 years, a country that persecuted and unjustly imprisoned him, the country where he raised his family, and where many of his children now raise families of their own, the country which he begged this time,
"Please do not ever forget Heaven's wondrous will and love, which have guided my footsteps back to America even after I thought I would never return."
Frank Kaufmann


Download entire page and pages related to it in ZIP format


Table of Contents


Copyright Information


Tparents Home