| | |
| --- | --- |
| | The Words of the Kaufmann Family |
Council for the World's Religions in Nigeria
Frank Kaufmann
February 1990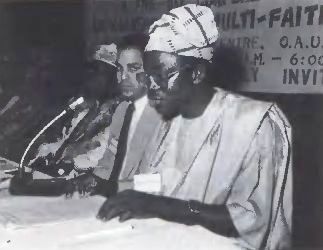 Dr. Olupona addresses a session.
It is not widely known that Christian / Muslim hostilities in Nigeria have caused some of the most severe religious clashes in the modern world, comparable to certain Middle East nations, the Punjab, or Sri Lanka. Since 1978 literally thousands have died in religious uprisings. For this reason I am proud to have been able to help bring the spirit and resources of the Council for the World's Religions to bear on healing these tragic divisions.
In Nigeria, as in India, it is common for members within any given family to adhere to different religions. When religious strife erupts, the deep, blood relationships of intimate families are rent asunder, causing the most tragic and enduring form of religious division. The potential of further outbreaks made this conference a matter of urgency.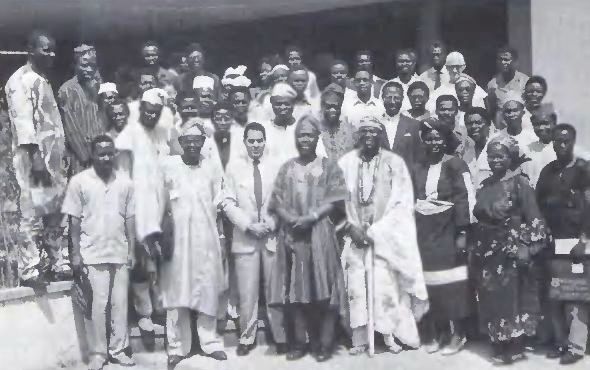 The staff and participants of the conference in Ile-Ife, Nigeria.
In addition to this, the conference had a number of special qualities which substantially advanced the work of CWR. One important aspect was that CWR could continue pioneering "cosponsorship," as with our recent Moscow conference. In this case our cosponsor was the prominent Obafemi Awolowo University in Ile-Ife. This time the cooperation extended beyond what was achieved in Moscow, to include the actual organizational and administrative responsibilities. With a CWR grant, the local convener organized a conference team that did virtually all the labor, including staffing the conference itself. Their excellent standard of performance demonstrates the possibility for maintaining or expanding CWR's influence, even with our present limits on personnel and financial resources.
? Another CWR "first" was the media coverage of the event. A major Nigerian newspaper reported on the conference every day, at times running it on the front page. We also had television coverage. The opening ceremony was open to the public and was attended by the entire university community, as well as local political leaders. At the end of the conference I was interviewed by the national daily newspaper that had been covering the conference.
This was the first conference organized on a strictly national level. The convener had to challenge local politics without the comfort or glamor of an "international mystique." In a way it was consistent with the challenges of "tribal messiahship." One must work at home, living day to day with the consequences of one's decisions, and with the responsibility to maintain an exemplary standard. Dr. Jacob Olupona, of the Development of Religious Studies at Obafemi Awolowo University and our CWR consultant on African religions, had to deal with local jealousies and rivalries, and still make the whole thing work. Indeed it did work. He gathered a unique combination of respected and established scholars, and young, zealous and powerful emerging leaders. Virtually every major Nigerian university was represented. Scholars, who literally would not even speak with one another prior to this conference, spent a week together in constant learning, repentance, mutual understanding, love and commitment. It was recognized by national media and national religious leadership as the most effective inter-religious conversation in recent Nigerian history.
Participants were drawn from among the top representatives of Christianity, Islam and African Traditional Religion. Papers were of high quality; participants were serious and consistent. The conference was a tribute to its cosponsor, CWR Patron Professor Wande Abimbola, who is completing the final days of his seven-year vice-chancellorship at Obafemi Awolowo University. I am happy to report this conference a great success, with many promising "firsts" at the close of CWR's 1989 activities.