| | |
| --- | --- |
| | The Words of the LaGrotteria Family |
Young couple in the USA or Canada who wants to work with Fred Lacroix family
Frank LaGrotteria
November 15, 2008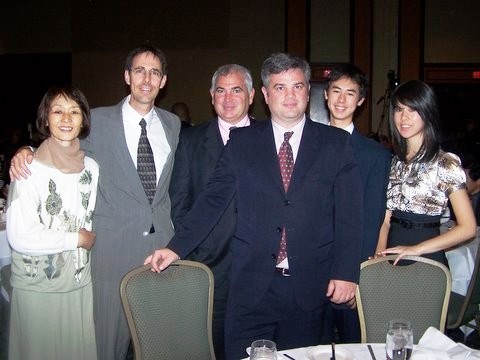 Today I learned that Mitsuko Lacroix will go to the spirit world soon. She is the wife of Fred Lacroix (UTS '94) who was a fellow seminarian when I was there. Fred and I founded World Carp MFT under the direction of Jin Hun Nim back in 1994. Fred has gone on to develop a successful carpet company and has 5 children (see photo).
As Mitsuko-san will soon depart from this world, Fred is deeply concerned about his family and the future. For the short term, perhaps a year or so, Fred is looking to hire a couple to come up to Canada and serve as a support system for his family. This is a paid activity which would include housing (Fred is quite successful and owns a large home in St George de Beauce.
Mike Balcomb and I are trying to contact either potential couples or perhaps friends who might know of a couple who would be interested in this mission. Fred is a wonderful brother and in deep need right now (Fred was the person who "discovered" wind chimes as a fundraising product for CARP and later used by many departments as a staple product) If you have anyone in mind, please let me know right away and I will connect them to him. The ideal couple is perhaps a young couple just starting out who need a place to stay and good consistent work for the next year. Fred's children range in age from 12 to 17 years.
Mitsuko is on her last days, so if you have anyone in mind or can think of any way to respond, please do not hesitate to let me know.
Thanks
Sincerely,
Frank LaGrotteria, CMP
Assistant Secretary General
Universal Peace Federation (UPF)
155 White Plains Road
Suite 222
Tarrytown, New York 10591