| | | | |
| --- | --- | --- | --- |
| | The Words of the Marsh Family | | |

UPF Europe MEPI Update Meeting
Robin Marsh
January 24, 2007
Bromley, England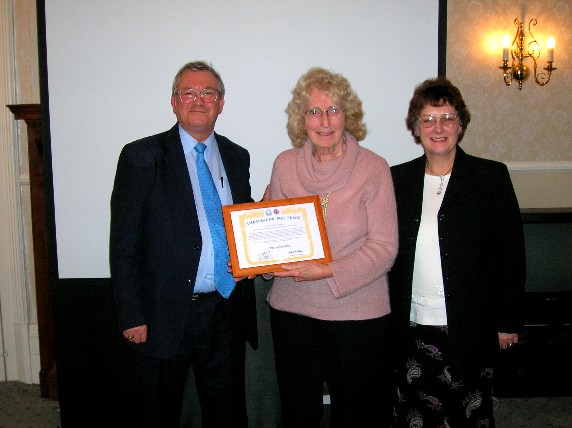 "Our MEPI has developed immensely over the last four years" stated Robin Marsh, Secretary General of UPF UK and the main person with his colleague Margaret Ali developing the European Middle East Peace Initiative, during his talk on MEPI Europe. "We started off taking many religious leaders there but now we are mainly visiting Israel and Palestine with politicians and journalists. Politicians go from Europe to the Middle East but also Middle East politicians visit Europe".
Twenty three people gathered on the evening of January 24, 2007 at Livingstone House Chislehurst to enjoy a UPF Inter-religious Peace Meeting, this time under the title "UPF UK MEPI update" featuring Mr. Robin Marsh, as the main speaker.
The audience was greeted by the UPF coordinator for Bromley, Mr. Edward Hartley, who gave a short overview of the work being done and principles behind the UPF, particularly for the 3 guests joining us for the first time. Other members of the audience included 15 FFWPU members and 5 established Ambassadors for Peace.
The UPF coordinator briefly explained about the main fields of activity of the UPF and then the new DVD about European Ambassadors for Peace work, "Peacemakers", was shown which explains much more any long PowerPoint presentation could.
The main talk was delivered by Mr. Robin Marsh. This was a very substantial talk about how Ambassadors for Peace and others are invited to the Holy Land and participate in a four or five day program, first examining the Palestinian perspective and then the Israeli perspective. "How do stay impartial?" one member of the audience asked. "These two peoples are like brothers", said Robin, "I stay impartial because they are like family members who should be united and combining their talents for the betterment of all people in the region. They both have a case but with help they can resolve these issues and unite!" "We (UPF) sometimes get told off because we appear to a person with a particular viewpoint to be biased or because we left some important point out but we like that kind of critique because it helps us to get better and better. We can even act as a mediator between ordinary people such as those who lost relatives, for example, and foreign governments because of the contacts we have and the circles we move in".
"There is definite hope in the Middle East for a solution to be found", remarked Robin, "We will continue to seek to bring together the right kind of people and to assist in informing them so that they in turn can help bring the peace everyone wants".
The presentation of this flagship project of UPF Europe went extremely well and all were touched by the efforts being made to bring people together into dialogue from all sides. It is highly recommended to hear this to understand the real potential of the UPF to assist in bringing peace in many areas.
It was the great pleasure of the Bromley UPF coordinator at the end of the evening to present a close neighbor, Mrs. Sylvia Allen, with the Ambassador for Peace award for her thirty five years of investment as a tutor into children of all ethnic, religious and social backgrounds who are experiencing difficulties to reach their true potential.
Conversation over refreshments was lively.


Download entire page and pages related to it in ZIP format


Table of Contents


Information


Tparents Home