| | |
| --- | --- |
| | The Words of the Marsh Family |
The UN International Day of Families
Robin Marsh
May 15 2009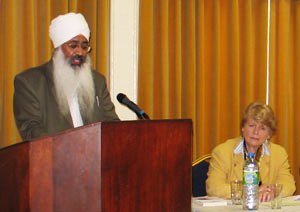 The UN International Day of Families was supported by an enthusiastic, interfaith audience revealing the universal interest and concern for the family. There were presentations on 'Preparation and Early Support for Family Life' from Christian, Sikh, Muslim, Hindu, Jain and Unificationists as well as an explanation of the value of Couple Relationship Education by the Chair of the UPF Marriage and Family Committee, Eddie Hartley. The conclusion was presented by the Chair of the Westminster United Nations' Association, David Wardop, who referred to the United Nations as a world family whose work of quiet diplomacy solves many of the world's problems.
The UN International Day of Families is one that is regularly supported by the UPF worldwide. The event in the UPF HQ is one of several occurring around the UK.
Each religion shared of the beauty of the marriage ceremony and the holy institution of marriage. Each also shared that marriage is hard work with difficult times to overcome. The faith institution has a big responsibility to counsel and guide their members.
Eddie Hartley, the Chairman of the Marriage and Family Committee, explained the significance of 'Couples Relationship Education' in both preparing for marriage and for preventing problems within the marriage relationship. He also identified trends in modern society that are creating serious problems for the future as increasing numbers of children are not able to enjoy the loving family they need. If you are interested in the Marriage and Family Committee's work please contact Eddie Hartley.
Sukhbir Singh explained the Sikh perspective of the family. He mentioned that Guru Nanak had said a married couple was not really married if they were not fused into one spirit. Marriage is a sacred institution that is the process of two people becoming two bodies and one spirit. Marriage is a spiritual unity not just a relationship. Young in the Sikh faith are taught to love and respect parents and grandparents. They can learn emotional care and democratic decision making in the family that prepares them with the resources to promote peace.
Professor Ursula King reflected on how to assist the renewal of marriage not just to maintain marriage in a conservative sense that restricts people. She saw marriage as having elements of hands, head and heart. We are part of the web of life that we are participating in. It requires a great deal of consistent effort to make a successful marriage.
She added that friends of hers that had divorced had shared that if they had understood what marriage is really about they would have made more effort and then it could have worked out better. Within a marriage there should be the freedom to have room for inner growth. Sadly many women are downtrodden and suppressed within marriage. She remarked that she saw some Grafiti recently that expressed, 'Remember you are loved'. It is true that every cell of our body is infused in love. There are no cells that can dwell and operate separately. They always work in communities. We need love to transform our world. We can learn it best in the family and with friends.
Rev. Dr. David Hanna explained that the family is a school of love and the origin of peace. He illustrated his talk with the experience of the Unificationist young people preparing for marriage.
Dr Raheem Khan, a Co- Chair of the Marriage and Family Committee, emphasized that the man -- woman relationship is crucial for a good society. Sadly huge numbers of children are born out of wedlock. We have lost this struggle in our society. The Prophet (pbuh) stipulated fidelity in marriage and purity before marriage. In Malaysia and Singapore the young couples have six months training and a test before being able to marry. There are many problems in the Asian community in the UK as they are influenced by the wider society.
Bishop James Larbi explained that in the Christian faith that God, through the family, illustrates the relationship between people. It was established by God when God said it is 'not good for man to be alone'. You make a full and unconditional promise to your spouse. Communication is so important to understand each other. Love is a continual courtship that does not end with the first step. You need to keep going. For this quality time is important not just for children but for husband and wife as well. He added that there is no trial basis for marriage. It is not something for couples to live together before marriage. It is all or nothing. Does the other share my values? Pope Paul II said the future of humanity passes through the family.
Samani Prasanna Pratyga from the Jain faith shared that there are training courses for many jobs in the world however the lack of training for marriage means that many couples end up divorcing. There should be a system for training for marriage. Even though she was a nun many people came to her for advice for marriage problems. Through social relationships they are made aware that marriage is a lifelong commitment and they come to know that they must be pure within marriage. The Jain scriptures provide wise guidance for avoiding and resolving conflicts.
David Wardrop is a board member of the United Nations Association and is Chairman of UNA Westminster. The United Nations is a greater family of humanity. The UN extended family is spread throughout the world. He compared the UN to the work of marriage savers who work through quiet diplomacy that is never reported. Next week is the International Day of UN Peacekeepers that commemorates the 190 UN Peacekeepers who died. 80 nationalities will be represented in that ceremony showing the extent of the UN as an extended family.
He thought that faith communities were often a barrier to the completion of the Universal Declaration of Human Rights. 'If we waited for the faith communities to have a common voice in 1945 we would still be waiting' he added. He said he likes to challenge faiths to reveal on their websites their policies on the major UN declarations such as the rights of the child, gender equality, human rights and prohibition of torture. Natural society is like a centrifugal force pushing us apart but against this the family brings us together while faiths have been separating us.
Thank you for all your support. It was an inspirational evening and a good day to put in our calendars for 2010!