| | |
| --- | --- |
| | The Words of the Marsh Family |
'The Search for Spirituality': Book Launch by Prof. Ursula King
Robin Marsh
June 11 2009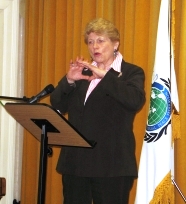 'Spirituality is becoming popular. Even sociologists have become spiritual!' said Professor Ursula King while discussing her latest book, 'The Search for Spirituality: Our Global Quest for Meaning and Fulfillment'. She referred to a cultural vision of spiritual oneness beyond diversity of race, nationality and religion that is evolving within the human species. It is an evolution that was not discussed by Darwin but it is happening nevertheless.
Gustav Jung referred to a coming together of the interconnectedness of humanity.' Prof. King defined spirituality in terms of the web of life, through the relationship to oneself, to others, to the environment and the Divine Spirit, Creator or God. The growing edge of spirituality, she explained, was not under our control and therefore is full of mystery as we pass through the stages of our life. We need to educate children about spirituality because we need to know how to allow our spirit to flourish throughout the 'dance of life'.
Interfaith dialogue can enable a person to discover the spirituality within another faith. This can help us to develop both spiritual literacy and the awareness that we have great resources within us.
Mr. Jay Lakhani, the Education Director of the Hindu Council UK, suggested that there is close link between science and spirituality becoming visible at the growing-edge of science. Quantum Physics for example is clearly suggesting that the underpinning to this creation is not matter but something that is guaranteed not to be matter. What is it? Hinduism has been claiming that the underpinning to this universe and ourselves is essentially the Spirit. First it manifests as matter then it becomes more visible as living things and clearest vision of spirit is Men and Women. This is called Spiritual Humanism.
Imam Mahmadou Bocoum who is a lecturer at the Muslim College, Ealing and a Prison Chaplain, referred to Chapter 1 and 4 as areas of the book that he really appreciated. He emphasized an inspiring figure in history for him was Mansur Al-Hallaj who was executed for proclaiming that he had seen the Lord. He thought that such a figure would have been inspired by this book. He explained the spirituality of submission with reference to the Quran and Mansur Al-Hallaj. Concluding that 'to know God is to know our self and the only way to know yourself is to know others.'
The evening progressed well with a number of other contributions including that of Mohammed Ali, CEO of the Islam Channel and Dr Satwant Multani, Chair of Central Scotland Interfaith, who was visiting from Scotland. Prof. King summarized the evening saying, 'I really wished Prof. Ninian Smart could still have been with us -- he would have much enjoyed the evening and the company. I hope it will inspire some people to be more spiritual….'
More About the Book:
"Beautifully written, this is an enlightening book that informs while it gently persuades. Opening many windows onto spiritual experience in our increasingly global culture, it invites the reader to partake and contribute." Elizabeth Johnson, author of 'She Who Is'.
"Ursula King's scholarly command of the wide range of classic and contemporary forms of spirituality is equaled only by her enormous clarity in communicating their content in this very important and interesting new book. Teachers, students, ministers, spiritual directors-and anyone in search of spirituality-will find this work a wise and illuminating guide." John F. Haught, author of 'God After Darwin'
"What distinguishes Ursula King's search for a spirituality that will respond to global needs is the way she combines both depth and breadth in her search. She recognizes and taps the mystical depths that nourish all spiritualities, but she also shows how these shared depths produce a broad diversity of expressions in enabling people to both understand and transform their world. Authentic spirituality, she makes clear, is both mystical in its sources and practical in its effects." Paul F. Knitter, author of 'One Earth Many Religions'
"Brilliant. Absolutely brilliant. We have desperately needed Ursula King's kind of dispassionate overview of spirituality as a construct for years. Thank God we have it now." Phyllis Tickle, author of The Divine Hours.