| | |
| --- | --- |
| | The Words of the Marsh Family |
Building a Culture of Peace -- The Role of the Little Angels
Robin Marsh
October 25, 2010
House of Commons, Sept 30th 2010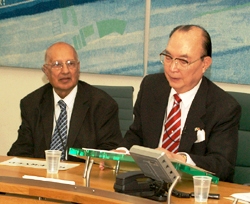 Dr. Bo Hi Pak explained the history and purpose of the Little Angels during a session in the House of Commons to coincide with their visit to the UK. After showing a video of the Little Angels Tour to commemorate the 60th Anniversary of the Korean War, Dr Pak shared his gratitude to the UN forces who came to South Korea's aid during the conflict. The Little Angels have performed in Pyongyang, the capital of North Korea, in order to build relationships between the two nations who have never signed a peace treaty. Video link of Dr Pak's speech: vimeo.com/15585423
Dr Hojjatt Ramzy shared this message in response to Dr Pak's speech:
Dr Pak, I would like to extend my sincere gratitude and my greatest admiration to you, and congratulate you on the inspirational and breathtaking work that Reverend Sun Myung Moon and yourself have done. With this work, you and your nation have taken the message of peace and delivered it to the four corners of the globe. The performance by the Little Angels is truly a work of art and a symbol of peace.
Having looked into the history of the Little Angels, its growth from humble beginnings to the amazing achievement it is now, is inspiring. As peace envoys, we should all take a leaf from your book of life, and hold you and Reverend Moon as examples, in order to further promote our goal of world peace. God bless you and your nation.