| | |
| --- | --- |
| | The Words of the Marsh Family |
Joint Faiths Celebration in London
Robin Marsh
November 25, 2010
UPF-UK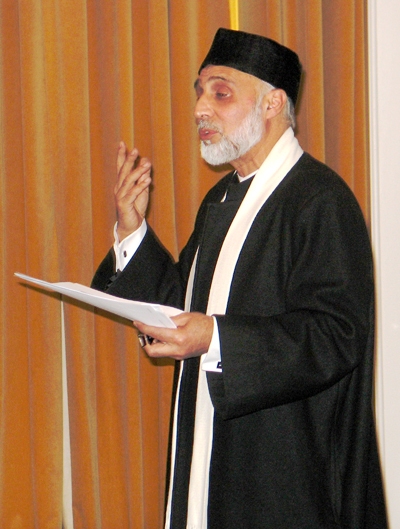 London, UK -- A Joint Celebration of the Holy Days of Five Faiths -- Divali / Eid al-Adha / Guru Nanak's Birthday / Advent of Jesus / Hanukah -- took place on November 25 in London. It was a unique opportunity for faith communities to share together not only knowledge but also the spirit and significance of the day. What is revealed often are the similarities within the customs of the celebrations.
The evening began with an hour of informal "one on one" sharing over snacks where people could approach a representative of a certain faith to find out more about the holy day of their choosing. At 7:00 pm Mrs. Sudesh Sharma began the formal presentations speaking about Divali and ending with a wonderful scriptural chant sung during Divali, the five-day Hindu "Festival of Lights." Divali involves the lighting of small clay lamps filled with oil to signify the triumph of good over evil.
The second speaker was Dr. Hojjat Ramzy, who explained the customs of the Hajj, the Muslims' annual pilgrimage to Mecca. At the end of the Hajj, Eid al-Adha, or "Festival of Sacrifice," commemorates the willingness of Abraham (Ibrahim) to sacrifice his son Ishmael (Isma'il) as an act of obedience to God. He was followed by two young people who shared beautifully about what Eid means to them. Both Shabnam Khan and Masood gave a very heartfelt account.
Dr. Amarjeet Singh-Bhambra shared about the importance of the birthday of Guru Nanak, the founder of Sikhism, which was very informative.
Rev. Ian Tattur, Minister of St. Barnabas (Church of England) Church in South London, gave a very interesting insight into the origins of Advent month. It is a season observed in many Western Christian churches, a time of expectant waiting and preparation for the celebration of the Nativity of Jesus at Christmas.
This was followed by personal sharing about the holy period by Stephen Braddick, Manager of Chelsea Methodist Church. He seeks to demonstrate Jesus' heart for the downtrodden by his works at the Methodist church.
Rev. Harriot and friends sang a beautiful song of Advent, "Oh Come Oh Emanuel," and some of the audience joined in the chorus, which brought togetherness.
Finally Marylyn Brummner, President of the Jewish Women's League, gave a beautiful account of Hanukah. It is an eight-day Jewish holiday commemorating the rededication of the Holy Temple (the Second Temple) in Jerusalem at the time of the Maccabean Revolt of the 2nd century BCE. She explained what Hanukah means to families. It was filled with humor.
A meaningful and good time was had by all.