| | |
| --- | --- |
| | The Words of the Marsh Family |
Concern for the Street Children of Ulaan Baatar
Robin Marsh
October 14, 2011
UPF-UK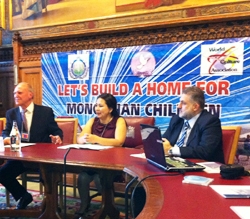 London, UK -- In an event in the House of Lords to promote the work of Moncharity, an organization that is assisting the Mongolian street children, we were informed that to survive the children live in the sewers where the hot water pipes bring them warmth. The temperature can be as cold as -40C to -45C. During the winter the homeless children of Ulaan Baatar will face extremely harsh conditions as they try to survive. Through this event, we hope to raise awareness of their plight and to inspire sponsorship for the project.
The event was co-sponsored by the Universal Peace Federation and the World Culture Association. In the photo to the left are Peter Graham, Founder of the World Culture Association and MC for the Programme, Mrs. Odongerel Erdene, Founder of Moncharity, and Mr. Adolphe Succar, an Ambassador for Peace who came from Beirut to attend this and one other UPF event on Thursday.
Baroness Gloria Hooper attended the event and gave some very good suggestions. The 89-year-old Baroness Trumpington also attended. She put us to shame when she said she was very concerned about the situation of street children in Ulaan Baatar so despite being 'too damn old' she had to attend this meeting.