| | |
| --- | --- |
| | The Words of the Park Family |
Pioneering a New Nation with Father's Memoirs
You Soo Park
November 26, 2011
From a report by our Albanian church headquarters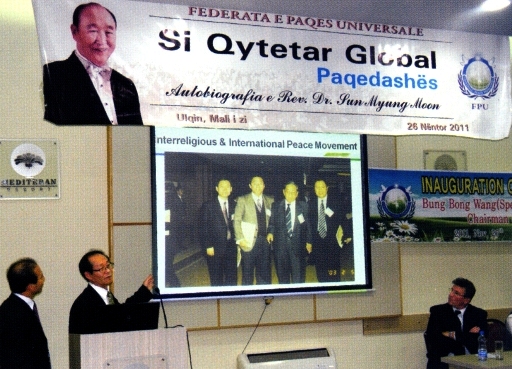 Rev. You Soo Park, special advisor (boonbongwang) to Montenegro, gives his keynote presentation.
The relatively new nation of Montenegro does not have a Unification Movement. Our movement has to start from the very beginning there. About five percent of the population of Montenegro are of Albanian descent and speak Albanian. Four or five years ago, we appointed several ambassadors for peace among these ethnic Albanians. In recent months, we contacted them. We worked primarily with Mr. Nail Draga, director of a cultural center in the town of Ulcinj, a beautiful costal town that is the center of the Albanian community in Montenegro.
As we have published True Father's autobiography As a Peace Loving Global Citizen in Albanian, we decided to hold an event introducing the book to the Albanian community there. While preparations were underway, Rev. You Soo Park, boonbongwang (special advisor) to Montenegro, decided to visit and take part in the event, which could also serve to launch his mission as boonbongwang. He was also willing to support the event financially.
In October and at the beginning of November we visited Ulcinj twice and discussed the event with Mr. Nail Draga. The event to publicize Father's memoirs was held on November 26. It was decided to appoint twelve people as ambassadors for peace and that they would form an initial UPF Council for Montenegro.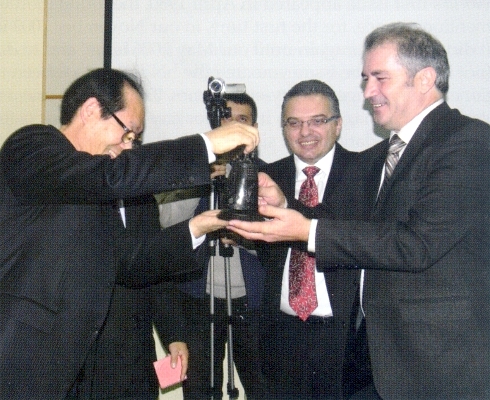 Mr. Nail Draga, newly installed as chairman of the Montenegro UPF Council, is presented with a traditional Korean bell.
Mr. Draga took full responsibility for the event and did a wonderful job. Eighty people -- twice as many as predicted -- attended the event at Ulcinj's Mediterranean Resort. The audience filled the resort's main conference hall.
Mr. Draga formally welcomed the guests in a speech, and thanked those who had come from South Korea and Albania who had contributed their support. He spoke about the unique value of the UPF founder's book and the simple and sincere language the author uses.
Before beginning his keynote speech, Rev. Park presented a traditional Korean bell to Mr. Draga. He said that the sound of the bell symbolized the coming of a new era of peace for Montenegro and the Balkans.
Mr. Dug-bong Chang, the former UPF director in the Balkans, explained the key points Father Moon emphasizes in his autobiography. He mentioned that from Father Moon's viewpoint, every single person has unique, absolute, unchanging and eternal value and are sons or daughters of God, who is above all religious, cultural, racial, national and ethnic boundaries.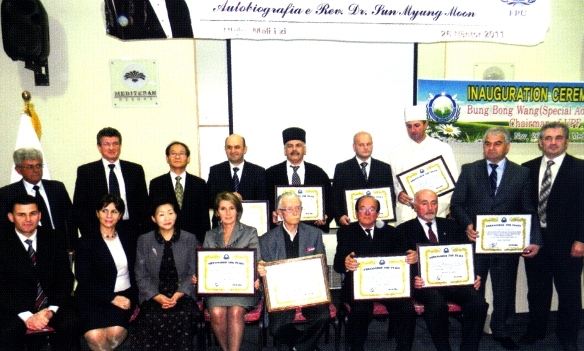 The presentation of Father's autobiography in Ulcinj, Montenegro, permitted a direct witness to his life and work, while at the same time establishing a UPF chapter in that nation.
Mr. Ali Lacej, the former chairman of UPF in Albania, was the last to speak. He provided an overview of True Parents' investment in Albania. He spoke of their visit to the country and the meetings they held Albanian leaders. He added that the vision and principles instilled in Albania through UPF have made a remarkable contribution to the country's welfare. He emphasized that As a Peace-Loving Global Citizen is like a textbook on life that absolutely should be in everyone's personal library and be thoroughly studied.
The event ended with a group photo. We spoke more afterward over refreshments and many people bought copies of the autobiography.
Our congratulations to Mr. Nail Draga! We wish him success as chairman of the initial UPF Council of Montenegro in spreading UPF's vision throughout his nation.