| | |
| --- | --- |
| | The Words of the Park Family |
Top Carp Members Tour Korea and Japan
Chung Goo Park
February 22, 1981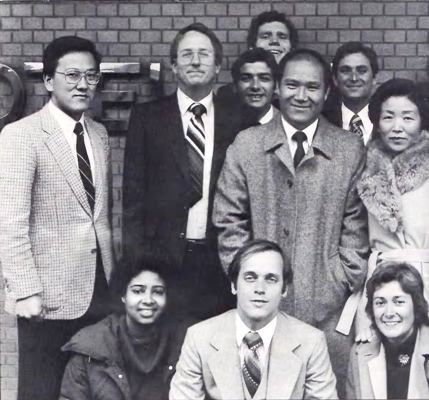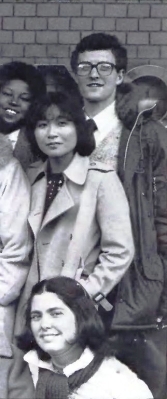 To represent the ideal young people of America -- those that how the best in moral, intellectual and heartistic fiber -- ten CARP members were chosen on February 11, selected out of dozens of nominees for the titles of "Mr. CARP" and "Miss CARP."
The winners left with Rev. Chung Goo Park on February 22 for a two-week tour of Korea and Japan. Selection was based on number of spiritual children, depth of heart and sacrifice, and quality of testimony.
Winners represented each geographical area: Wanda Torres and Dominique Lavoie from the Eastern Region: Kathy Craig from the Southeast Region; Willie Ramos from the Mideast Region; Steve Wolf and Gloria Lagasse from the Midwest Region; Mark Lincoln from the Southwest Region; Scott Avery from the Performing Arts; and Myra Burton and Jim Dougherty from the West Coast.
Excerpts from their reports in the CARP Monthly follow:
Scott Avery
As soon as we got off the plane in Korea, we were greeted by Korea CARP and were taken to the hotel. The next day we went to the Unification Church Headquarters. It was very small. After being so materialistically oriented in the United States, I had a real shock in Korea, especially since that is the place where our movement started. The president of the Korean church works there. It was difficult to understand.
Then we went to Lake Chung Pyung and could really see the strength of the Korean people as we hiked up there in the cold. I saw even old men and women out in the snow walking around. It was a completely different standard than in America. The Koreans are just much more free than Americans and much less conscious of positions, at least externally. One would sing a song and then half way through another would start a new song. It looked like it was not so organized, but the heart as there and the people did not have any bad feelings towards people singing different songs. So they had such a wonderful time and would just follow, investing their whole heart and body. It was a totally new experience for me.
We came back into the city and saw many wonderful places there. We could see that Korea was not only the center of Christianity but also the center of Buddhism and Confucianism. They gave us a bit of history of these three religions, making Korea a very religious nation and quite unique.
We went to a Korean village. It is so unmaterialistic; they are so poor, yet so sacrificial. Even way beyond the externals of serving, it felt different from being served by American or Japanese members. It seemed much more wonderful and natural. Their motivation was that of love rather than responsibility. You got the feeling that if they did not love to do something, they would not do it, whereas Americans would follow half-heartedly externally, doing things they did not like -- which does not have as much value. It took me a lot longer to understand Korea than Japan, but slowly we found our hearts being taken away by the Korean experience.
We went to the IFVC and PWPA. The IFVC has given lectures to over 30 million people during the last two years.
The Korean Sunday service was wonderful, because there were old and young people. It was like a traditional event.
Every Sunday there were many families; they were our family members, but their singing was so natural that even though I had never experienced it I felt I had. It felt much deeper and warmer than ours. The best thing was having dinner with Mr. Young Whi Kim, the president of the Korean Unification Church. This was the most moving experience, for he talked about things, asking us questions for which we had no answers. "What is heart?" he asked. He said it was the desire to make your object happy. He talked about God's love. I found it sort of difficult to remember, because the Western world is more analytical and the Eastern world more symbolic and mystical, yet deep.
At the airport we cried so much. The Korean family sang a song and everyone came out to say good-bye. We felt so embraced and inspired about the whole thing. We wanted to keep staying forever.
In Japan I had a wonderful experience. There was a huge welcome party, and it was very Western. All the food was Western, a big banquet. I was particularly inspired, because they had a band called "Sunrise Ocean," similar to Sunburst in the types of instruments used. They played dinner music while we were eating and speaking. I loved it very much.
We stayed at J-CARP headquarters the first night, in a really nice and luxurious house. Later we stayed at a fundraising center. They were so efficient and had everything organized. They made the most out of the time and space that we had.
During our first full day we visited three universities: Waseda, Tokyo and Keiou. Waseda is True Father's university, and we could feel a deep sense of history there. We could come closer to Father. We got to see his boarding house where he had prayed. The old lady there talked about him. She said many interesting things; for one, Father would never sit and eat with the rest of the students: he would always eat alone. This is kind of an unsociable act. We asked her what the other students thought about him. We learned he was always very well respected by the other students in the lodging house.
We heard some very inspiring testimonies about two universities: Aoyamagakuin (Methodist) and Tokyo Universities. We saw many pictures and video tapes of groups attacking CARP members. In the beginning, they would not attack the sisters, but after a while they began to. For CARP members to go on campus was a life and death matter. Every day they would not know what would happen to them. They were really risking their lives. They persevered, however. Father said that CARP has won the victory in Japanese universities, and now has to go to the Asian level.
J-CARP has many student newspapers-26 all together. In four universities CARP members are in the student government.
Mr. Ohta, president of J-CARP, tried to give us an entire history of Japan. They are so far ahead of us, even the video tapes were of such high quality.
The Japanese family is involved in fundraising activities. We had dinner with some of the top fundraisers and team captains to hear testimonies. The immediate thing that we recognized was that their results were higher than ours. They get up at 5:00 every morning and do a song and dance. It was so joyful I found myself wishing that I could be on a Japanese fundraising team. It was so pure it made you seem like you were in the biggest, warmest family of all. I could understand how we were raised by the Japanese, because we have so many of the same traditions.
But of course the most inspiring was to be able to see the places where our True Father lived. I thank Heavenly Father for such a rewarding and fulfilling experience.
Wanda Torres
The first thing I want to say is that I was deeply moved by the Korean and Japanese members, by their deep heart and sacrificial way of living. They give of themselves 24 hours a day. Some sisters stayed up for a long time fixing us food for the next day.
On top of this was their tremendous high standard -- they are always so bright. Our Korean and Japanese brothers and sisters really respect and love each other for who they are -- children of God. There is a high respect for older brothers and sisters as well.
I cannot begin to express the heart of our brothers and sisters there. When we were greeted at the airports they were all there with gifts and warm smiles. They said that they had prepared for our coming weeks ahead of time and were very, very excited. I felt I was met by royalty, for they have sacrificed so much for Heavenly Father and True Parents.
I could see how some family traditions have been able to live in our movement. Their roots are firmly planted in our origins of Korea and Japan.
I would like to thank Heavenly Father and everyone for allowing me such a blessing to visit our Fatherland. It is a great experience that will light my memory forever.
Dominique Lavoie
I left for Korea not knowing so much what was waiting there for me. My basic preparation had been hard work. My first moving experience was the welcoming committee at the airport of Seoul. Many brothers and sisters were there with posters, big smiles and loud voices. As we went to shake hands and share, I felt that they were deeply and warmly welcoming us with enthusiasm and purity. I really felt they were my brothers and sisters.
For the entire ten days they served us completely -- it started with a reception and stay in the biggest hotel of Korea. All week they never stopped giving us things, taking us to the best restaurants, buying us pastry, candy, ginseng, anything that would make us happy. They cooked fabulous meals, came shopping with us (haggling with the shop owners for a discount); they even prepared baths by warming up the water on the stove, filling the tub and covering it with plastic so that the water would stay hot until we arrived. For their personal use it was always cold -- they did not use hot water. They also washed our laundry by hand, not having a machine. On the internal aspect of their unconditional love, they never held back anything.
During our tour in Korea we met older members and some of the 36 blessed couples. I really felt the standard that Abel has to have in the providence of restoration -- such as Jacob, who gave everything and bowed down to Cain. The Korean family is so humble; it is easy to see that they are really centered upon God and True Parents.
When we left, they were all crying, even the ones that had just met us one or two days before. So much love! I had never experienced that much love in all my life!
We then moved to Japan. It totally took me by surprise -- from that deep tearful experience to the organization and discipline of the Japanese. We found ourselves welcomed by about 70 brothers and sisters with gifts and warm handshakes. Everything was so orderly and disciplined. Afterwards I discovered a deep heart behind it.
When I entered the CARP headquarters, there was such a warm spirit. There was a tendency to make everything very official, but soon the entertainment began. The MF'T leader of Japan started to dance, and we sang and danced.
I was inspired by J-CARP's history and their situation today. Our Japanese brothers and sisters are really on the front line. They have a sense of mission, determination and strong will.
We met the MFT brothers and sisters of one area. They are really light, bright and exciting -- some have been fundraising for many years.
While leaving. I reflected on the experience and felt it gave me a much broader vision of a one world family under God and a one united CARP with a deep heart, strong will and new idea. Personally it challenges me to deepen my relationship with God and True Parents -- to embody the deep parental heart that I had seen. That is what I hope to be able to give back. My excitement now is to go back to my center and challenge myself on how much I was able to digest.
Cathy Craig
Willie Ramos' and my three-day delay over passports felt like a test of faith that God understood our situation. Though the storm was rough externally, internally we had to protect God in the temple of our heart -- to stay like calm, deep water.
When we arrived in Korea, Mr. Cho picked us up. Later we were greeted by older K-CARP leaders sitting in the room where Father slept in Seoul. We were like children in the arms of our Korean family. Then we were off to Pusan with CARP director, Soo Yong Kim.
For five hours we shared our experiences of witnessing on Korean and American campuses. In both cases, we must become friends with the students first -- serve, love and pray for them. Then introduce the Divine Principle. Mr. Kim showed a genuine honesty, even about his struggles. I shared mine as well. He told me, "If you want to catch God's will and thoughts and voice, you must turn your dial to His channel through hard work and prayer. Remember you have a changing mind, so you will not always be in the light -- but don't worry God is always with you: (What a relief!)
In our ten-day visit, every day was an adventure. From the moment Willie and I met up with our American CARP brothers and sisters, we were off to Father's museum and holy ground -- many places and many tears.
President Kim of the Unification Church of Korea taught us the explanation of heart or Shim Jung: "To explain heart you must explain and know the motivation of God's heart. Why did God even create man? Our original nature came from God. You have to have an object of the heart. What is complete loneliness? Having no object to love. By making your object happy, you make yourself happy. Also, you must be accustomed to being loved so you can give love. The reason why babies get parents' love first is because God wanted to teach love first." So in our Korean family we were completely loved; they knew our personal situation even without words.
The main point of Korea was the heart of servitude and love. Even the city people had a high sense of hospitality to each other and us. Even though they were poor (the Korean church and CARP), they gave us everything. There was such dignity, humility and respect. Now I feel closer to True Parents from experiencing Korea and sharing with brothers and sisters.
In Japan you cannot help but be moved by their great accomplishments, in the fields of CARP, VOC and Happy World. When we arrived at the airport, many members met us with open arms. Mr. Ohta, president of CARP in Japan, was there also. We were amazed consistently by the scheduling of our days and by our new challenge of connecting hearts with our Japanese family. Mostly I felt a gut-level sense of loyalty and faith to God and True Parents. They are very bright and considerate and eager to challenge new things.
After a couple of days, I began to feel real ties developing with Mr. Ohtsuka (our guide and vice-director of J-CARP in east Japan) and Mrs. Ohta. She is like True Mother and Mr. Ohta like Father. Many others became like uncles and true sisters and brothers.
CARP in Japan is receiving much persecution, but has had some notable victories. But we can be sure there is a silent majority who is listening to CARP and discovering that it makes more sense than other opposing ideologies.
There are 2,000 professors working with the Professors World Peace Academy in Japan, an organization which brings scientists and professors who perceive the crises of modern civilization together, seeking solutions to the world's problems. They put an emphasis on setting up a future goal, rather than on the mere empirical study of the past and the objective analysis of the present.
Out of 3,000 members working in Happy World, 2,300 are blessed couples with families. It is very exciting, and helps you keep a futuristic mind for America. We owe a lot of gratitude to Japan, for our family's incredible hard work and support and sacrifice.
At every train stop, we were greeted by MFTers, and we saw tears in their eyes. They have been praying for us daily. Our universities are so important for the future. We must tell the students and teachers our message, even in the elementary schools. We can win through love.
Rev. Park said, "We must stand proud in front of Satan and be humble in front of our brothers and sisters." I pray we can develop the heavenly heart to show respect and dignity to each other and a loyal heart to believe in God, True Parents and ourselves.