| | |
| --- | --- |
| | The Words of the Schellen Family |
My Reflection on True Parent's Visit to Turkey and the Middle East
Hermine Schellen
May 14, 2011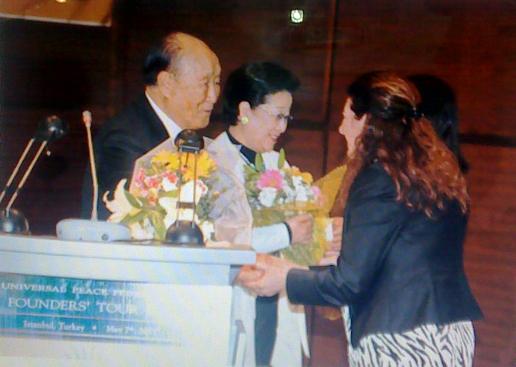 Dear brothers and sisters
I just came back from Turkey a couple of days ago.
It was great to see True Parents and some of the True Children in Turkey.
Hyung Jin Nim and his wife, Ye Jin Nim and Yeon Ah Nim. (Hyo Jin Nim's wife) were there.
I had a chance to greet them personally for a very brief moment, which was important to me for one reason, I really wanted to thank them for coming to our Middle East Region. Also I had a chance to meet briefly, our wonderful senior brothers, Dr. Walsh, Mr. Taj Hamad, and Mr. Timothy Elder. Their total commitment towards God's Providence, by supporting whole heartedly, True Parents and the True Family, was so beautiful to witness.
Basically the Turkey Event was comprised of two major aspects.
A) The Public speech by Aboji on the 7th of May. The official figure of participants for this Event was 700. The mobilization was done centered on Mr. Yamazaki and Mr. Higashimori and a team of over 30 Japanese brothers and sisters, together with some Turkish brothers and sisters.
Also, I wish to point out that the whole Event and True Parents Visit to Turkey was entirely sponsored by the Japanese Brothers and Sisters.
B) The second aspect of the Turkey Event was the, Leadership Conference for the Middle East. We had around 50 Amb. of Peace from 12 different Middle East Countries. Several of the Participants were Religious Leaders, representing the Muslim, Christian, Buddhist and Hindu Faith. Plus one young Turkish Member of Parliament.
On the first Day of the ILC, Hyung Jin Nim was addressing the Leaders. He spoke with great spiritual authority and clarity. At the end of this Session, the Conference Participants were so eager to have a photo taken with him. The Group pictures were taken, divided by the various countries. And I had the great privilege to assist Yemen to have this historic picture taken. That made me almost feel happier as when we had our Lebanon group picture taken with Hyung Jin Nim. Cuz Yemen's situation is very, very difficult as I learned from the Yemeni brother who was there.
As for the rest of the Leadership conference, my husband was most of the time the moderator. And on the 7th of May we did also the Legacy of Peace Ceremony for the Middle East. Since this was the Day of the Main Event, and everybody from the staff and leaders were focused on making the final preparations for True Fathers Speech in the evening, it was basically my husband and I who were asked to take care of this Legacy of Peace Ceremony. The participants, seemed to be quite happy with this Ceremony. We had some very important Leaders, from the Middle East who were honored in this Ceremony. They were political and religious Figures. One of them was the famous Palestinian Leader, Yasser Arafat. Also we had a small poster with pictures of several first young Victims from the "Arab Revolution" in Egypt. From Lebanon we honored two Leaders.
Another job assignment I had, was the Registration and Welcome of all our Participants who came from other countries. Next to our table was the manager of an Tourist and Travel Agency, sitting at the table set up in the Hotel Lobby as well. One day to he approached me saying, " I have noticed that you are always so busy here ". Then he suddenly started to tell me about a 'baba' that he and his company is taking care of. I asked: "Oh the "baba', what is his Name? And I found out that he meant Aboji. 'ha ha'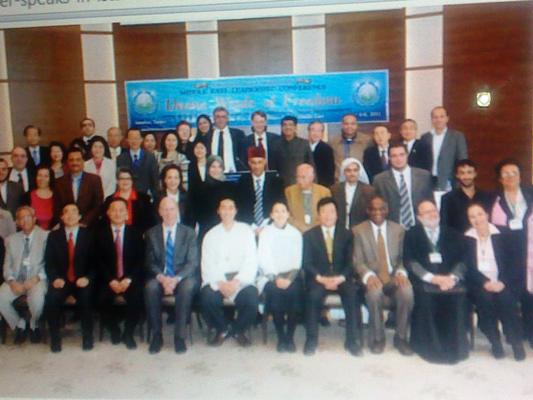 So you can imagine I was happy to hear from him some of the details about True Parents sightseeing adventure in Turkey. I was truly so glad to hear that they had a wonderful program. That included a visit to the famous Blue Mosque in Turkey, a visit to the great shouk or on a wonderful Boat trip on the Bosporus Strait.
Also I could notice that Hyung Jin Nim is really making sure that True Parents are always well taken care off.
For example there were no more breakfast meetings with True Parents and Leaders on the program.
One brother however, told me that Aboji said in Athens, during a long Hoon Dok Hae, "I am here to save you ".
That truly shows, that no matter how old Aboji becomes. His Heart is always the same, always concerned how to secure our eternal Life. And the eternal Life of all Humanity!!
But being in Turkey, meeting True Parents and the True Family, I have learned one Lesson. That now it is our time to fulfill our portion of responsibility!!
True Parents fulfilled everything that is needed for us to be restored back to God. But one thing they cannot do, that is fulfill our portion of Responsibility! I clearly felt that now it is more important to fulfill my 5% responsibility, then to be in the physical presence of True Parents. Although it is always great to be around them, no question, however it will never be enough just to be in their presence, to restore me back to God. I came to deeply realize how crucial and important the Human Portion of Responsibility is. It is not about who gets the greatest privileges or the first row seats. At the end of the day, what will really matter is our 5% responsibility. Only by fulfilling this, will enable us to become True Sons and Daughter's of God and True Parents.
Aju
Sincerely
Your sister Hermine