| | |
| --- | --- |
| | The Words of the Schellen Family |
Kofi Annan Say's Syria Accepts Peace Plan
Hermine Schellen
March 27, 2012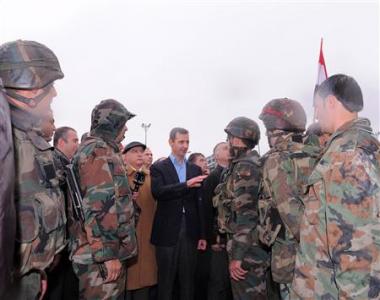 Reading this News today gave me first time hope that the killings and bloodshed of so many innocent civilians will at last come to an end!! For month and month we have heard so many bad news about Syria, and lots of contradictory reports. I shall avoid going into details as this will not do much any good. All I can hope for is that the Violence will stop and that a real solution can be found in Syria, that represents a true Reform and not just a per forma type. H. Sch.
Syria's President Bashar al-Assad speaks to soldiers during a tour in the Baba Amr neighborhood of Homs in this handout photograph released by Syria's national news agency SANA on March 27, 2012. Assad visited the rebel stronghold in the city of Homs that his forces had overrun after weeks of shelling and gunfire, apparently to make the point that he can now tour the streets of the once bitterly fought.....!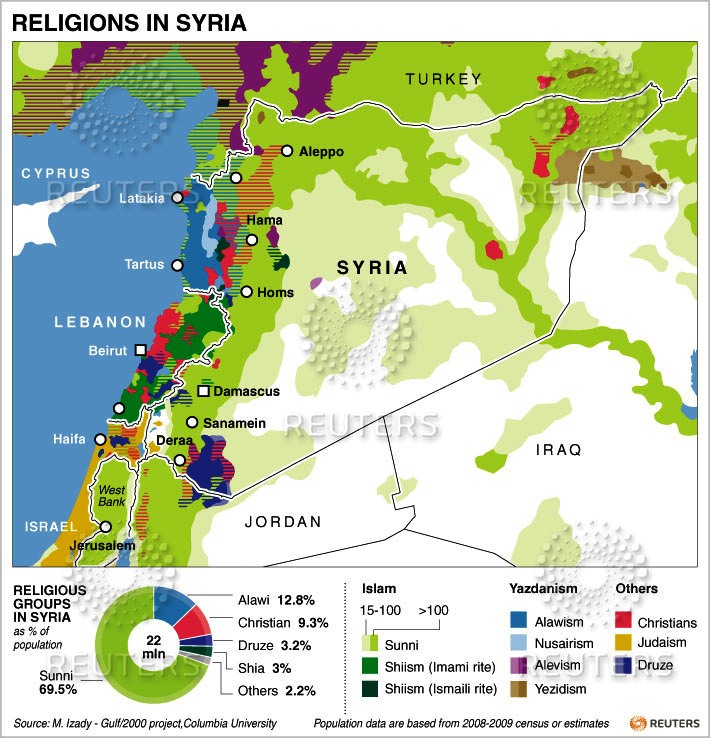 By Erika Solomon and Oliver Holmes
Beirut | Tue Mar 27, 2012 3:25 pm EDT
(Reuters) -- Syria has accepted a U.N.-sponsored peace plan, international envoy Kofi Annan said on Tuesday, as troops loyal to President Bashar al-Assad raided rebel forces who have taken refuge across the border in Lebanon.
Assad made a rare foray into the heartland of Syria's year-old uprising, visiting a rebel stronghold in the city of Homs that his forces had overrun after weeks of shelling and gunfire, apparently to make the point that he can now tour the streets of the once bitterly fought-over district.
Syrian state television showed video of Assad, wearing an open-necked shirt with a blue suit, walking casually in the devastated streets of the Baba Amr district and talking to groups of supporters and troops in combat gear.
Baba Amr was an emblem of opposition and rebel army defiance until it was reclaimed by government forces early this month after 26 days of heavy bombardment which opposition activists said was totally indiscriminate.
"Life will return to normal in Baba Amr, better than it was before," Assad said.
Activists say hundreds of civilians and opponents of Assad were killed in Baba Amr in February by shelling and snipers.
"He thinks he won and scored a great victory," said opposition activist Saif Hurria, speaking by telephone from Homs. "He wants to show the world he defeated and put down a revolution. But... it seems he can't even release the video until he has left Homs. That is not control"
Opposition supporter Abu Jaafar said Assad's appearance in Homs was "giving the green light to kill like this again".
DIPLOMACY
Annan represents the United Nations and the Arab League. Through a spokesman he said Assad had accepted the basic terms of a peace plan which calls for national dialogue but does not hinge on him leaving office.
Western and Arab leaders are due to meet in Istanbul on April 1 to discuss a political transition, and the Arab League and Turkey were pressing various wings of the Syrian opposition to try to unite.
In a session on Monday, the People's Assembly of Syria called on Assad to postpone parliamentary elections set for May 7 to allow time for what it called the consolidation of comprehensive reforms and the outcome of a national dialogue.
Assad has used the army to crush protests against his 12-year rule but his Alawite Muslim minority and its allies still have substantial popular support in the country.
Annan had said on Monday that Assad's government could not resist the "winds of transformation", but it was too early to introduce any timeline for a peaceful solution.
He said Assad's acceptance of the peace plan was "an important initial step" but conceded he faced a "long and difficult task" in ending the fighting and said he could not set any timetable.
U.S. ambassador to Syria Robert Ford said in Washington that if would be unwise, from his experience, to take Assad at his word. "You want to see steps on the ground," he said.
Annan's plan calls for withdrawal of heavy weapons and troops from population centers, humanitarian assistance being allowed in unimpeded, release of prisoners, freedom of movement and access for journalists to go in and out, Annan said.
The United Nations estimates more than 9,000 people have been killed in Syria's upheaval over the past year, UN Middle East envoy Rovert Serry told the Security Council. Syrian authorities blame foreign-backed terrorists for the violence and say 3,000 soldiers and police have been killed.
Violence Unabated
Opposition activists reported several civilian casualties in shooting late Monday and overnight in the cities of Idlib and Homs, in fighting between government forces and rebels.
Video posted on the internet by activists showed thick black smoke and blazing buildings in a district of Homs. There were wounded and bleeding men and women lying in a street.
Syrian troops advanced into north Lebanon, destroying farm buildings in pursuit of Syrian rebels, residents said. Lebanese security sources denied that the Syrian troops had stepped onto Lebanese territory.
The border is poorly marked. Incursions have been reported in the past months without triggering Lebanese protests.
Security appears to be fraying in many parts of Syria despite repeated army offensives to regain rebellious territory. Activists say the government is struggling to hold such areas for long, with rebels swiftly re-emerging, as they have in other parts of Homs.
In Turkey, Syrian rebel group leaders gathered to weigh how to unite their fractured movement and boost foreign backing for a year-old revolt.
The main opposition block voiced support for Annan's plan -- so long as it led to Assad's removal.
"A peaceful transition means that the regime needs to be changed. And that starts with the removal of the head of the state," said spokeswoman Basma Kodmani.
Western and Arab governments which would be glad to see Assad ousted are wary of what might replace the 40-year-old family dynasty and its ruthless but predictable police state.
Russia and China have shielded Assad from Security Council condemnation by vetoing two Western-backed resolutions over the bloodshed, but approved a Security Council statement this week endorsing Annan's mission.
Shifting from its initial unqualified backing of Damascus, Russia has given Annan's proposal its full backing and said it could be Assad's "last chance" to avoid a protracted and bloody civil war.
China's Wen told Annan that "the efforts to seek a solution to the Syrian crisis are at a critical juncture. We do believe that your mediation efforts will lead to progress in seeking a solution to the Syrian issue".
The opposition has so far rejected Assad's calls for dialogue saying it is too late. The crackdown has angered Arab countries including former allies Qatar and Saudi Arabia, which favor arming the rebels.
But Arab leaders due to meet in Baghdad on Thursday will support a Syrian-led transfer of power, Iraq's foreign minister Hoshiyar Zebari said on Monday.
"There has to be a political solution, fundamental constitutional and political changes for transfer of power in Syria but through a Syrian-led process," Zebari said. "We are not in a position to dictate to the Syrians what of kind of president, what kind of leader they should have."
(Additional reporting by Oliver Holmes in Beirut, Khaled Yacoub Oweis in Istanbul, Maryiam Karouny in Baghdad, Yesim Dikmen in Istanbul, Lou Charbonneau at the UN.; Writing by Douglas Hamilton; Editing by Giles Elgood)