| | |
| --- | --- |
| | The Words of the Schellen Family |
Preparing Father's Autobiography for the Middle East
Thomas Schellen
August 2012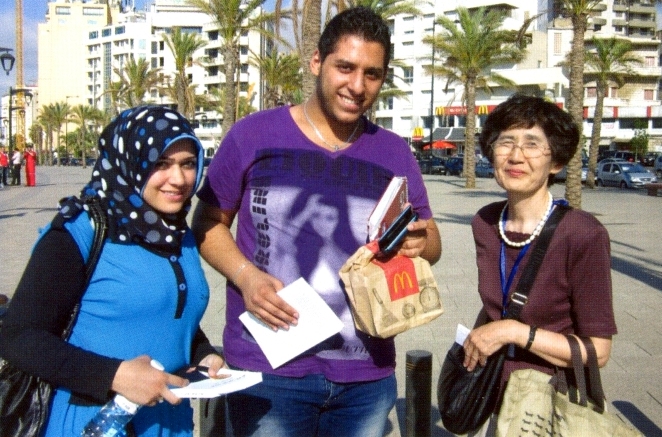 A Japanese volunteer distributes the autobiography at the Corniche, Beirut's sea front.
The initial work to prepare Father's autobiography for dissemination to the people of the Middle East has now been completed. Dedicated members who would have difficulty openly distributing the book in their nations came to Lebanon where they could love the Lebanese as proxies for the people of their own mission countries. Their experience portends success throughout the region.
True Father's history-making autobiography, As a Peace-Loving Global Citizen, now exists in Arabic, a language that over 300 million people speak. Contemporary Arabic, although differentiated from the classical Arabic spoken by Prophet Mohammed, is a language of primary importance to the world's more than 1.7 billion adherents of Islam, and it is one of the United Nations' six official languages.
The translation of the book from English to Arabic was carried out over seven months during 2011 and 2012. It combined volunteer efforts and professional editing work by native or bilingual Arabic speakers from five different nationalities living in Sudan, Egypt, Korea, Japan and Syria. The multi-religious team included one second-generation and two first-generation Unificationists, two high-ranking Muslim ambassadors for peace and a professional linguist, who is a Muslim.
Another remarkable fact is that the editor of the Arabic edition accomplished her task in the central Syrian city of Hama, during a time when she was faced with the most adverse of circumstances -- including frequent cuts of electricity and water and many gruesome effects of the violent conflicts between government and opposition forces that the Syrian people have had to endure.
The production of the Arabic version took place under the guidance of Dr. Sang Jin Lee, then regional president for the Middle East region. The first copy of the Arabic edition distributed was given to Dr. Lee at the end of May 201.2 at a dinner to celebrate its publication that was held in Beirut with a small circle of ambassadors for peace and other friends. (As it turned out, the production of the Arabic autobiography also marked Dr. Lee's farewell from the strenuous years of bearing responsibility for the entire Middle East. With a changing of the guard for three regions on June 20, he has become free to dedicate more time to his historic role as boonbongwang for Bahrain, the island kingdom in the Arabian Gulf.)
Immediately after the book came back from the printers, a first response of Arab readers to the autobiography was sought. That response proved to be positive and highly appreciative. As part of a campaign to distribute the Arabic autobiography, Japanese volunteers visited Lebanon for between ten and forty days. They met people in the streets, at universities and at special events organized in collaboration with ambassadors for peace.
This effort culminated in a public book launch convened at the country's national civil society hall, UNESCO Palace, in Beirut. The event attracted two hundred dignitaries and other interested people who seemed to appreciate the book's God- affirming universal message of peace, free from overtones of cultural or spiritual colonialism.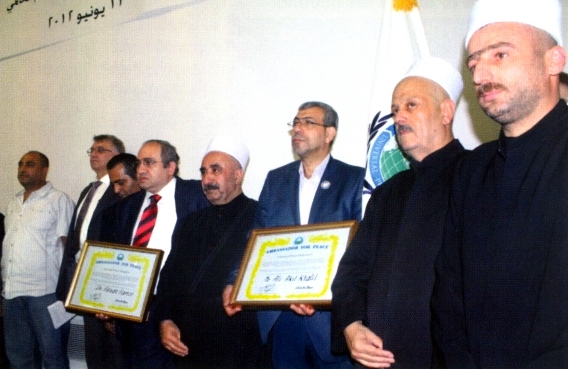 New ambassadors for peace and Druze spiritual leaders at the book launch event; Thomas Schellen is standing second from left
Dr. Hamdi Murad, an ambassador for peace in Jordan, who spoke at the book launch, made the comment, "Without [giving] to other people so that these people can have a better life, we become selfish people. As righteous people we always have to think about others, and teach our children the right way. I am very happy to see that you, Thomas, and all the Japanese who have come to Lebanon, and the ambassadors for peace who live here, have worked very hard to give out this book. It is the first time for such an activity in our region and I am very proud to be part of this with you."
During the entire campaign, which was focused on spreading a message of peace at a time when the region has been under threat of increasing violence, more than seven thousand copies of the autobiography were distributed. Most of those who participated in the campaign were surprised by the many enthusiastic responses.
In terms of average age, the Middle East is currently one of the youngest regions on earth -- not only are more than 60 percent of the Arab population under thirty years old but according to United Nations data analyzed by U. S.-based research group Pew Forum on Religion and Public Life, the share of Muslim youth and young adults in the total world youth population will increase from around 26 percent in 2010 to more than 29 percent by 2030.
Anyone who has the advantage of living in the Middle East today will frequently meet young women and men who are at the same time highly educated and unshakable in their support for their family, religion and national traditions. They want to build a great future but are also looking for the best ways of preserving their culture.
As a Peace-Loving Global Citizen is viewed here as the autobiography of a global leader. In their endeavors and aspirations to become leaders, many young Arab people are interested in learning about such a credible role model. This chance, offered in the Arab language, with its heritage as a carrier of great human emotion and of much wisdom granted by God, was made possible through the distribution of the Arabic edition of True Father's autobiography.
The Japanese volunteers, whose efforts accounted for distribution of 6,500 of the 7,000 books given out, shared their reflections on the campaign. "Before we came here, we had a dream that many local young people can join hands with us and that they will be able to create many things here," said Mrs. Naoko Fujino, a veteran volunteer who had spent several years in the Middle East in the 1990s.
Volunteers represented Japanese teams supporting Morocco, Tunisia, Egypt, Jordan, Lebanon, and the United Arab Emirates. According to one volunteer, the young people she met during the campaign were remarkable. Although she faced a language barrier because of her broken English, she had rewarding encounters. "I have worked with young people in Japan and I really enjoyed meeting the Arab youth. I met many excellent young people," she said.
Two volunteers recently said their farewells. The first, who had made three prior visits to the Middle East, said that when she came to the region before, "I could only see places and not conduct any activities. In carrying out the book distribution campaign, I found out that people are really interested in discussing these issues and I was able to understand them much more."
The second said, "I have never visited the Middle East before and I was very surprised to find so much freedom and beauty here. I was also impressed by the spirit by which people take issues of peace so very seriously. They are truly sensitive to the question of peace."
---
Testimony on Distributing True Father's Autobiography
Hermine Schellen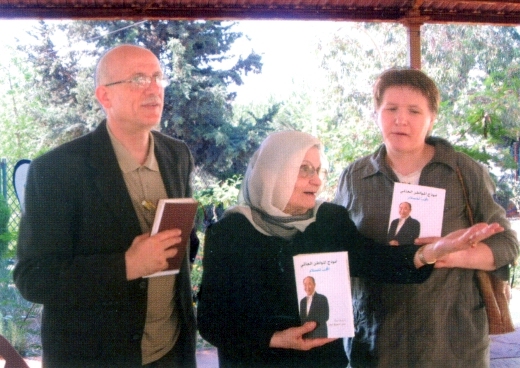 Explaining about the book in the town of Nabatieh in southern Lebanon (Hermine Schellen is at right)
The manager of a very big supermarket in Beirut received True Father's autobiography about a month ago from me. Recently I met him again and asked him if he had had a chance to read the book yet. He said, "Yes," and looked at me with a very serious face. And in a quiet yet strong voice he added, "I can tell you that if all people in the world would think and live as he does, we would live in an ideal, peaceful world. I wish I could meet him some day!"