| | |
| --- | --- |
| | The Words of the Stewart Family |
Annapolis Family Fellowship - Reaching Out on Godís Day
James Stewart
January 1, 2008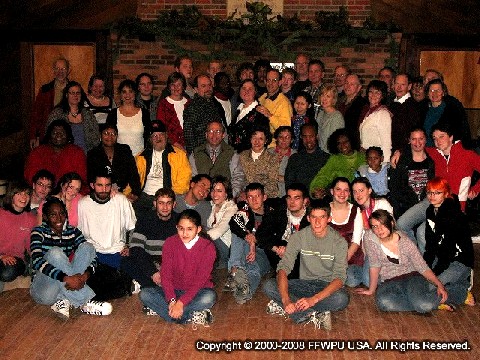 The seven families in our small group meet every Friday night. Over many months through prayer, the word and sharing with each other, we have developed a nurturing, safe community. We know what is happening to each other; we can pray for each other and the families around us. It is a place where we can support, uplift, and just plain laugh with each other. At the end of the year we decided we wanted to share this with and reach out to others in our community.
The Saddleback Church in California use four major days for outreach to family, friends, and community. They are Christmas, Easter, Motherís Day and Thanksgiving. With this in mind, the Annapolis Family Fellowship decided to organize a Godís Day celebration at Camp Letts on the shore of the Chesapeake Bay in Maryland.
Initially we found a Church hall we had used before and know the pastor. We prepared to hold our event there. Two days before Godís Day we got a call from the Pastor, The boiler had broken down in the hall and it would be too cold to hold anything there. It looked as though we might have to cancel and try again another time. After a few hours of frantic calls, we managed to get Camp Letts, a stunningly beautiful place nestled on the shore of the Chesapeake Bay, and we set about confirming our families and friends.
On the day, over 80 people came. New friends, old friends we had not seen in a long time, families, neighbors, and children. We talked and shared about our group, we ate a mountain of food, we sang, we laughed, we danced, and we prayed together. As we said our farewells some of us shed a few tears. We are in touch with many who came; some have joined in our small group.
We still want to reach out to more friends, new and old, and we are preparing for our Easter Celebration. If you have or belong to a small group, reach out this Easter to those around you. Many people are longing to find a safe and nurturing community to belong to. It does not matter if you hold your gathering in a castle, a hall, or a humble place. Reach out this Easter and touch someoneís heart and in doing so, touch the heart of God.
God bless you.
James Stewart