| | |
| --- | --- |
| | The Words of the Stewart Family |
An 'Upper Room' in Atlanta
James Stewart
April 24, 2008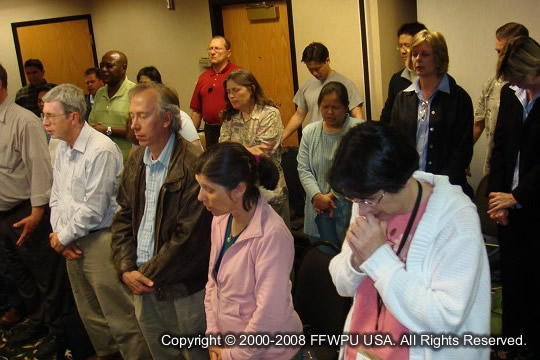 Dear Brothers and Sisters,
Seventy-two brothers and sisters from across America came to Atlanta for a Saddleback Small Groups Conference. Over 1,500 participants gathered at Victory World Church for the three-day conference. Our hearts were open and our minds were stretched as we all came together to learn, to experience the value of a small group ministry and the impact it can have on all of our churches. At the very heart of small groups is the call to community, which should be a safe, healing, and nurturing place - the one place all of us long to belong. In our daily lives we often lose sight of this and find isolation instead in a fragmented and broken world.
In the 28 years since Pastor Warren started the Saddleback Church, it has developed a vision, purpose and methodology to grow spiritually healthy small groups and people. Its members don't believe they have all the answers but they have changed the lives of many thousands of people for the better through Christ and community and a system of small groups. We came to learn from this and we left with a new, deeper understanding of the value of small groups (Family Fellowship) and how we, too, can impact and heal our families and communities.
In the evenings after the conference finished for the day, we had free time to come together as brothers and sisters. We had the chance to eat together, to share deeply, to pray together, to laugh and shed tears together. There was so much passion and hopes shared by brothers and sisters, it was as if we had found an 'upper room' where God could speak to us and touch and anoint our hearts. I hope from this time together we can catch the moment and develop Family Fellowship (HDFC), that through Family Fellowship we can create a movement of safe, nurturing and healing communities that care, love and serve each other all across this nation. When we can live like this, people will break down our doors to belong and be with us.
Thank-you to Reverend Jenkins, who has a vision and passion for Family Fellowship (HDFC) and belongs to his own small group, and the district directors, who came, encouraged and sponsored many people to come to the conference.
If you are interested in hearing more about Family Fellowship (HDFC), or you would like to find a small group near you or find out how to start your own, please feel free to email me.
God bless you,
James Stewart