| | |
| --- | --- |
| | The Words of the Stewart Family |
Family Fellowship, USA - Two-Day Divine Principle Workshop with Rev. Kevin McCarthy
James Stewart
August 23 - 24, 2008
Warrenton, VA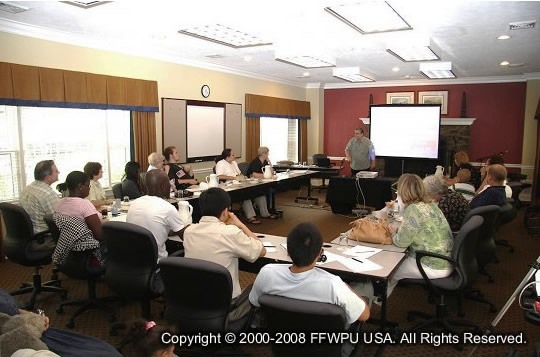 Twenty-one people gathered at the very beautiful Airlie Center Estate in Virginia for a two day Divine Principle workshop sponsored by the Annapolis Family Fellowship and the NoVa Family Church in Fairfax. The workshop was taught by Rev. Kevin McCarthy. Ten of the people who were there were hearing the two-day content for the first time, but many were from small groups in District 1 and have been studying in small groups for the past few months.
Rev. Kevin McCarthy was truly inspired and anointed by the spirit and gave out his whole heart to the workshop. We laughed together, we cried together, we sang old and new songs together, we prayed together, and we cried together. When we understood the depth of God's longing heart for us, what our True Parents have done for us, and who they are, we all made the commitment to start a new life. Most of our new members have made a commitment to attend the next class to discover what to do next.
This is how Family Fellowship (HDFC) small groups can change and impact our lives: When we can gather together in a small, safe, nurturing community, when we reach out to each other and to our distant brothers and sisters and create the kind of small, safe, vibrant and spiritual communities that our True Parents have envisioned. When we love God and live for the sake of others in this way, God will work and many people will come because in the bottom of everyone's heart, all people want to belong and live like this.
Our next workshop sponsored by District 1, the NoVa Family Church, Family Fellowship, USA,and the Annapolis Family Fellowship will be held in Maryland in the third week of September. We want to double the number of people from 21 to 42 and the number of guests to 21. To reserve your place, please, email James Stewart.
Reflections from the Workshop
We knew that God wanted us and was waiting for us, but we did not know what He wanted, and we were a little afraid. After this workshop, our lives will never be the same; we have a family and True Parents…
---
I understood for the first time why my parents could join the movement many years ago and why they could do all the things they have…
---
This is the only place and the only teaching that will bring peace to the world, and that peace will come by Father and Mother Moon… God Bless you all.
---
There are many thousands of people waiting to be touched by God, waiting to belong to a family, longing for more in their lives. Let's work together to reach out to as many as we can; in this way we will comfort the heart of God and True Parents.
James Stewart