| | |
| --- | --- |
| | The Words of the Sudo Family |
Three day HDFC workshop and internal guidance by Reverend Ken Sudo
November 23 -25, 2007
UTS, Barrytown, NY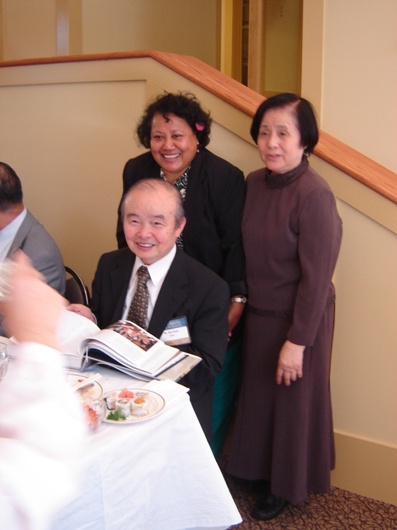 True Mother and Hyun Jin Nim are traveling through America bringing the vision of One Family Under God to our nation. We pray America will continue to bring great victory throughout the 12-city tour.
Next year every continent will conduct the Global Peace Festival. We are going to bring all of America together in August of 2008 and HDFC will be crucial for this. As we build momentum from this tour and towards 2008, it is clear that a grassroots movement will become important for the success of America's Global Peace Festival.
Rev. Ken Sudo, who was responsible for leadership training in the early years of our movement in America and has educated many of our current leadership, is taking time out of his busy schedule to come to America because of his heart to really support the success of America's providence.
True Father gave precious guidance during a two-year period to 16,000 Japanese women leadership in Cheju Island. Rev. Sudo has condensed over 1500 hours of guidance into a series of lectures. This is originally a 7-day program but Rev. Sudo is holding it over 3 days so more membership can attend and hear this guidance from True Father.
Theme: The direction of Hoon Dok Family Church centering on the Completed Testament Word
Content Description:
1. Meaning of the Four Great Realms of Heart and Three Great Kingships
2. The course of restoration of the Four Great Realms of Heart and Three Great Kingships after the Fall
3. Direction of the HDFC in the Age after the coming of Heaven
Dates: Friday November 23 - Sunday November 25
Registration will be Friday, November 23, from 4 pm - 6 pm.
The closing session will finish before dinner on Sunday, November 25.
Cost: The workshop registration fee is: $70.00 (This includes all meals)
Accommodation is $16.00 per person per day (two days)
Accommodations are bunk beds in the UTS dorms.
If you would like private rooms, additional costs will apply. There are different types of guest rooms available. Please reserve your room with Cliff Yasutake. Please pay UTS directly for Accommodation.
The workshop is open to all leaders and members.
Please register online at www.familyfed.org/bfd/Sudo-Regis.html Please call Rev. James Stewart if you have any questions or concerns. Cell phone: (202) 345-6794 Email: jstewart@familyfed.org. We can provide shuttle transportation from Rhinebeck Amtrak Train Station or Poughkeepsie Metro North Station. Please let us know in advance the time and station if you need pickup. We hope this will inspire you and help support for all your efforts.