| | |
| --- | --- |
| | The Words of the Wakhisi Family |
Call for Peace Education
Fredrick Wakhisi
February 6, 2008
Secretary General, UPF-Kenya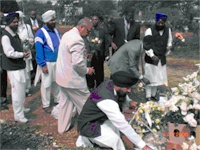 Leaders of several denominations and religions in Kenya called for unity and trust among all communities at a prayer rally organized by UPF-Kenya in Uhuru Park in downtown Nairobi on February 6.
They also called on UPF to offer peace education programs. A traditional site for outdoor speeches and rallies, Uhuru [Freedom] Park has been seen sealed off since the announcement of the results of the controversial Presidential elections held December 27, 2007. In order to carry out the program, organizers had to get permission from the Commissioner of Police himself. Permission was granted the day before, but the written permit was received only 30 minutes before the event began.
The atmosphere at the park was solemn and somber. At 10:00 am, the ceremony opened with lighting of candles and burning of incense.
Rev. Mwalagho Kililo, Regional Secretary General of UPF-Africa, conducted a service that included prayers offered by Rev. Dr. Sirisio Oromo, a Lutheran bishop; Mr. Varma, a Hindu priest; Rev. Henry Omai, General Overseer of the Restoration of Life Ministry; three Sikh priests; and Rev. Dr. Luckio Otieno Odero, an Anglican priest.
The prayers for peace from these religious leaders were both touching and moving as people pled with Almighty God to grant forgiveness based on repentance. There was no doubt, they stated, that we have sinned before Heaven and Earth and thus are not worthy to be called Godís children. From Hinduism to Sikhism, Islam, and Christianity the content of the prayers was the same.
Members of Parliament Hon. Elias Mbau and Hon. Joseph Nkaissery spoke of the need for members of parliament to facilitate UPF seminars that can promote peace. The Ambassadors for Peace have requested that seminars be held to remind them of their calling to promote peace at this time of anarchy and mayhem. The solution to this problem lies with promoting principles of peace education.
There is no doubt that peace is a rare commodity for now. When peace prevailed, Kenyans did not seem to appreciate it until anarchy and mayhem became the order of the day.
Ambassadors for Peace recognize that the guiding principles of UPF and its founderís vision are critical elements for making peace a reality. This is the moment for UPF and all affiliate organizations to come out clearly and fulfill their calling.
The ceremony concluded with an offering of floral wreaths in memory of the more than 1,000 Kenyans killed to date in post-election violence.
A report of the event was one of the lead stories in the Daily Nation newspaper, the leading newspaper in East Africa. This underscores the important of peace to this nation of Kenya.
The newspaper quoted former United Nations prosecutor at the Rwanda tribunal, Duncan Mwanyumba, making a proposal at the rally for the establishment of a National Council of Elders to create bridges of reconciliation among the communities. He envisions that such a council could broker unity and cohesion by summoning political leaders to work for the common good of the country. The lawyer also proposed a constitutional review to create a mechanism for handling foreseeable electoral mistakes, power arrangements, and conflict resolution programs.