| | |
| --- | --- |
| | The Words of the des Lauries Family |
"Every book we give is precious:" Testimonies of NJ Members who completed the Distribution of 430 Autobiographies
Stefan des Lauriers
September 16 2010
New Jersey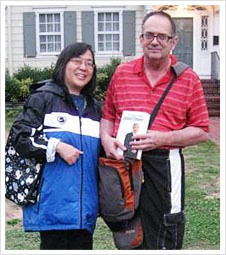 Stefan and Yosiko des Lauriers
When I first joined the movement in 1979, I thought the story of True Father's life would be of interest to Americans. They weren't ready then, but perhaps now they can embrace Rev. Sun Myung Moon's autobiography, "As a Peace-Loving Global Citizen."
The first person I gave the book to was my next-door neighbor. We've lived next to them for fifteen years and I had never mentioned my religion. But when I showed up at their door with a fine book as a gift, they were happy to receive it. They said they were not surprised that we were religious, from seeing people come to our small group meetings. Next, I gave nearly everyone on our street a copy. All my immediate neighbors graciously accepted the books.
Next, I gave a few copies to my daughter's best friend's parents. (Your children may love you for that -- or maybe not.) We had known them since kindergarten, and they were aware that our daughter Naomi had been blessed in her senior year of high school. These were easy people to start distributing to.
Then it was time to go beyond our street and travel around the block. The lady who lives in the house behind our house had told me before that she studied Comparative Religions in college, so I mentioned that to her when I gave her the autobiography. She told me some of her friends were blessed, so I'm anxious to hear more from her.
I devised a strategy to go block by block with my wife, together, handing out books. The best time is the evening or weekends when most people are home. We could hand out about ten books in an hour, making note of which houses receive them. That's about my limit, since it has been 16 years now that I've been dealing with the onslaught of Parkinson's disease; after an hour my medication wears off and I shake pretty badly. On a couple of occasions we had to summon someone for a ride home because I could hardly walk, even though I had emptied my messenger bag of the five books, and had a light load. My wife, Yoshiko, would take the five books in her bag.
It is interesting going door to door, seeing who lives in the big mansions, with the beautiful gardens. About half the people who answered the door accepted an autobiography, and most refused graciously. Only a handful of people showed slight negativity towards Rev. Moon. A couple evenings it seemed that every person who answered the door accepted a book from us.
I feel that a husband and wife can be ideal representatives of True Parents. Actually, we have, along with information on how to reach us, pasted into each book:
"Yoshiko and Stefan des Lauriers were matched, and married by Rev. Sun Myung Moon on July 1, 1982, in a ceremony promoting 'World Peace through Ideal Families.' We have lived in Glen Ridge since 1995, and all three of our children, Renee, Leon and Naomi, graduated from GRHS in the classes of '05, '07 and '10. This is our way of giving back to the community."
We felt that our family has a good foundation in our town since all three of our children have been blessed, and all three have served on the Glen Ridge Volunteer Ambulance Squad as EMT's. Also many people recognize us from school functions. This is what my wife says when we show up at someone's door:
"My name is Yoshiko, and this is my husband Stefan. We are your neighbors living on Herman Street. Our three children went through the Glen Ridge school system, and now our youngest daughter graduated high school and has just started college. We're very grateful for the fine education they received and want to give something back to the community."
Then we hand them the book.
"This is the autobiography of Rev Sun Myung Moon. It is a great book, and it will make you happy when you read it."
Most people can relate to us being grateful for the school system, because Glen Ridge High School is ranked in the top ten of New Jersey high schools. They can relate to someone being grateful for a good education, and wanting to give back to the community.
One evening we met a young minister who gave us her email. I talked to her about ACLC and planted the seed for her to possibly offer a prayer after one of Rev. In Jin Moon's sermons at Lovin' Life Ministries. We also met an Indian lady who was interested in making friends.
My wife was more aggressive than me and passed out more books. She gave them out to people while on the bus to work, and while walking my daughter's feisty little Pomeranian. I was adamant that the dog be left at home, considering it an imposition to arrive at a stranger's house with a barking dog and expect to start a heavenly conversation. My plan was methodical, though, going block by block, and recording each address in a Marble Composition notebook, so we knew exactly where each book has gone. My wife gradually came around to see that my technique was also effective, and we gained momentum. Sometimes Yoshiko would go back out by herself when we finished ten books and would give five more to people who stopped to jog at the track near our house. On September 11, we handed out 47 books; mostly to our neighbors, and a few to ACLC pastors and friends. That completed our goal of distributing 430 books.
I feel that every book we give is precious and should be presented as something that is very valuable. One childhood memory I have is that of a girl who had just returned from church scolding her sister for putting a Bible on the ground. Since witnessing that I have come to have a healthy respect for the Good Books. People sometimes fail to see the value of things given away, so it is very important that you impress upon others the book's true value. On our last day, one of Yoshiko's contacts, who she had given a book to, attended a Tea Ceremony at our church in Clifton.