| | |
| --- | --- |
| | The Words of the Ilin Family |
Conference Focuses on the Ukrainian National Ideal
Mykhailo Ilin
October 18, 2013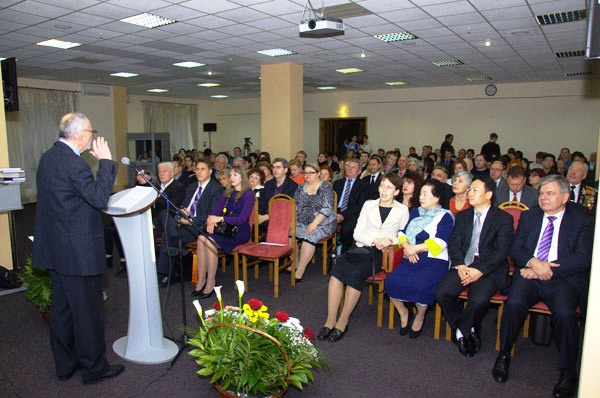 Kiev, Ukraine -- UPF-Ukraine held its annual international conference entitled "The Ukrainian National Idea: Past, Present, and Future" on Oct. 18, 2013. In the conference hall of the Hotel "Kozatskyi" located in the heart of Kiev, more than 200 participants gathered, including Ambassadors for Peace, representatives of NGOs and civil society organizations, leaders of education and culture, and international guests from Japan and Korea.
After the beautiful musical greeting from Ruslana Lotsman the guests watched a short video about UPF activities since 2005, when it was founded in Ukraine.
A series of speeches began with the Vice-Chairman of the Ukrainian Peace Council, Volodymyr Novohatskyy. He explained the importance of the national idea as the main driving force for building a strong and prosperous society. The next speaker, the doctor of historical sciences NAPS of Ukraine Vasily Tkachenko spoke about the historical ways of forming the national idea. The special guest of the conference, Minister of Education of Ukraine (1999-2005) and President of the Academy of Pedagogical Sciences of Ukraine Vasyl Kremen, spoke about the importance of the national idea in laying the foundation of peace and prosperity in the country.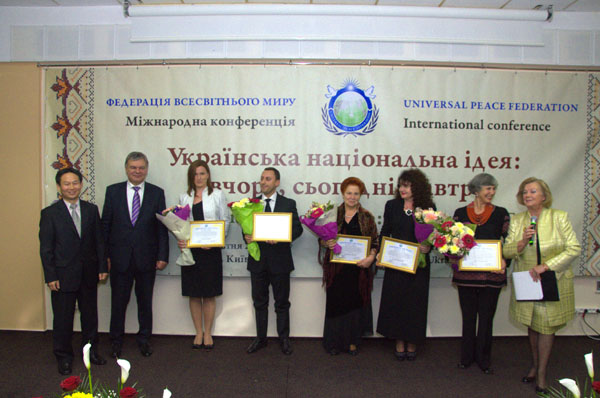 Mrs. Kim Kyung Nam, wife of the senior advisor to UPF-Ukraine Chung Su Won, was introduced as having flown thousands of miles as a peace advocate in her 82 years and as the mother of eight children and 22 grandchildren. The audience was very touched by her warm, motherly spirit.
The head of UPF-Ukraine, Mykhailo Ilin, summed up the results of the conference, emphasizing that the national idea of Ukraine should be based on the principle of living for others and that Ukraine must become a country of peace.
This time, eight people committed to the idea of the world peace were appointed Ambassadors for Peace. Also Vasyl Kremen received a special award from for UPF as "Outstanding Educator."
At the end of the program participants enjoyed the performance of the folk-song ensemble "Namysto." During the informal sharing afterwards, participants wished the initiators much success and expressed their desire to cooperate in promoting the ideas of the Universal Peace Federation in Ukrainian society.