| | |
| --- | --- |
| | The Words of the Li Family |
Educating Young Leaders in India
Yeqing Victor Li
November 13, 2009
From combined UPF reports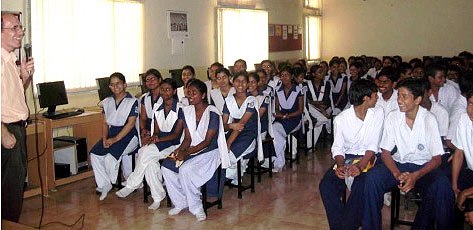 YFWP and UPF collaborated to bring youth leadership and character education training to students at some of Delhi's most prestigious schools. Students at the Institute for Learning in Management are inspired by the vision of peace presented through the seminar.
Delhi, India - Character education is gaining momentum in India as young people increasingly realize that personal integrity is as important for future success as conventional academic achievement.
On a recent trip to Asia from YFWP headquarters in Washington, DC, YFWP Vice President Yeqing Victor Li was a featured speaker at several events at schools and universities near the nation's capital, organized by the Universal Peace Federation (UPF) and YFWP-India. Li encouraged students to excel in their fields of study, but urged them to work together beyond boundaries of caste or religion. "As Young Ambassadors for Peace," Li said, "if you truly take ownership of the vision of one family under God you can travel anywhere and always be at home. You can contribute to a future of peace not only in India but throughout the world."
St. Stephens, the most prestigious college of Delhi University, hosted a training on August 21. The college has an active social service league, and 100 of the college's 1,200 students have been named Young Ambassadors for Peace. The principal, Dr. Valson Thampu, envisions the college as a "peace laboratory" and has made plans for more Youth Leadership Training programs throughout the year.
Former Indian Ambassador to Nepal K.V. Rajan, the president of the Association of Indian Diplomats and former secretary of the Ministry of External Affairs, and Mrs. Geetha Rajan arranged a one-day training on August 24 at the International Institute for Learning in Management Business School. Approximately 100 students attended the program, and a one-day follow-up training is planned.
Later in the month, Young Ambassador for Peace leadership training was also offered to students at several Kendriya Vidyalayas, a network of special schools for children of government officials and military officers. Harcourt Butler, NP, and Sarojini Nagar schools also hosted programs. The trainings, which include videos, discussions, and activities from UPF's Discovering the Real Me character education curriculum, are widely appreciated by teachers, principals, and students.
Government ministers showed interest in expanding this training to other parts of the country in preparation for the Global Peace Festival planned for 2010. India's Ministry of Youth Affairs and Sports national program, Nehru Yuva Kendra Sangatan, is the largest government youth body in the world, and YFWP-India has been invited to join its National Integration Camp and conduct young leadership training in various states of India.
There is also interest in integrating YFWP's Young Ambassador for Peace program into the programs of the National Service Scheme, India's largest student-led movement with links to the community.
The Youth Federation for World Peace is a global alliance of young leaders and youth-related organizations dedicated to building a world of peace in which everyone can live in freedom, harmony, cooperation and co-prosperity. For more information on YFWP-UPF education and leadership programs in India contact UPF-India.