| | |
| --- | --- |
| | The Words of the Lorentzen Family |
SHUK HARP Workshop 2010 - Tell all the world about you
Victor Lorentzen and Sachie Yoshizumi
April 29, 2010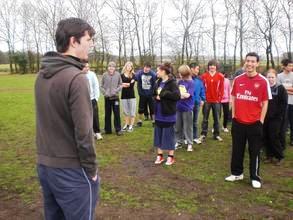 Victor Lorentzen
SHUK 2010 took place this Easter for the ninth year in a row. This year it was Holland's turn to be the host and 35 participants from five different nations gladly found their way there and were divided into five teams.
Unfortunately no BCs from the UK could make it to SHUK this year, but instead we had participants from two new nations -- Finland and Belgium -- who have not attended a SHUK workshop before, but we hope to see more of that in the future.
The motto for this year's workshop was chosen in accordance to Hyung Jin Nim's new directions about telling all the world who we are as a movement. Hans Campman gave lectures about the root of our movement, how God has been working through out history so that the Messiah could come. Speaking for myself it was good to be reminded of how much investment and time lies behind Father's coming.
Our workshop mother Margoth Karlstad also gave her testimony about how she joined the church and it was inspiring to hear how God clearly worked in her life so she could join the church.
Otherwise on the schedule we had a character development exercise, sports and games and of course the big egg hunt on the last work shop day. On the last evening together we also had a family evening where all the teams presented a skit, a few nations gave a performance and we had a few individual performances. The family evening ended with the graduation, a slide show with pictures from the workshop and a minor "rock out" where people sat around and talked, wrote messages on each others certificates and said good bye to the people leaving early the next morning.
It was great to meet up with BCs from other nations even though we only had a few days together. A big thank you to the team leaders for doing a great job and also the rest of the participants for coming to Holland to attend the workshop.
Next year is an anniversary year where we will celebrate SHUK's tenth living year. I hope many will attend and it will become a big success as well.
Sachie Yoshizumi, Finland
We Finns arrived to the workshop place pretty early on the first day. We registered, got coins for the showers, reserved the best beds, helped out, chillaxed, played some games and waited for the others to come. Throughout the day more and more people arrived, some were familiar but most of them weren't. But it's so amazing how BCs can just connect with one another, it's so easy. Already by dinner everyone was talking, bonding and having fun. After that we had ice breaker games, which were really good because not only did we learn each other's names but also something more personal about everyone. The two other days went really fast, seriously time flew by. We did such cool stuff like played sports in the mud, ran like crazy in the forest searching for bunny bin laden and Easter eggs, ate good food (bread and Nutella yummy yum yum), got to know amazing people, listened to interesting lectures and learned new things.
The motto was really inspiring: TELL ALL THE WORLD ABOUT YOU. So obviously the lectures were about the ways we can tell the world about True Father, God, our church etc. The lectures really focused on how to explain True Father's mission on Earth and the DP in 60 min. And it really hit me. If this really is the divine truth, why should we keep it to ourselves? It got me thinking a lot, so I didn't leave the lectures empty handed.
On the last night, we had a family evening, which was the best. Every team had prepared skits and they were hilarious. There were also some really cool music performances. The atmosphere was awesome. People were clapping, singing, laughing and having a blast. After that it was just chilling and hanging out and saying goodbyes and all that jazz. It was the perfect ending to the perfect workshop.
SHUK was like a breath of fresh air, a short get-away from Finland, school, everything. And I can always use a break, so hopefully next year I can go to SHUK again. And who knows, maybe SHUK will be held in FINLAND next year!