| | |
| --- | --- |
| | The Words of the Noumonvi Family |
Titus Thwala and Jean-Mensah Noumonvi off to Nigeria
Winile Masinga
July 15, 2011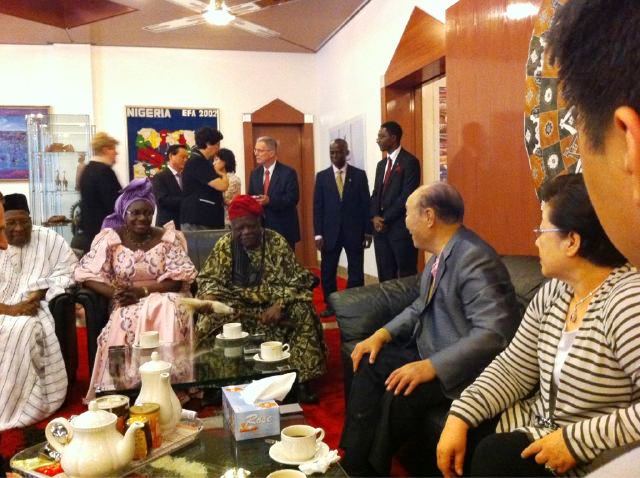 Sun Myung Moon and Hak Ja Han in Abuja Nigeria
Swaziland will be represented in a world conference on international leadership through the Swaziland Chapter of the Universal Peace Federation (UPF).
The organization has sent three (3) delegates to the International Leadership Conference (ILC) to be held in Abuja, Nigeria which begins today. The delegation, led by former Senate President Rev Dr. Abednego Dlamini, former parliamentarian Titus Thwala and UPF-Swaziland National Director, Jean-Mensah Noumonvi, left the country yesterday.
The theme of the conference is: "Toward an Era of Universal Peace in Africa and the World." The conference will be attended by delegates throughout Africa and around the world, including, current and former heads of state and governments, parliamentarians, women and religious leaders. In a press statement, Spokesperson of the Universal Peace Federation Charles Mbingo, the conference was intended to address the growing need for innovative and bold leadership to resolve the critical issues Africa is facing in recent times.
He said the program would introduce universal values and best practices that are necessary to create a world in which the people of every region, race, nationality, culture and religion live together in peace. "The UPF believes that Africa can play a central role in guiding the world toward a new era of peace and development for all, especially in light of the African Union's policy which advocates peace and the resolution of conflicts through dialogue and peaceful engagement," he said in the statement.
"The UPF has noted with concern events that have been developing in the world, in the Middle East, in Africa and in our Southern African region. These events have been characterized by mass action calling for change in those countries said to be ruled by repressive regimes," he added. Mbingo said military alliances had been waging very costly and seemingly unending wars in many countries in the fight against repression and terrorism. Unfortunately, these wars have not made the world a better or safer place.
"Instead, there are fears of a growing global movement of extremism and terrorism that threatens peace and security. Despite these efforts by the world super-powers, these developments demand more resources to deal with global terrorism. It is evident to all that trying to fight terrorism and repression using forceful and violence means has not brought good results. This proves that the way of violence brings negative results." He added, "Just like the African Union, the UPF believes in and advocates the resolution of problems through peaceful means."
"We should look inward and examine our own situation to determine the direction we should take to prevent re-living the unfortunate events that are happening in the world today. Together, we can take appropriate constructive and preventative action to deal with our challenges. Together, we can seek a better future for our country Swaziland."