| | |
| --- | --- |
| | The Words of the Paranas Family |
Congratulation Hon Jonabel Tamayo-Paranas: Isabela's Most Outstanding Councilor
Winney Kim
May 31, 2011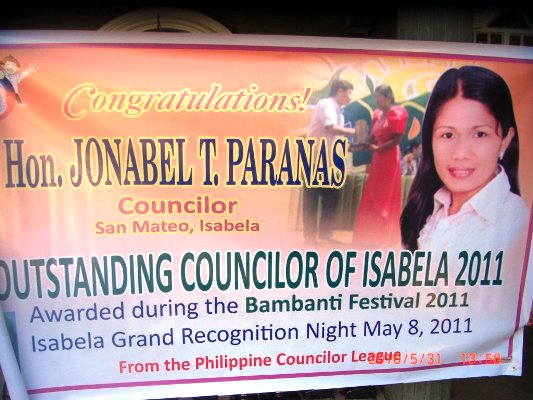 Dear Families,
I would like to congratulate our dear sister Hon Jonabel Tamayo-Paranas for being awarded as Most Outstanding Councilor by the Department of Interior and Local Government, the Office of the Provincial Governor and the Councilors League of the Philippines.
She was one among the 8 Councilors out of the 360 Councilors in the entire province of Isabela. She is presently taking her office in the Municipality of San Mateo and it is her 2nd term of service.
Jona has served the town of San Mateo as SK Federation Chairman during her younger years and was awarded too as one of the Most Outstanding SK Chairman among others by the Office of the President.
She and her late husband Jeffrey Paranas joined the church in Cabanatuan city and got blessed in 1999 and later moved to her hometown in Isabela.
From SK chairmanship until NOW as Town Councilor, she has been using her position and all given opportunities to promote our True Parents' teachings and activities of the movement involving the people in her area of responsibility by conducting seminars on the Principle and other projects where she could relate them to the providence of our True Parents.
Because of her active role in the government in service to people, last March she was appointed Chairman on Women, Children and Family Welfare in her province and her Unification Church related projects centering on Family Values became one of the biggest point that the simple town of SAN MATEO was chosen and awarded as CHILD Friendly Municipality by the Office of the President held in Malacanang Palace.
Now she is focused on livelihood projects and family and health centered activities where she produced too a small booklet entitled "Every Family is Important" for the education of her constituents.
She is now in her second edition of the booklet and it is focusing on Spiritual Values and Morality within the family where she is including all True Parents guidance in the contents...
Jona, we admire your great courage and determination. Despite being widowed at an early age with 2 kids around, you have faced all the challenges of life and still continue to work in service to others. I personally know your heart to bring your constituents to the love of our True Parents and that will be the GREATEST ACCOMPLISHMENT you can ever make as offering for CIG 2013.
Our prayers for your success will always be yours.
I cant imagine the day IF you will be in the MAYOR's seat and doing all the proclamation about True Parents' Messianic role.... That's the BEST thing that will ever happen in the history of our county.
Wishing you all the best!