| | |
| --- | --- |
| | The Words of the Reinig Family |
God and Freedom Conference and Rally
Laura Reinig
June 24-26, 1985
Washington DC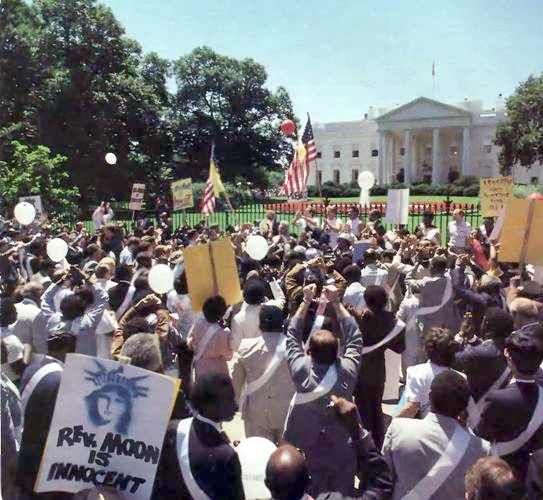 June 25, 1985. Over one thousand ministers and students from around the country demonstrated on behalf of "God and Freedom" in front of the White House in Washington DC. The demonstrators, some of whom were Unificationists, were protesting government intrusion into religious affairs.
Since I had never been to a ministers' conference before, I was hardly prepared for the tremendous surge of unity and spirit that overwhelmed all the proceedings of the God and Freedom Conference I attended in Washington. Over eleven hundred ministers from a broad range of denominations had gathered from around the country to "affirm the sacred and inherent right of each individual to worship God according to one's own conscience...which no temporal authority may ever infringe upon" (from the words of the Proclamation of the Rally for God and Freedom) and to hold a demonstration in front of the White House to protest government infringement on religious liberty in America.
But the gathering turned out to be much more than just a public outcry against the government. The conference became an opportunity for the participants to recognize the deep need for repentance and reflection and the fostering of unity, brotherhood, and love among all the diverse religious traditions in this country. And to me, the most memorable parts of the three-day event were things that were not even written into the agenda.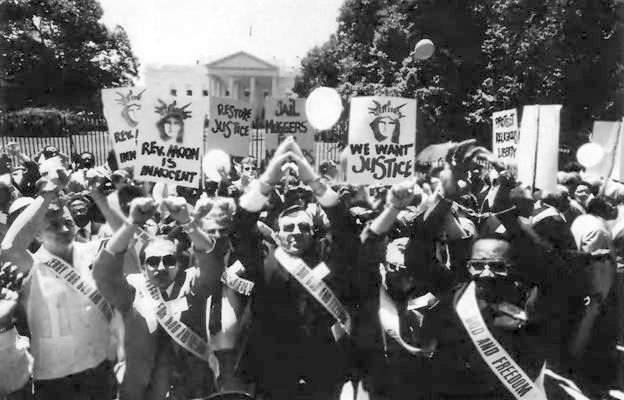 An Affirmation of Freedom
On Monday evening the ministers got charged up for the Tuesday rally in a rousing inspirational meeting at Howard University's Blackburn Hall, led by the fiery executive director of the Coalition for Religious Freedom, Dr. Donald Sills. He plunged right away into expressing his indignation at the alarming rise of government infringement on religious practices, exemplified by such outrages as a bill currently before the Texas House of Representatives requiring a medical license for ministers to practice the laying on of hands.
Several of the ministers who were to speak at the rally on the following day gave moving testimonies of their personal struggles for religious freedom. An "Affirmation of Freedom" was signed by the participants, to be presented to President Reagan. It declared the ministers' "determination to resist with all vigor the growing anti-religious trend in America...to insist on our Constitutional and God-given right to fully work out our religious commitment in every arena of life...to actively support, through word and deed, any minister...threatened by abuse by government agencies." The evening was graced by a short speech from Dr. Bo Hi Pak, who solemnly exhorted all religious people to awaken to the need for unity. That night the ministers got merely a taste of the spirit that would accompany them through the next two days.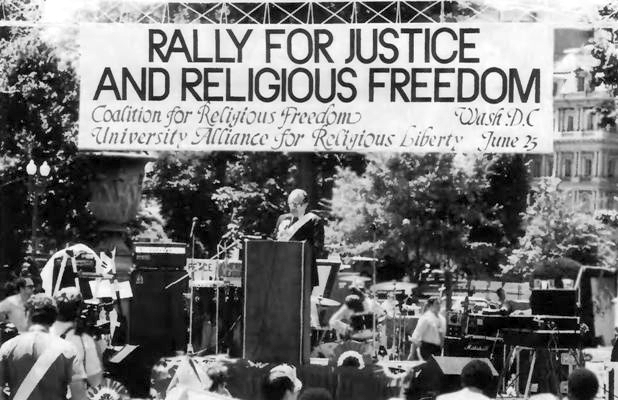 Rally for a Higher Cause
The day of the rally proved to be very hot and dazzlingly bright, which seemed to symbolize the intensity of God's love and truth concentrated around the bandstand in Lafayette Park. A high-powered rock-and-gospel band from the Church of Scientology in Portland, Oregon, brought a strong patriotic spirit to the day with their renditions of "America the Beautiful" and "God Bless America." On the podium stood an incredible mix of young and old, black and white, from every possible religious and social background, singing and moving together. And when had I ever seen young people of such diverse origins waving the American flag with such obvious pride?
The rally itself was sponsored by the Coalition for Religious Freedom and the University Alliance for God and Freedom. Dr. Sills, the master of ceremonies, brought many powerful speakers up to the podium, who aroused the assembly of ministers and laypeople into a determination to take a public stand for the cause of religious freedom. One speaker was Rev. Robert Grant, chairman of Christian Voice, who proclaimed, "Two years ago, it was the issue of the padlocking of a church in Nebraska. A year ago it was the case of Rev. Moon, who got railroaded by the IRS. Who will be next?" Many people waved brightly painted signs that read, "Get Government off Religion's Back," "More Prayer, Less Prejudice" and other slogans.
We lined up four abreast and began to move solemnly across the street to the White House, singing that old civil rights' song of the 1960s, "We Shall Not Be Moved," and chanting "Liberty and Justice for All, America heed God's call!" In a dramatic moment, we knelt down on the sidewalk to pray, and some of the ministers held handcuffed arms high in the air. A mock jail cell held a gagged woman dressed in white. The inscription read "Lady Justice Imprisoned by Blind Government Officials."
I was touched to see so many clergymen who had traveled so far -- some quite old, some walking with canes, and even one blind woman with a seeing- eye dog -- to be a part of this march. I'll never forget the huge man who walked beside me in the procession, untiring, holding a newspaper over his head to shield out the almost unbearable heat, holding his other handcuffed arm high in the air, singing a deep, resonant "Hallelujah!" over and over again during the final song.
I have been to religious liberty rallies before, but I profoundly felt the historic weight of this gathering. It was much more than just another protest march by one interest group. Here people who probably would never have united on anything before came together to fight for a cause higher than anything which could be expressed on a placard.
The rally was both intense and exhausting. Afterwards, the ministers slowly gathered back at Blackburn Hall for what was billed as a plenary session. I thought they would be too tired for any more rousing speeches, but I was wrong; actually the excitement of the day had not yet reached its peak.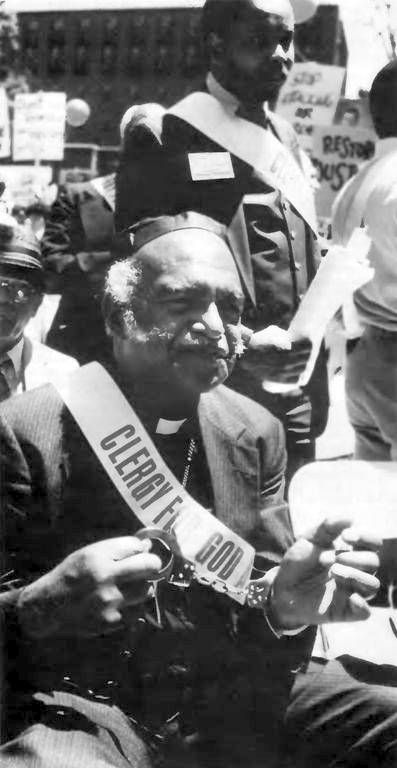 Partial freedom is no freedom: with one hand fettered, a minister holds the empty half in wait.
A Spirit of Repentance
Rev. Michael Beard moderated the session and several ministers got up to speak. They told of their new realizations that these indeed must be the Last Days, and that gatherings like this are absolutely necessary to wake up America. Dr. Donald Sturgeon, director of the California branch of the Coalition for Religious Freedom, took the podium and declared that the day of our deliverance truly is at hand, but that God is first clearly calling for the repentance of His own people. God is not asking the child abusers or the pornographers to humble themselves and pray, he said, but God's own people. "You may ask, 'Are you saying there is sin in the church?' Each of you knows as clearly as I know that there is sin in the church."
At these words, the crowd of ministers began to stir, visibly and audibly. Some cried, "Yes, Lord." Others stood up, raising their arms, speaking aloud, this realization really striking home. Dr. Sturgeon went on: "Today we see the will of Christ totally violated by the church that calls his name." He said it was a terrible sin that there were so many divisions even within denominations. He spoke of the devastating problems facing humanity, observing that even though we acknowledge these problems, we decide we need more comfortable pews or a bigger organ for the sanctuary. "We have permitted ourselves to become self- centered spoiled brats." "God wants a few dedicated people of America to say: I'm sorry," he urged. "We must find every concerned person to come and pray with us here. To do less is to let the world go on as it is. Somebody has to represent this nation before God, and He is expecting the clergy to do this."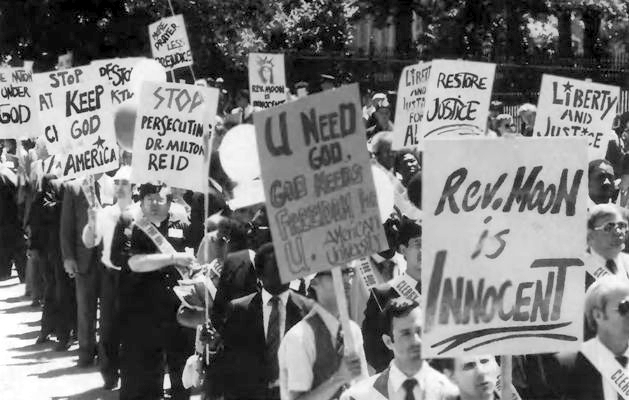 Lined up four abreast, demonstrators march before the White House.
God Shows His Presence
I felt that Dr. Sturgeon had actually opened a pathway for a deep spirit of repentance to come into the gathering. When Rev. Beard again took the podium a minister stood up and started speaking in tongues. Another man stood up and exclaimed that he felt the power of God present within him, then another. People started to stand and pray out loud; they began to shout out to their God in heaven to receive their hearts. I thought: This is just like Pentecost and the descent of the Holy Spirit! A woman behind me started swaying and praying as if she were in both agony and ecstasy. It almost looked as if the scheduled agenda could not proceed, because the ministers were crying out for forgiveness in the embrace of God's love. Then Rev. Beard called for prayer, and he offered a very strong prayer of gratitude that Heavenly Father was definitely showing Himself to be present in our midst and guiding us in this holy venture.
Then he introduced Dr. 0. St. Clair Franklin, convener of the Common Suffering Fellowship in Washington. Dr. Franklin's speech served to raise the atmosphere to an even more fevered pitch. Everyone was standing now, shouting, praying. Someone started playing the organ, and one minister took the microphone and began singing in a rousing gospel rhythm. The trumpet and saxophone were brought out. No one could stop the flow of God's love that had overtaken the assembly. I felt the spirit of Heung Jin Nim and Jesus smiling from the balcony upon all their children who were awakening into life. "Hallelujah! Thank you, Jesus!"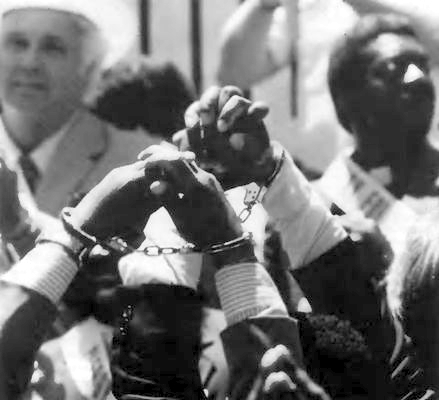 Ministers raise handcuffed hands before the media, symbolizing injustice done to religious leaders in America.
Our "Imperative Prerogative"
Finally things began to settle down. That is, the people sat down to listen to the next speakers. But the spirit had irrevocably risen to a higher plane. People definitely knew now why they were meeting and they knew who was really guiding this conference. The last speaker was Dr. Billy Johnson, an inspired preacher from the International Interdenominational Ministerial Alliance, who took the crowd to the pinnacle again. In a loud and strident voice, he retold the parable of the sick man who was desperate to be healed by Jesus: the man's friends couldn't get him to Jesus through the front door, so they just hacked a hole in the roof of a house that didn't belong to them and lowered him down. They had to get the man to Jesus! I never heard that parable explained in such a frenzied paroxysm of determination. Dr. Johnson veritably shrieked that we're in the same desperate situation today. We have the same "imperative prerogative" to go to the absolute extremes to get what we want done, to get close to God, so God can "get us pregnant" and fill us with life! We must do everything possible to bring our fellow clergy to this great cause. The crowd went wild with applause.
The afternoon session was over, but there was still more to come. The ministers were divided into their geographic regions to have dinner and plan ways to spread this excitement and hope to other ministers. I attended the Washington DC region dinner meeting, chaired by Rev. Tom McDevitt. The atmosphere was one of hope. During dinner I looked around and saw a bright, expectant glow on all the faces. Testimonies about the experiences of the day came pouring out. In some of the ministers' sharings I could sense tears very close to the surface. One man said that he was surprised to find himself in deep, genuine, tearful prayer as he knelt in front of the White House, since he had thought it was only meant to be symbolic. Many ministers expressed that they had actually felt the Holy Spirit come into their hearts that afternoon. There was a unifying spirit in that room that had the unmistakable stamp of Father's influence.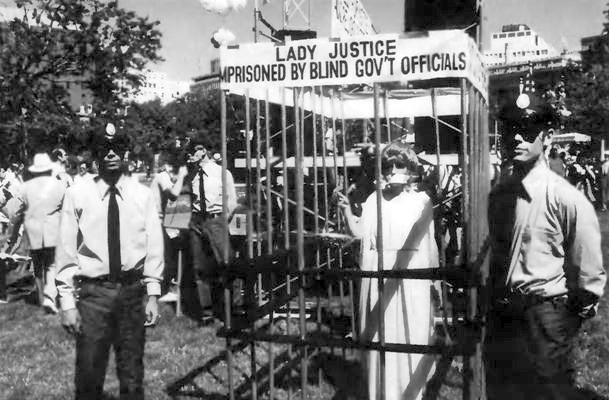 Justice caged: the gagged Lady Justice awaits her release at the culmination of the rally.
One Common Cause
Rev. McDevitt described the meaning of the new God and Freedom committee that had sponsored this event. It is not being run by any one denomination, he emphasized, but by all of us, together, working for the one common cause of unity and liberty. "Nobody is going to convert anybody here. I don't want to see any Methodists becoming Baptist," he joked. He said he felt the ministers gathered there were in the position of leaders, and he exhorted them to go and bring their fellow ministers into this cause. To me, it was as if Rev. McDevitt were in the position of Paul, encouraging disciples to go out and proclaim the message to all, and giving them courage to face the difficulties involved. In another way, the meeting seemed to parallel the time when the founding fathers were gathering to conceive a God- centered constitution that could guide this country by righteous principles.
Rev. McDevitt gave the floor to Dr. Joseph Paige, executive vice president of Shaw University, which had bestowed upon Father an honorary doctorate in May. Dr. Paige inspired everyone with his warm, engaging presentation of ideas on how to bring other clergy. Rev. McDevitt called Dr. Paige a truly honorable and heroic man to have risked his reputation to encourage a religious institution to recognize such a controversial figure as Rev. Moon. In fact, his brave act in doing so exemplified the spirit of the whole conference. Here were religious men and women ardently dedicated to their own beliefs in God. And yet they were seeing that God was bigger than they had ever realized. They were beginning to gather the courage to defend just as passionately other people's rights to their beliefs, because they knew that God Himself must be defended.
The next morning the ministers all gathered together again for final testimonies and recharging before returning to tell those back home what they had seen and heard. I'm sure most of the clergy and lay people present had never been in such a diverse group before where there was such a palpable spirit of love and acceptance. That spirit, which could have only come at this time because of Father's sacrifice, was binding them together as never before. And they are the ones who I know will be the moving force to bring the thousands of ministers to the banquet in Washington DC on August 20. Upon Father's release, the clergy will be bringing an offering -- an offering that will prove to be of a larger dimension than they had ever thought possible.