| | |
| --- | --- |
| | The Words of the Reinig Family |
The Founding of the National ICC Alumni Association
Laura Reinig
December 1987
Based on an interview with Unification Church member Christian Kracher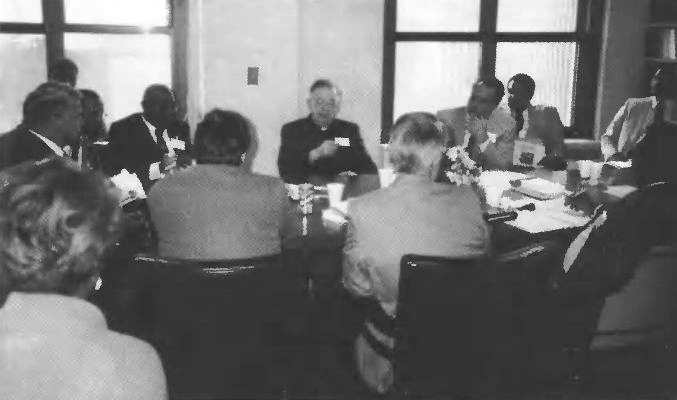 One of the discussion groups at the ICC Alumni meeting.
For the first time since the inception of the ICC conferences to Japan and Korea for American clergy, a meeting of alumni was held in New York on a national level. From October 19-21, 1987, three ICC graduates from each U.S. region, along with all the regional coordinators and some of the regional leaders, met together at the World Mission Center for the purpose of forming a national alumni association and developing ideas on how to generate, in their own regions, the spirit of Christian love they experienced at the ICC.
Moderated by ICC Director Jim Stephens, the three-day ICC Alumni Association Planning Board Meeting proved to be an overwhelming success. The ministers had a chance to relive the spirit of cross-denominational brotherhood they had touched in japan and Korea, renew connections with fellow alumni, and make a solid commitment to go back and inspire other ministers to sign up for the trip, which -- many of them shared -- has changed their lives.
The Goal of ICC
In a spirit-filled talk on the first evening, Rev. Chung Hwan Kwak spoke at length about God's broken heart over the divisions among Christians and the determination of Rev. Moon, amid bitter prejudice in his homeland, to establish The Holy Spirit Association for the Unification of World Christianity. Rev. Kwak reiterated the goal of ICC: to inspire religious leaders of this nation to go beyond their denominational thinking and help bring the whole country back to God. This was what God and Jesus have been waiting for a long, long time. He talked about the many worldwide organizations Rev. Moon has founded in his ceaseless effort to further ecumenical understanding. He also said that Christian clergy need to realize they have not clearly understood their vital role in bringing about a God-centered America.
After this stirring speech, the ministers testified to the wealth of inspiration the ICC has brought them. Some expressed that they found new life and new hope in the Principle. One minister said that the Principle should not be the exclusive property of the Unification Church but should be given to the whole world! Another minister humbly expressed his heartfelt regret that the Christian churches have not truly become one body of Christ or done what Christ would want them to do. "Now is the time to get things done." he said.
The following day, presentations were given describing projects that clergy can become involved with in their own areas, such as International Christians for Unity and Social Action (ICUSA) and CAUSA USA. Rev. Perry Cordill spoke about the Pastoral Research Association (PRA), which is geared to mainline ministers for the purpose of researching theological concepts as understood by the various denominations. Jim Stephens gave an update on the progress of the ICC itself. He reiterated that the success of the ICC can only come when its supporters are sincerely focused on the specific goal of bringing America back to God. In seeing the dedicated commitment of so many ICC alumni to this cause, he said, "I believe a victory has already been won."
The ministers then formed small discussion groups. In one session, Rev. Sung San Lee spoke about the New England region's successful ICUSA activities. "People may feel negative toward a particular church;' he said, "but nobody can accuse you for feeding the hungry or clothing people in need" Their recent ICUSA Awards Banquet, he said, was attended by 500 people, and each person who got an award for their dedicated volunteer service also received a thank-you letter from President Reagan. Rev. Lee encouraged the ministers to start to work with ICUSA in their own areas.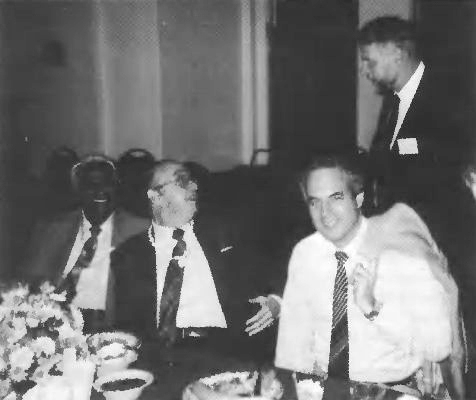 A chat after dinner. Left to right: Dr. N. I. Simon, Pres. Mose Durst, Rev. Nicholas Buscovich, and Rev. Don Olson.
Keeping the Spirit Alive
Rev. Don Olson, director of alumni activities, led a group in what he called "brainstorming" -- coming up with unique ways in which alumni can keep the ICC spirit alive and create a real impact in their communities. Many in this group expressed a strong desire to preserve the unity that they experienced at the ICC. One pastor urged everyone to keep connected with the other pastors by writing letters, and to strive to be an example to their own congregations of the standard of love and compassion they learned in Japan and Korea.
Dr. Jakie Roberts of Chicago shared how he helped inspire 70 ministers in his area to stage a formal protest in the offices of the Chicago Tribune, whose editor had published a scandalous article about the Unification Church and had refused to meet with them. The ministers did not want to let the article go uncontested. In the end they were actually put in jail for trespassing.
Father Frank Maloney, a Catholic priest from Ohio, described his ways of dealing with negative media. When a particularly bad editorial about Rev. Moon appeared in the Dayton Daily News, he called the editor. The man staunchly defended his opinion of the Unification Church, but Father Maloney very humbly responded by saying, "Yes, that's one point of view. I understand your concern, but have you considered this and this...?" Because of his humble attitude, the editor could open up a bit. Father Maloney and a colleague then wrote a response to the editorial, which the editor published. Father Maloney explained that many news reporters write articles based on a total lack of accurate information, and he urged the ministers to take responsibility to respond to such articles. "If editors realize that anything they write about the Unification Church will be quickly rebutted." he said, "they will be more careful about what they write."
Rev. Olson then related how his bishop had reacted strongly to his participation in and advocacy of the ICC, even initially asking him to step down from his pulpit. However, Rev. Olson stood his ground and defended his ecumenical efforts. He shared that he continues to feel it is extremely important for ministers to be in dialogue with new religious movements such as the Unification Church.
A Hungarian minister from the United Church of Christ explained that when his former bishop learned that he and his wife were planning to attend an ICC, the bishop seriously questioned his reasons for wanting to participate. After discussion, the bishop realized that it was the minister's decision to make and felt that he should attend. Upon returning from his experiences in Japan and Korea, the minister said he sent out 125 letters to other Hungarian pastors encouraging them to attend. So far, a number have shown interest in attending the ICC, and there has not been one negative response.
An Atmosphere of Harmony
With the ideas gleaned from everyone's contributions, a group of five or six ministers got together and drafted a Statement of Purpose for the proposed alumni association. It was presented to the entire assembly for evaluation, and, with only a few minor changes, was unanimously accepted. The National ICC Alumni Association was officially launched, and the Statement of Purpose was signed by every minister present. Each region chose a temporary representative to the national association, who is to reach out to all the alumni in his own area and build a solid alumni association on a regional or state level. Most of the ministers were amazed at how quickly the proposal was adopted, and in such a beautiful atmosphere of love, unity, harmony, and mutual commitment.
That evening, President Mose Durst addressed the ministers, expressing his sincere gratitude to them all for attending this important event. He shared with them how, ever since he joined this movement, he has had the opportunity to become involved in tremendously far-reaching and inspiring ecumenical organizations and projects all over the world, projects that have filled him with the deepest enthusiasm and conviction that world religious harmony is not only possible but inevitable.
At the prayer service the final morning, several of the pastors gave personal testimonies. One shared that through the Unification Church he understood for the first time that God has a suffering heart. But even more, he found that he is now able to do something to console God.
To conclude the meeting, the ministers got together region by region to discuss and solidify their own individual and regional goals for bringing new ministers to the ICC.
National ICC Alumni Association Statement of Purpose
The ICC Alumni Association is composed of individuals who have graduated from an ICC Conference.
The ICC Alumni Association is a voluntary organization of individuals from all denominations, races, cultures, and beliefs who wish to continue the experience of the ICC Conference community spirit.
We agree to actively support one or more of the following goals:
1. To continue dialogue with members of other denominations and faiths, particularly other graduates of ICC.
We will encourage regular meetings for this purpose. We will also support seminars and retreats for this purpose.
2. To encourage other qualified ministers, pastors, and religious leaders to participate in ICC events.
3. To support our fellow members by creating a network for assimilating their ICC experiences and assisting each other as opportunities are afforded_
4. To support all efforts to build a sense of global unity focused on ecumenism and inter-faith dialogue.
We will voluntarily give our time and resources to help solve the problems of society and encourage others to do the same.
We reaffirm the concept of unity, in our time, focused on the principle of divine love.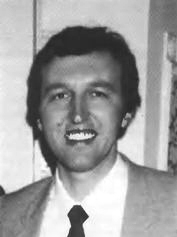 Personal Observations
Christian Kracher
It was such a rich experience that it's difficult to describe. It was amazing to see black Pentecostal preachers, white mainline ministers, Hispanics, Orientals -- everyone coming together for one cause, to bring America back to God. Many felt the meeting was really led by the Holy Spirit, which helped bring everyone together as one.
Jim Stephens told them that Rev. Moon explained that it is providentially important to bring 7,000 ministers to the ICC. From a Unification point of view, he said, when we follow Rev. Moon's directions, we are doing what Jesus wants as well. There was some quite heated discussion about this. However, in the prayers they offered, many of the ministers expressed that the spirit they felt at the ICC was like a plea from heaven to go and do as Rev. Moon has done. I was amazed to see how willing some of them were to stand up and support us, at great risk to their own reputations.
Many ministers at the meeting recalled their tearful prayers at the Rock of Tears. From my own experience working with the ICC, I remember one minister on his way to Korea who jokingly said, "I've heard all these stories about the Rock of Tears.
I never cry, and I'm certainly not going to cry up there. If I should cry one tear, then I would be seriously concerned about my own faith" So he went there, and as he saw people with crutches making their way up to the Rock, he began thinking about the stroke he had several years ago, when half his body was paralyzed, and how God had healed him. He thought about how he grew up in the slums as a nobody and how he has a big church now and travels all over the world. He suddenly realized how much God was taking care of him, how much God was intimately involved in his life, and even now had led him to this rock in Korea. Then he felt his eyes filling up with tears. He said after that, he began to seriously examine his own concepts and his level of faith.
The ministers at this meeting understood they were committing themselves to a great cause. They had a strong determination to really do something in their own communities. No one felt this was just some organization run by someone else. They felt: "I am a real part of this. This is my organization" At certain points I had to really repent, because some of them said, with deep conviction that challenged my own, "I pledge my time and my life to bring America back to God."
Reflections from the Ministers
Excerpts from their written reflections on the final day
The most valuable part of this meeting was Rev. Kwak's statement: "We are not to just serve Christianity but all mankind:" I would like Rev. Moon and Rev. Kwak to know that many ministers are with you but have not released their support yet; they are still afraid because of their lack of knowledge. I will do my best to bring God's people into truth and knowledge of the Unification Church. May God bless you all and keep you.
***
I've not had a vision as some have had, but I caught a glimpse of the Kingdom in our midst.
***
I have nine people ready to go to Korea and make a firmer stand, because it is important to Rev. Moon and to myself to have heaven here on earth.
***
Rev. Moon is God's most excellent servant. He has the gospel for the entire world.
***
It is a great relief and joy for those of us in very liberal churches to finally understand that the heart of Unificationism has to do with ecumenism and is not an attempt to reduce everyone to Unificationism.
***
True leadership is an uphill job, and we need help from others' counsel. God is still working to tell us more through men like Rev. Moon. I want others to go and see on the Rock of Tears that God is serious.