| | |
| --- | --- |
| | The Words of the Thananopavarn Family |
Bangkok Youth Clean Flood Damage at a Muslim School
Kamol Thananopavarn
December 8, 2011
UPF -- Thailand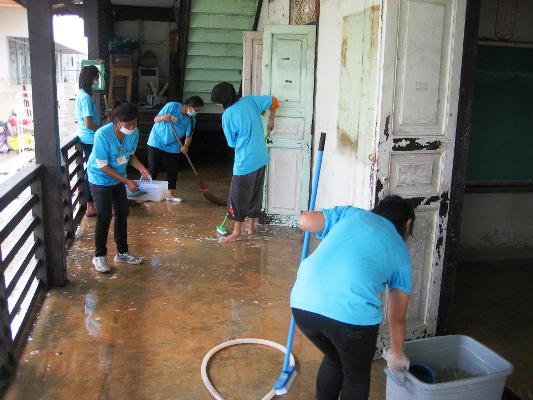 Bangkok, Thailand -- UPF launched "Peace Volunteer Thailand" with a mobilization of young people cleaning up flood damage at a Muslim school on Bangkok on December 8. This project at the Tha-It Suksa School in a traditional Islamic community brought together Muslim, Christian, and Buddhist volunteers. The Tha-It Mosque, built 200 years ago, is located beside the Chao Phraya River.
The 70 volunteers came from various religious groups and educational institutions. There were student groups from Ramkhanheang University, Rajamongkol Thanyaburi University, and Rajamongkol Suwannabhumi University as well as from the Loving Fatherland Association. Drawing from networks linked to the Thailand Interfaith Peace Council, there were Christian youth from the Ruamnimit Church and Muslim youth from Kasem Bandit University. The project was supported by the Foundation of Center of Islam of Thailand and Royal Thai Army.
Volunteers spread throughout the classrooms, hallways, and outdoor areas cleaning and scrubbing. Electrical engineering teachers and students checked the classrooms and did minor repairs. Mr. Pairach Panisworanant, the school director, expressed his gratitude to the volunteers. He talked about the value of inter-religious activities and Islamic education helps cultivate morals.
Mr. Kamol Thananopavarn, Asistant Secretary General of UPF-Thailand, expressed gratitude to everybody who worked together to create peace through service. Mr. Sivanont Poonperm, a youth leader from the Ruamnimit Church, offered a benediction prayer according to Christian.
This project is one outcome of the September 21 inauguration of the Inter-religious Peace Council of Thailand by Buddhist, Muslim, Christian, Hindu, and Sikh leaders. The council works to promote cooperation and harmony among people of different religions and help religious teachings uplift the standard of morality, virtue, and ethics throughout the nation.
Facebook and social media are being used to build the Peace Volunteer Thailand network so that future projects can be undertaken.