| | |
| --- | --- |
| | The Words of the Vaea Family |
In Memoriam: Baron Vaea, Former Prime Minister of Tonga
Chihiro Midorikawa
June 7, 2009
UPF - Tonga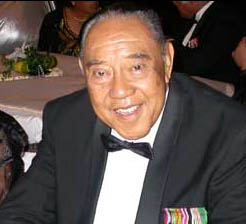 Baron Vaea, Prime Minister of Tonga from 1991 to 2000, passed away at his home on June 7, 2009 at the age of 88. He was deeply loved by many Tongan people.
A member of Tonga's noble class, Baron Vaea was the nephew of Queen Salote, who reigned from 1918 to 1965. He devoted 56 years to government service and held various Cabinet portfolios.
In 2000, Baron Vaea attended a conference in the US of the Inter-religious and International Federation for World Peace. Since then, as an Ambassador for Peace, he gave firm support to UPF activities in Tonga, small and large. He invited the late King Taufa'ahau Tupou IV, under whom he had served as Prime Minister, to a leadership conference in Tonga in 2001.
Baron Vaea was a man of honesty, sincerity, and conviction -- a true champion of peace. He was like a father to me; no, he was my father. I will miss him so much. May he rest in peace with our father in heaven.