| | |
| --- | --- |
| | The Words of the Boothby Family |
Unificationist Boy Scouts Make Waves with High-Adventure Trips
Jim Boothby
September 19, 2008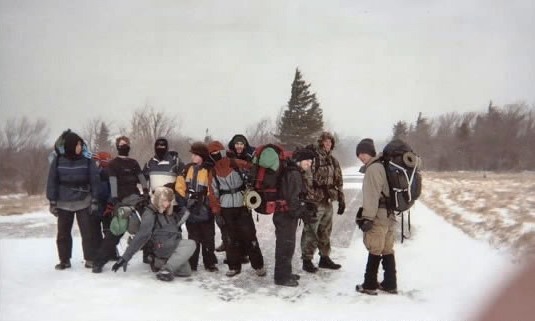 "Game Faces" Assistant Scout Master Paul Bulow, left, George Burton, rear, and Senior Patrol Leader Kester Wilkening, right, trudge ahead on a snowy hike in the Dolly Sods Wilderness in West Virginia.
This weekend, for the eighth year in a row, Unificationist boys and dads will pay homage to the legendary surf on Assateague Island off the Maryland coast. The boys are all members or graduates of Boy Scout Troop 1212, the first Boy Scout troop sponsored by members of the Family Federation in North America.
Organized in 1999 with a founding group of 14 boys and eight Unificationist dads, the troop quickly established itself as a dynamic and exciting program. Currently the troop boasts 34 registered scouts, with about 25 boys at the average meeting. Most of the scouts are sons of Unificationist parents, but a growing number hail from other faiths. They meet 52 Wednesdays per year.
Teen boys are drawn to a program that features challenging, high-adventure outdoor trips -- winter mountaineering expeditions in West Virginia, river canoe camping, two-day backpacking troops in nearby Shenandoah National Park, ski and snow-boarding trips and ocean-beach camp outs. Yearly activities also include fishing, occasional rock-climbing, and bike trips and more recently, sailing on the Chesapeake Bay.
Parents of the boys will tell you that the troop had a lucky find in Scoutmaster Jim Boothby, chief adult leader for 9 years. Prior to joining the Unification Movement in the mid-70s, Boothby, himself an Eagle Scout, graduated from the Outward Bound Leadership Training school and gained significant high-adventure outdoor experience growing up in northern New England. Mr. Boothby created the very successful Outdoor Program at Dartmouth College in New Hampshire in 1973.
Since the troop's founding, 19 boys have reached the coveted rank of Eagle Scout, making Troop 1212 one of the more productive troops in the state, according to Paul Bulow, Assistant Scoutmaster. In 2004 David Moffitt, son of Larry and Taeko Moffitt of Bowie, Md, was the first scout to reach the rank of Eagle, followed quickly by Jeheil Baer, Pablo Rivera, Brennan Boothby and Jessie Haydon. Fourteen others followed. Mr. Boothby says it takes about five to six years and 2,500 hours of activity to reach Eagle Scout for the average boy.
The high-adventure trip schedule is made possible by a handful of committed dads and moms who realize the value of scouting for their sons; these parents form the troop committee, but they are not the troop's leaders. Boy Scout leadership culture stresses a concept called the "boy-led troop," says Mr. Boothby. Scoutmasters and adult advisers act as coaches and mentors, but the boys are strongly encouraged to be responsible and make every leadership decision possible.
"It's about the boys developing their leadership abilities," Mr. Boothby says, adding that he sometimes has to gently restrain an adult dad who over reaches in making decisions for the boys. "It's a learning laboratory for the boys. At the same time, they have tons of fun and learn to work together." Boothby says.
Regional Boy Scout officials have lauded the troop for having a dynamic particularly program, with an unusually high percentage of older boys. And why not? Boys of all ages are drawn to the challenging outdoor action trips: forays into the Adirondacks in upstate New York, climbs up Mt. Washington in New Hampshire, canoe trips down a number of mid-Atlantic rivers, and backpacking trips to a dozen peaks in Shenandoah National Park in Virginia.
Another central element of Troop 1212's program is a strong dedication to service. Scout service projects have included food drives, physical improvements to schools and playgrounds, landscaping at churches, building trails in parks and a battle of the bands that raised money for HIV education. Each of the 19 Eagle Scouts organized, on his own, and led a community service project involving at a minimum 100 hours of investment and usually a team of 5-15 people.
Weekly meetings of the troop tend to be rambunctious and relaxed. "A successful troop culture generally tends to avoid adhering to strict administrative rules, any atmosphere of judgment and scolding, and focuses on a super-positive, encouraging atmosphere where each boy is valued, loved, recognized and respected," Mr. Boothby says.
Recent acquisition of a donated 26-foot sailboat has allowed the troop to diversify its sailing and ocean program, and the troop also has high hopes for a donated 16-foot power boat. To expand its program offerings and broaden the appeal to older scouts, Troop 1212 is soliciting the donation of used cars and boats in order to raise $10,000 in the near term. Funds will go toward refurbishing their power boat, acquiring a second power boat and for the purchase of winter gear, tents, snowshoes and the like.
You can donate your car, truck, or boat-on-a trailer to the troop by calling Scoutmaster Jim Boothby or Assistant Scoutmaster Paul Bulow.