| | |
| --- | --- |
| | The Words of the Cuellar Family |
In Memoriam: Mark Anthony Cuellar
Antonio Betancourt
July 17, 2008
Director, UPF Office of Government Relations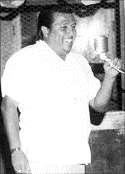 On July 17, 2008, the Cuellar family, the nation of Belize, Central America, and the whole Western hemisphere lost a precious son, a father, a brother, a patriot, a true friend, and a great man of God. Mark Anthony Cuellar was a true pioneer and visionary, a man of boundless enthusiasm.
Mark Cuellar distinguished himself through the years of struggle against colonialism that led to the founding of the modern Belize democracy and the founding of its first political party. He dedicated himself to the work of the Teachers Union and the task of founding a nation, building institutions, and fighting for what is noble and right for his nation and beyond.
With honesty, love of his country and people, and characteristic enthusiasm, Mark Cuellar embraced the vision of Father Sun Myung Moon of one family under God. He devoted his energy, his know-how, his experience, and all his foundation of previous accomplishments for the work of building a culture of peace a culture of reconciliation, and a culture of heart.
As Secretary General of UPF-Belize and a member of its Global Peace Council, Mark Cuellar pioneered the Ambassadors for Peace Program in Belize and helped create one of the most dynamic and active movements of Ambassadors for Peace in the world. Now six districts of Belize have chapters of the Universal Peace Federation and active communities of Ambassadors for Peace. The country is developing a dynamic Youth Federation for World Peace with an active Youth Ambassadors for Peace program.
The young and not-so-young Ambassadors for Peace, together with every member of the Belize society that was touched by him in one way or another, will give continuity to his dream, his idealism, his enthusiasm, and his dedication.
Liver failure and internal hemorrhage overtook his body at 4:00 am on July 17. His spirit will live on in the movement to bring harmony, unity, and peace among people of all faith traditions, races, and nationalities as one family under God.