| | |
| --- | --- |
| | The Words of the Marion Family |
Day of Peace in Tbilisi, Georgia
Jacques Marion
September 21, 2010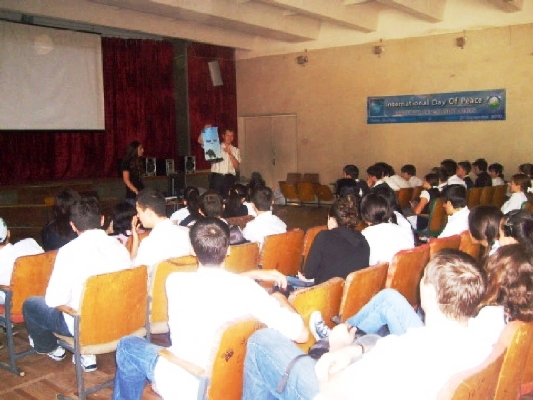 Tbilisi, Georgia -- UPF-Georgia and the Association of Russian Speaking Journalists of Georgia held a "Brain Ring" intellectual competition on September 20. The program was funded by the UN office in Georgia. High school and university students of different nationalities living in Georgia (Georgia, Armenia, Azerbaijan, Assyria, Hebrew, Ossetia, Germany, Russia and Ukraine) took part in the event.
The "Einung" House of the German Community accommodated some 50 participants and guests. The questions for the contest were connected to peace-building from the spheres of sociology, political science, culture, sports, history, literature, geography, and natural science. Competitors showed mutual respect and wisdom during the contest. The event concluded with an award ceremony for winners, and all participants received gifts.
UPF-Georgia gave lectures on "Culture of Peace: Patriotism" at the schools #136 and #98 for 10th, 11th and 12th grade Russian and Georgian speaking pupils on September 21 and 22.
About 200 children and teachers learned about the meaning of true patriotism, tolerance, and the importance of character development as foundations for peace-building. At the end participants received pens and cups with the UN International Day of Peace logo, prepared by the UN office in Georgia.