| | |
| --- | --- |
| | The Words of the McLackand Family |
Day of Families Observed at Forums in Jakarta
David McLackland
May 19, 2012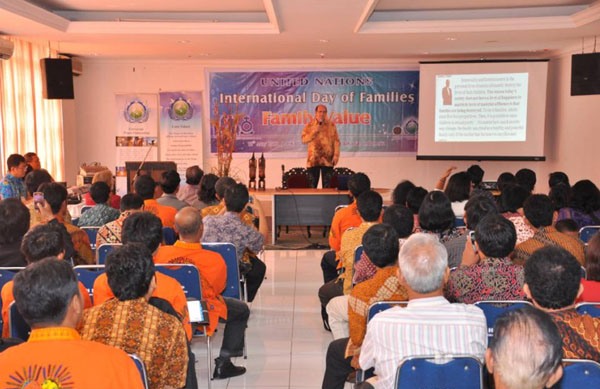 Jakarta, Indonesia -- As more and more couples in Indonesia seek divorce in response to the breakdown of communication between husband and wife, UPF-Indonesia utilized the occasion of the UN International Day of Families to organize two seminars on Family Values and Husband-Wife Partnership.
The first seminar was held at the UPF Center on May 13. After reading the UN and UPF Statements on the Family, Mr. David McLackland, Education Director of UPF-Indonesia, spoke on "Developing a Balanced Partnership Between Husband and Wife." Afterwards, all participants reflected upon how to improve their own relationship with their spouse and went home with the determination to create greater love in their home.
The second seminar was jointly organized with the Huria Kristen Batak Protestan (HKBP), which translates into the Batak Christian Protestant Church. With over 4 million members, HKBP is the largest Protestant Christian denomination in Indonesia. Several prominent members of the HKBP Kebayoran Baru who are among the most senior Ambassadors for Peace in Indonesia felt that UPF's extensive education program on Marriage and Family can address the urgent need to strengthen the traditional family values of the church and therefore proposed to hold a one-day seminar on "Family Value" at their premises on May 19.
The program began and ended with prayer for God's guidance and blessing by the church's minister Ptd. Erwin Rambe. Ms. Nasya Sihombing, a young church member, uplifted the atmosphere and prepared everyone for an exciting day through her heartfelt rendition of popular English and Indonesian songs. Dr. Payaman Simanjuntak, Advisor of UPF-Indonesia and senior member of the HKBP, welcomed all participants and read the UPF Statement on the Family. A video on its international activities introduced UPF to an audience of 100 participants representing all religions and all walks of life.
In her presentation on "Principles of Peace and Reconciliation," Mrs. Ursula McLackland, Regional Secretary General of UPF-Asia, emphasized the importance of forgiving and loving your enemy, who sometimes are the people closest to you such as your own family or church members. St. Leo Hutagalung, from the HKBP Organizing Committee of the program, introduced the "Vision, Mission and Principles of HKBP" to all.
After a short break, the thought-provoking presentation on "The Benefits of Marriage" by Mr. McLackland raised many questions on critical issues such as how to counter divorce and bring reconciliation among the partners, and what the UPF stand is on same-sex marriage.
After a delicious lunch wrapped in banana leaves, the traditional Balinese way, participants refreshed their spirits through song and dance. Mrs. McLackland's presentation on "The Family as a School of Love and Peace" concluded with a commitment to pure love on the part of the young unmarried participants of the program.
The last session of the day on "Building Better Family Relationships" started with a short video on the father-son relationship. Mrs. McLackland then focused on the need for parents to be empathic listeners to their teenage children in order to help them think through their experiences and make better choices in life. For children to have hope for their own marriage and family life in the future, it is critical for parents to have a loving relationship with each other and model the desired behavior for their children.
In conclusion, Dr. Payaman presented Ambassador for Peace certificates to 11 selected participants, and Rev. W.P. Tampubolon thanked the organizers, speakers, translator, MC, and musicians for their wonderful contributions to make this seminar a great success. Several participants shared that they felt divine guidance for their personal lives through this program.