| | |
| --- | --- |
| | Hoon Sook (Julia) (Pak) Moon (wife of Heung Jin Moon) |
Universal Ballet At Twenty-Five -- Interview of Hoon Sook Moon
October 2009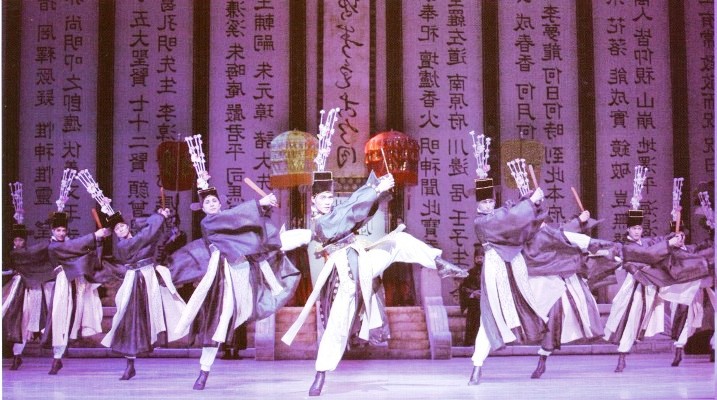 This year marks twenty-five years since Universal Ballet was founded. We spoke with Hoon-sook nim about her role as the company's director, including her work to further develop a new Universal Ballet creation, The Love of Chunhyang, which had its first performance in 2007. Hoon-sook nim also spoke about her growing children and last year's helicopter crash.
Universal Ballet has recently begun performing a new ballet, Chunhyang, continuing your vision to have Korean stories as part of your repertoire.
I think it's very important for a ballet company of our size to be balanced in its repertory. So you need to have the classic ballets, which are like the backbone of the company and root the company in tradition, and then you need to have contemporary works to express the emotions of today. Last but not least you also need to have your own unique creative works which give the company its own identity. The Universal Ballet tour of England in 2000 was one of the few international tours on which we didn't take Shim Chung and we were criticized for not performing our own unique work.
Ballet is a Western art form. If you can put Korean culture into a Western art form, it makes Korean culture so much easier for Western people to digest and understand. After living in Korea for many years, Adrienne Dellas, the founding artistic director of Universal Ballet, picked up a children's book of the Shim Chung story, and I think that's what inspired her to create a ballet version of the story. Shim Chung was created for the company way back in 1986 for the Asian Games, combining ballet, an established art form, with the Korean culture.
Twenty years ago, when Shim Chung was created, the level of ballet in Korea was not very well developed, therefore, the creative staff were all artists from the West. This time with Chunhyang, we tried to create it "in house," with Korean artists. The staging, set and costume designs, choreography and lighting were created by Korean artists. The only Western person that was part of the creative staff for Chunhyang was Kevin Pickard, who had also composed the music for Shim Chung. In ballet, the music is the key. Everything is built upon that foundation. Since we had wonderful success with Shim Chung, we decided to collaborate with Kevin again for Chunhyang.
The National Dance Company director, Bae Jung-hye, created a production of Chunhyang in Korean traditional dance format. After I watched their performance we collaborated with her to create our production; it became the model for the Chunhyang that we created. I asked Ms. Bae to come and stage the piece, and we adapted it with Brian Yoo's choreography -- ballet instead of Korean dance, and with Kevin's new music. It's still evolving and taking on its own life. We are beginning to see where we need to go to detach ourselves from the original Korean dance production and develop it into something completely new and uniquely ours.
This was the first ballet production that you have had complete control over, now that Oleg Vinogradov has retired as artistic director. What did that mean in practical terms? Oh, it was very difficult! Sometimes reporters ask me when the next Korean ballet will be made, and I say, "Please give me some time. I need to recuperate!"
To get everything right and find the right balance is so difficult because you are dealing with so many elements -- music, choreography, staging, costumes and set designs, lighting and then the dancers. In addition, there is the difficult task of finding the right balance between Eastern and Western cultures as well as defining the style and making sure all the elements are in line with the style. If there is no unity and things are not tastefully done, you can end up with a ballet that is a real mess.
Are you involved hands-on with the details of the production?
I am not a choreographer, stager, designer or musician so I do not choreograph stage, design or compose. My job as the director is to bring all the different elements together to make a cohesive whole, to be the glue that holds it all together. Chunhyang is the first production where I have taken on that role alone, instead of sharing that task with Mr. Vinogradov.
I was on the phone with Kevin in the middle of the night (because of the time difference) night after night after night. We were listening to music over the phone.... "Take out the drums; I don't like this part; that has to be more romantic..."
It's already such a long process to get things right. There are so many people involved; to get everyone on the same page is quite difficult, especially when you are working with artists! Doing this while working on separate continents, Kevin being in the United States and I in Korea, made it even more difficult.
I never studied music seriously, so when I collaborate with Kevin on music for a production, I have to trust my feelings. For example, I may say to Kevin, "When I listen to this piece of music that you created I feel that it sounds like X, but it's supposed to feel like Y; it's not quite right and my feeling is that it needs to have a bit more of Z. And Kevin would work with that to adapt and rewrite the music.
It is rare to find good artists who will listen, positively, to criticism of their work, and then go about changing it according to what you are asking. But we had a very good team. I know when to take a step back and Brian [the choreographer] knows, "Okay, Julia absolutely wants this," so he changes this or that. I think that's what made it work, being open and being able to listen and accept another's opinion. Without this, it would have been very difficult to achieve what we did with Chunhyang.
Creating a new ballet production is a long process. Of course, Chunhyang is not a completely finished work yet. We have created a second version, and by the time we work through the third version, I think we are going to have a very beautiful ballet that can be presented anywhere in the world.
Do you feel a particular sympathy for or relationship with the Chunhyang story? Mongnyong and Chunhyang are in different worlds and he bridges the gap. Heung-jin nim is in the spirit world and you are here.
Oh, I would have loved to dance this ballet. I watched every night and felt that it expresses somewhat my story. Chunhyang waits a long time to finally meet her husband again, after he goes away to study, and I'm waiting a long time too, so I can understand and relate to that.
In that last part of the ballet especially; I was in tears when I watched Chunhyang and Mongnyong's reunion pas de deux. I think Kevin is especially good at writing romantic pieces. The music is beautiful, and it is also very well choreographed. I love the bleakness of the stage; there's just one backdrop with old Korean writing so it's very simple and stark. The ballet finishes with just two people, not with a grand celebration or finale. It's a deeply moving scene.
Could you reflect on the progress of the ballet company, given that this year is the twenty-fifth anniversary of its founding?
I think we are very fortunate and blessed. Not many artistic organizations have the support that True Parents have given this company. Without their support we would not have been able to achieve what we have in the last twenty-five years. The only other ballet company in Korea that has this kind of support is the government-sponsored Korean National Ballet. Father has been supporting Universal Ballet on the same scale, if not greater, as the government has supported the Korean National Ballet. That really says something about True Parents' vision and scale.
Very often, people who sponsor the arts want to have a say as to what the company is doing -- who is cast in what roles, what works are produced, and so on -- but True Parents support the ballet and give their complete trust.
It has been a long and difficult twenty-five years, but I have tried, first as a dancer and now as a director, to give my utmost to bring joy to our True Parents and to make them proud of the ballet company. Universal Ballet is recognized for its very high standard and is very well respected in the world of the arts. This reputation was not created overnight, but through endless effort and Jeong Seong. I want to represent True Parents and give True Parents' love to the audience through the ballet company.
What has the existence of Universal Ballet meant for ballet in Korea?
I believe that Korean ballet would not be what it is today if Universal Ballet had not been created. We pioneered ballet in Korea when it was very primitive. In 1984, when the company started, we were the first to bring choreographers, teachers, costume and set designers and dancers from the West to Korea. We have been and still are a leader in the field of ballet in Korea. The quality of our productions are world class and we continue to take care of and extend effort in the smallest details -- in Korean we call this Jeong Seong, Hyung-jin nim's favorite word! -- Which is what we put into each aspect of our productions.
I do not like to do things halfway. I really don't like to see anyone -- especially dancers -- doing things halfway, without investing themselves one hundred percent into what they are doing. It is not only the body that is dancing, but the mind, heart and soul together with their body. I cannot tolerate dancers who don't give that on stage. I think all companies take on certain characteristics of the person who is leading the company. Our dancers know that one hundred percent effort is what I want and what I expect to see onstage.
But performances are not always perfect. As one ballet teacher said to one of her students at the Kirov Academy, "it's not important that I see you achieve the movement today. What is important is that I see you trying every day, never giving up, to get it right." As they say, there is no perfection in art. What is important is that we constantly strive to reach perfection.
What is the dynamic between the National Ballet of Korea and Universal Ballet?
The National Ballet has also grown because of our influence. They were founded much earlier than Universal Ballet, but during the past few decades, both they and we have developed as a result of the healthy competition between the two companies. With the growth of Korea's two major ballet companies the overall level of ballet throughout the nation has developed tremendously in a very short time.
With the quality of the National Ballet and the recent opening of an arts university here in Seoul, do you feel as if you're being crowded out?
No, it's competition! It's good, healthy competition -- and that is very good. But it's constant work; the minute you start paying less attention, thinking you are on top, that's when you begin to fall down. Getting to the top is hard, but the goal of becoming the best pushes you and inspires you as you go. What's harder is staying on top once you get there.
What else occupies your mind as you look to the future?
My biggest concern right now is how to secure the company's financial future. Up until now a great deal of effort has been made to raise the artistic level of the company -- the quality of the dancing and the quality of the productions -- and also to develop effective marketing and promotion strategies. What the company needs now is financial stability that will allow us to continue into the future. This is something that I feel I must accomplish in my lifetime.
It's not easy for a ballet company to make a profit.
We are trying a lot of things. Usually a company of this size needs to have an endowment. No ballet company in the world supports itself on ticket sales alone. So, either you must be like the New York City Ballet and operate from a large endowment, or you have a board of directors that raise funds for you. We need to create an endowment.
At the same time, we are working on opening a new Universal Ballet Academy in Gangnam. If we could have ten branches of the Universal Ballet Academy throughout the country, that would help support the company greatly, by exposing more of the general public to ballet, developing new dancers and ballet fans, and providing income that will give financial support to the company. We are also preparing to rent out our costumes and sets.
I heard the Universal Arts Center is undergoing improvements.
We are currently renovating the seating area so that the seats are tiered. Previously the auditorium had a level floor and people couldn't see the stage well enough from some of the seats. The Arts Center will reopen in late October with its new seating. I am truly grateful to our True Parents for supporting this project.
I read a recent newspaper report about a new project you have called "Ballet el Sisterna," that seems to benefit the disadvantaged. Can you tell us about it?
As part of the events marking our twenty-fifth anniversary, we have begun a new program to support young dancers whose families don't have the money to pay for good ballet education.
The program is modeled on a music education program in Venezuela known as El Sistema. That program first started providing music education to young people, to help rescue them from street crime. It has produced some outstanding musicians, including Gustavo Dudamel, one of the world's fasting rising symphonic conductors.
Similarly, our program will provide ballet scholarships for a few talented girls to cover their ten years of hard training to become a ballerina. This year, we selected a nine-year-old refugee girl from North Korea!
Can I digress from the weighty subject of your professional work and ask you about your children?
Shin-whul is in first grade now; she just started this August. Shin-whul is a very special girl, very sensitive and loving. She's my sunshine during the day and my moonshine during the night. She has a wonderful energy about her. Sometimes she is very sweet and cute, sometimes very funny, and sometimes she is very elegant and mature. She loves to dance and wants to become a ballet dancer. We'll see how it goes. She also sings very well. She sang for True Parents a few days ago, and True Mother suggested, "Maybe Shin-whul should be a singer, not a dancer!"
May I ask about Shin-chul nim?
Shin-chul is seventeen now, and presently he is in New York. I e-mail him at least once a week. I don't expect him to reply, because I know he is studying very hard. It's not easy being a teenage boy. He has his goals, he has his dreams; he's very determined. When I read Father's memoirs after the book was published this summer, I thought, "Oh... that's why Shin-chul is the way he is. He has Father's character in him!"
We heard that all three grandchildren who were in the helicopter crash a year ago were unhurt. Is Shin-whul really okay?
She used to talk about it a lot. She also drew pictures about it. She remembers it exactly. She drew some pictures – which I kept -- of a helicopter burning, but there were birds -- there was a bird here; there was a bird there. Drawing is a very good outlet for children to express their emotions. I don't think she would have any problems getting on a helicopter again. She loves to fly!
How about you?
Oh, yes! I really do not like small planes but helicopters are fine!
I hope you heard everyone was okay at the same time you heard the helicopter had crashed.
Actually, no... I had just had lunch with True Parents and said goodbye to them at the Marriott Hotel, as they headed for the helicopter. I had an appointment so I was heading back to Hannam-dong. As I arrived at Hannam-dong, I got a call from a reporter who works at the culture desk and knows me because she writes articles about the ballet company.
The reporter asked, "Does your father-in-law own some land up in Ga-pyeong County?"
I said, "Yes."
She said, "We just heard that a helicopter crashed and I was trying to confirm whether your in-laws, Reverend and Mrs. Moon, were on the helicopter."
The next five minutes after that were the most frantic five minutes of my entire life.
Because reporters get news straight from the police, they are the first to know. The reporter called me because she wanted to confirm whether True Parents were on the helicopter and get it out on the news.
I called Hannam-dong security immediately. They had no news of any crash. Then I started calling Won-jul and everyone else who was on the helicopter, because I had just been with them...
Nobody was answering. I was imagining the worst. I can't describe what those five minutes were like. My heart was pounding so hard that it felt like it was going to pop out of my chest, and my hands, whole body was trembling.... I was sure that it was our helicopter, but I had no news of True Parents, the grandchildren... so many people.
I couldn't breathe. My heart was pounding. I was crying...
Finally, I called Hannam-dong security again and by that time they had received the news that it was indeed our helicopter that had gone down, but that everyone was safe!
I jumped back into the car and went to Chung Pyung, to the hospital. From the car, I phoned Hyung-jin nim, who had not yet heard the news. When I arrived at Chung Pyung, they were still bringing people in from the crash scene. The ambulances, the firemen with orange-yellow suits... Reporters were already there with TV cameras.
True Parents were already in a hospital room. And when we got there, the grandchildren who had been on the helicopter with them were in one of the rooms playing! I was amazed and so grateful.
Later Jung Won-ju told me that as they were running away from the burning helicopter, the other two little children were crying, and Shin-whul tried to comfort them by saying, "Don't worry, the fire is going to go out because it's raining." That's such an amazing thing for a five year old to say in such a situation.