| | |
| --- | --- |
| | Hoon Sook (Julia) (Pak) Moon (wife of Heung Jin Moon) |
Hoon Sook (Julia) Moon: A Swan Prince, A Dragon King
Seo Ji-eun
May 18, 2010
JoongAng daily, Korea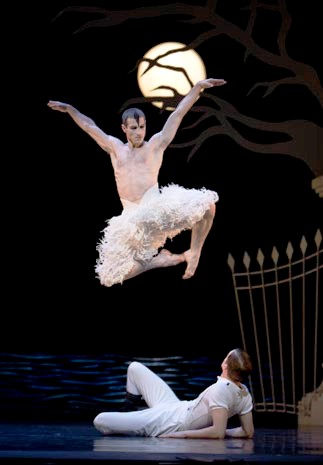 An exciting new cast will perform 'Swan Lake,' while technology promises to make 'Shim Chung' as immersive as it has ever been.
The current production of "Swan Lake," is a contemporary version choreographed and reinterpreted by Matthew Bourne. Provided by the LG Arts Center Two ballets, "Swan Lake" and "Shim Chung," are opening -- make that reopening -- in Seoul for yet another season this month.
The two are quickly becoming staples of the local ballet scene. Renowned choreographer Matthew Bourne's masculinity-charged Swan Lake is being performed for its fourth season here since 2003, while Shim Chung from Korea's Universal Ballet Company will return after six years with an "upgraded underwater scene" thanks to a digital projector.
As many are already aware, Matthew Bourne's production puts an interesting twist on Tchaikovsky's romantic ballet, radically reinterpreting the myths and legends upon which it is based.
While the original is a standard in the tradition of romanticized male-female love, Bourne's Swan Lake put a man in the role of the lead Swan, putting love between men at center stage. That provocative move has added to the debate over homosexuality here and, of course, served as a major attention grabber. According to Bourne, the swan symbolizes everything the prince aspires to be -- power, beauty and freedom.
The Universal Ballet will stage its 24-year-old ballet "Shim Chung" for seven days this month. Dancers shot an actual underwater scene in an aquarium, and the digital video clips will be used as a backdrop. Provided by the Universal Ballet Company What sets this year's performance apart from its predecessors? According to a spokeswoman with the LG Arts Center, the organizer and venue for the ballet, it's the "cast members."
Jonathan Olivier, who plays the swan this time, is "brilliant. His jump is fantastic," she said. Critics say the British dancer is Bourne's greatest find of late. Sam Archer, who took the role of Edward in the "Edward Scissorhands" ballet in its 2006 Seoul production, has taken the prince role.
Shim Chung is based on a 1,500-year-old Korean folk tale, retold through the medium of Western ballet in lavish style. Dancers put on Korean traditional costumes that the Universal Ballet said "emphasize Oriental beauty."
Since its debut in 1986, the hybrid ballet has been staged some 150 times in 40 cities around the world, including such celebrated venues as Lincoln Center in New York, the Kennedy Center in Washington, D.C. and the Los Angeles Music Center. The work is the first creative piece based on a traditional tale from the Universal Ballet, Korea's biggest private dance troupe.
The three-act ballet is about a heroine named Shim Chung who voluntarily plunges herself into the Indangsu sea and becomes an offering to the Sea Dragon King to help her blind father regain his eyesight. The king, impressed with the girl's filial piety, places her in a lotus flower and sends her back to land.
The ending is happy-ever-after, with the girl marrying the king of the land to become a queen, and her father regains his eyesight. Filial piety, including sacrifice by children for their parents, is a prime Confucian value that is less important in Western culture, the ballet company said.
"A highlight of this production of Shim Chung is the fantasy world-like underwater scene, which has been created through digital video," said Julia Moon, general director of the Universal Ballet, in a recent press conference. "You will see a different, further evolved version of Shim Chung," she added with confidence.
The video depicts Shim Chung sinking into the water in the first act and the underwater palace shown in the second act. Performers will dance against the projection, using it as a backdrop. To prepare for the underwater scene, the ballet company's three lead dancers spent 13 hours in an aquarium at an underwater film shooting set in Gyeonggi in April.
A moonlit pas de deux, or duet dance, between Shim Chung and her husband the king is also known as one of the more notable scenes in the ballet. Five established and budding ballerinas - Hwang Hye-min, Kang Ye-na, Ahn Ji-eun, Kang Mi-sun and Han Seo-hye - will take turns in the lead role for a total of eight performances during the week-long run.
Director Moon, herself a prima ballerina for decades, appears in the ballet in a cameo for two minutes, playing an older Shim Chung. She retired in 2001 after sustaining an injury while dancing as Shim Chung, but held no farewell event or press conference at the time to cap her 40-year career.
Swan Lake, which started Wednesday, will continue until May 30 at the LG Arts Center in southern Seoul. Tickets cost 60,000 won ($52) to 120,000 won. For details, visit www.lgart.com or call (02) 2005-0114.
Shim Chung will run from May 24 to May 30 at the Opera Theater at the Seoul Arts Center. The cast changes every day, and the schedule can be found at the UBC homepage, www.ubcballet.com. Ticket prices are 10,000 to 80,000 won, and reservations can be made at www.sacticket.co.kr.