| | |
| --- | --- |
| | Hoon Sook (Julia) (Pak) Moon (wife of Heung Jin Moon) |
Julia (Hoon Sook) Moon awarded Korea's Order of Cultural Merit
Jo Jeong-Jin
October 16, 2010
The Seyge Times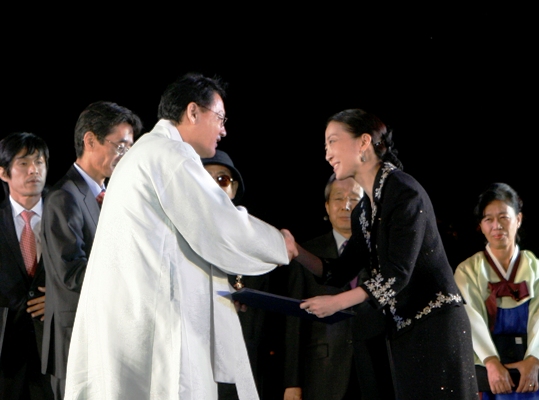 Mokpo, Korea: Julia Moon (right) receives the Order of Cultural Merit, Hwagwan Class, from Minister of Culture, Sports and Tourism Yu In-chon on Oct. 16, 2010. Photo courtesy of Universal Ballet.
Julia Moon, general director of Universal Ballet, has been awarded the Order of Cultural Merit, Hwagwan Class. The honor was conferred on her by Yu In-chon, Minister of Culture, Sports and Tourism, on Oct. 16 in Mokpo, South Cholla Province, during a ceremony marking the 2010 Day of Culture.
The Order of Cultural Merit recognizes persons who have made exceptional contributions to the development of culture and arts in Korea. Among ballet dancers, Kim Yong Geol and Kim Ji-young were recognized with the award in 1998, after winning first prize, couples, in the 8th Concours International de Danse de Paris.
In 1984, Ms. Moon was a founding member of Universal Ballet, Korea's first professional ballet company in the private sector, and she became its prima ballerina. She later became the first Asian to be invited by the Kirov Ballet to perform at the Mariinski Theatre, where she appeared in Giselle, Don Quixote, and Swan Lake.
Ms. Moon retired from the stage in 2001 and became active in the management of the company. During her tenure as general director, she has focused on broadening the audience base for ballet in Korea and engaging in social service projects. In a performance of Giselle in March 2008, Universal Ballet became the first Korean ballet company to provide real time Korean subtitles during a performance.
Ms. Moon's efforts to gain a broader audience for ballet in Korea are not limited to efforts in the theater itself. She frequently provides lectures on ballet at companies, museums, universities and other venues around Korea.
(Translation by Tongil Foundation)