| | |
| --- | --- |
| | Hoon Sook (Julia) (Pak) Moon (wife of Heung Jin Moon) |
Hoon Sook Moon receives Korea's top prize
November 5, 2011
Tongil Foundation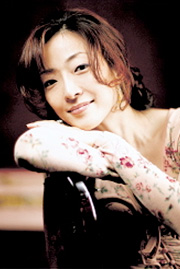 Julia (Hoon-Sook) Moon, founding member and General Director of Universal Ballet.
Julia H. Moon, director of Universal Ballet, was awarded the Kyung Ahm Academic Award Nov. 4 for her contribution to the development of ballet in Korea.
The award was made by the Kyung Ahm Education and Culture Foundation, a private foundation that annually recognizes Koreans who have made outstanding contributions in their respective fields.
"Julia H. Moon, already well-known internationally as a ballerina and the leader of Universal Ballet, has made great contributions to popularizing ballet among Koreans and to elevating Korean ballet to a global standard," the Foundation said in explaining its decision to award Mrs. Moon (far left in photo below).
The prize, which comes with a 100 million won cash award, is considered the most prestigious in Korea. Past recipients in the arts category include the violinist Kyung Wha Chung and pianist Kun Woo Paik. Mrs. Moon is the first to receive the award in the field of dance.
"I would like to share this award with the members and staff of Universal Ballet who have worked with me over the past 27 years to develop ballet in Korea, popularize it and bring it to a world level," Mrs. Moon said in a Twitter Message.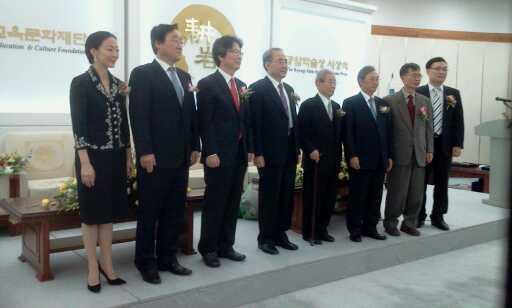 Universal Ballet is partly funded by Tongil Foundation.
Other recipeints this year were as follows. Prof. Young Shik Kim of Seoul National University (Department of East Asian History) and Prof. Hee Seong Gil of Seogang University (Department of Religion) were jointly awarded in the humanities and social sciences category. Prof. Byeong Hee Hong of Seoul National University (Department of Chemistry) received the award in the category of natural sciences. In the life sciences category, the award went to Prof. Gyu Yeong Go of the Korea Advanced Institute of Science and Technology (Graduate School of Medicine). In the category of engineering, the award went to Prof. Seung Woo Kim, also of KAIST (Department of Mechanical Engineering). In addition, Dr. Byoung Sun Park, a historian living in France, was awarded the prize of special merit.