| | |
| --- | --- |
| | Hoon Sook (Julia) (Pak) Moon (wife of Heung Jin Moon) |
Hoon Sook Pak Moon receives the International Citation of Merit
June 16, 2012
Tongil Foundation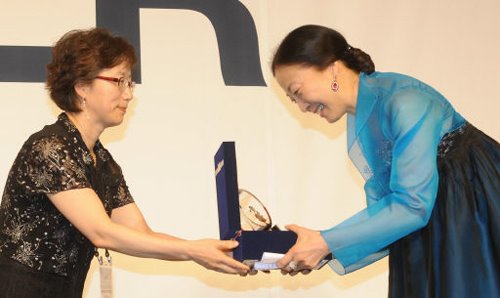 Hoon Sook Nim, General Director of Universal Ballet, is seen receiving the International Citation of Merit from Sun Hee Cho, president of the Seoul Foundation for Arts and Culture, on June 14 during the 26th World Congress of the International Society for the Performing Arts being held in Seoul.
The International Citation of Merit is presented for unique lifetime achievement which has enriched the international performing arts. This award is not for performance but rather for distinguished service working within the profession. For example work as a manager (artist/company/venue), in education, marketing and public relations, consultancy, festival director, acoustician, architect and other associated activities.
Tongil Foundation is a major financial contributor to Universal Ballet.