| | |
| --- | --- |
| | Hoon Sook (Julia) (Pak) Moon (wife of Heung Jin Moon) |
Universal Ballet Academy Opens with Hoon Sook Moon as Principle Dancer
Wendy Forster
March 24, 1989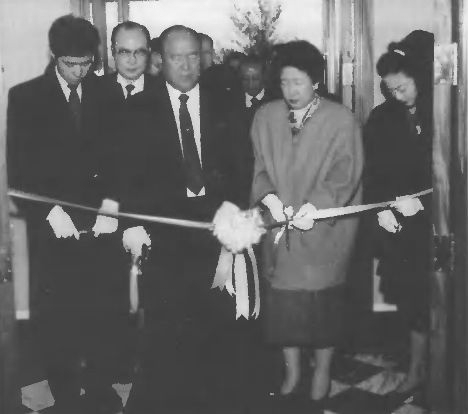 True Parents pray at the dedication ceremony.
Father and Mother officially inaugurated the newly completed Universal Ballet Academy building in Northeast Washington, DC on March 24 of this year.
The existing four story structure was restored and expanded according to designs by Robinson-Willis, a Washington-based architectural firm. A new addition houses four large dance studios, equipped with mirrors and barres. Dormitory facilities (thirty-two rooms), locker rooms, and a dining area are also in place.
Father held a brief dedication ceremony in the chapel, and toured the building with several members of the True Family. As a patron of the arts, he has launched several dance institutions in the past. Significantly, he founded the Little Angels Performing Arts Center (LAPAC) in Seoul, Korea, where students are trained at an early age in the fine and performing arts. Many LAPAC graduates study at institutions like Juilliard and Curtis.
Children in the dance department in Seoul choose between ballet and folkloric training. The resident folkloric troupe, the "Little Angels", has toured the world and performed for many heads of state.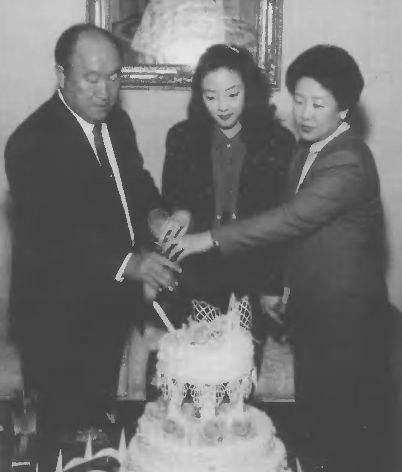 Father, Hoon Souk Nim, and Mother cut the cake.
The ballet department at the Korean school successfully evolved into the Universal Ballet Company, which holds regular seasons at the LAPAC Theater. UBC also performs in other Asian countries and plans to appear in the West. A number of principal dancers and teachers from the international ballet community have participated in Universal Ballet Company productions in Seoul. The artistic Director of the company is Roy Tobias, and principal dancers include Hoon Sook Nim, wife of Heung Jin Nim, and In Hee Kim. Dr. Bo Hi Pak is the President of the Universal Ballet Foundation.
In early 1990, the school will be opening with specialized seminars on specific aspects of ballet, and for general enrollment by dance enthusiasts in the Washington, DC area.