| | |
| --- | --- |
| | The Words of Sun Myung Moon from 2008 |
The coronation of God's kingship
Sun Myung Moon
January 28, 2008
True Parents' Welcoming Party
Translation of notes taken by the Unification Church History Committee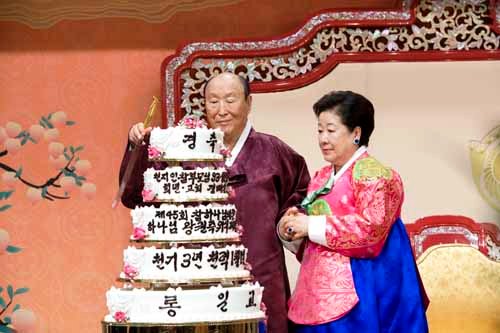 Sun Myung Moon and Hak Ja Han January 23, 2012
In this morning's Hoon Dok Hae a welcoming party was held for True Parents who had returned from Hawaii the other day. About a hundred members, mostly from the Gangwon region, came to participate in this morning's Hoon Dok Hae at Cheon Jeong Gung.
True Parents, who entered the room at 5:00 a.m. with Hyung-jin nim and his wife, cut the celebration cake and received flower bouquets from the members.
Father asked Mrs. Wonju McDevitt to read chapter ten from the Pyeonghwa Hoongyeong and explained that the emphasis in chapters ten and thirteen were on the absolute sexual ethics [absolute sex]. He explained that the coronation of God's kingship was held on the foundation of victory in both the physical and spiritual worlds centering on True Parents, and that after the coronation the entire spirit world, including the angelic world, was made as one, thus allowing the spirit world to subdue the physical world, the realm of Adam. When this is accomplished everything would be complete. Father re-emphasized the need to uphold the absolute sexual ethics, and that this was absolute necessary in creating a peaceful world. Father indicated that it was now time to eradicate by force this world which was never meant to be.
Mrs. McDevitt read the chapter ten. After she finished reading Father emphasized that there was not a single word or phrase that should be taken out of this message and reiterated that these words were a declaration. Father also reiterated that he taught us everything already and that there was nothing more for him to teach us. He reminded the members that as it was Adam and Eve who upset God's ideal it was up to the True Parents to make this right. He also remarked that nobody who knew the Principle would think that the coming lord would come on the clouds or amidst lightening.
Father then had Mr. Moon Doh Huh read the preface of the Pyeonghwa Hoongyeong. He then asked Rev. Peter Kim to read the speech Father was to deliver at the ground-breaking ceremony at the Hwayang Free Economic Zone which was to be held on January 29 (Tuesday).
After this Father asked Prof. Lan Young Moon to read chapter twelve from the Pyeonghwa Hoongyeong. After Prof. Moon finished reading the chapter Father asked Rev. Peter Kim to give a brief report on their visit to Hawaii.
Rev. Kim explained how Father had met quite a few significant figures did during his 17-day stay in Hawaii. Father met with the person who was regarded as the king among the natives in Hawaii, and a Christian minister from India who had been in Kona for thirty years. After talking to Father both of these people were transformed; they expressed their firm support to True Parents' mission with full understanding of what True Parents were trying to do. January 13 was the anniversary for the Coronation of God's Kingship. On that day, True Parents planted a tree in a plot within the vicinity of the King Garden official residence in Hawaii. True Parents planted an avocado tree while Shin-joon nim planted a Mango tree. Many Japanese leaders also visited True Parents while they were in Hawaii.
After Rev. Kim's report, Dr. Sun Jo Hwang gave a report on the recent providential developments in Korea. He then led the participants in singing 'Daehanjiri-ga.' Later Rev. Hyeong Tae Kim gave a testimony about how as a boy he met Yoon Gook Moon and studied Chinese characters under him.
At the end of Hoon Dok Hae Father indicated that he would be going to Yeosu. Hoon Dok Hae concluded around 9:13 a.m.