| | |
| --- | --- |
| | The Words of Sun Myung Moon from 2008 |
In God's mind national borders never existed
Sun Myung Moon
January 29, 2008
FFWPU International
Translation of notes taken by the Unification Church History Committee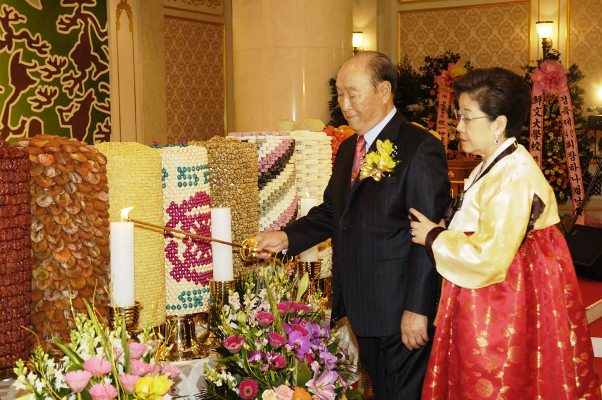 Sun Myung Moon and Hak Ja Han January 1, 2007
260 members mostly from Japan and the heads of providential organizations gathered in the hall of the Cheonghae Garden in Yeosu for this morning's Hoon Dok Hae.
During this morning's Hoon Dok Hae True Father emphasized that in God's mind the concept of national borders never existed, and that the devil existed within those borders constantly creating division and instigating conflict that was devoid of peace.
True Father reiterated the importance of the family saying that it was the source of one's birth and existence and from where the lineage, created through the love between one's parents, can continue. Father reminded the participants that the origin of that lineage did not come from human beings but from God.
Later during Hoon Dok Hae, Rev. Dow Soon Lym, chairman of the Unification Movement in Japan, talked about Father's uncle, Rev. Yoon Kook Moon, who had lived as a patriot. Rev. Lym then sang a song written by Rev. Yoon Kook Moon while the members from Japan silently paid their respects to Rev. Yoon Kook Moon.