| | |
| --- | --- |
| | The Words of Sun Myung Moon from 2008 |
Your actions must be clear
Sun Myung Moon
March 5, 2008
Hawaii
Translation of notes taken by Pyongil Communications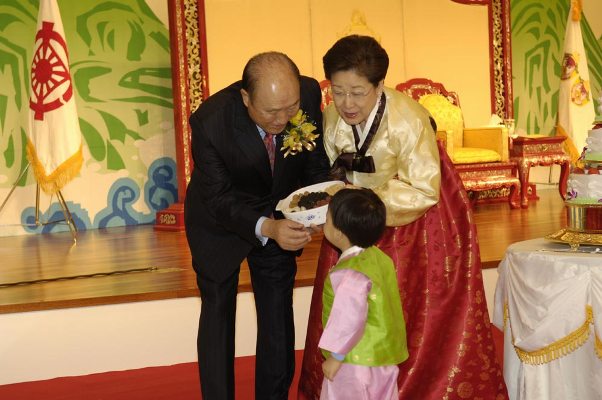 Sun Myung Moon and Hak Ja Han January 1, 2007
Rev. Jung Ok Yu offered a prayer to start this morning's Hoon Dok Hae.
The Hoon Dok reading was led by Mrs. Wonju McDevitt.
Rev. Peter Kim gave a brief report on the developments of the Family Party for Peace and Unity www.families.or.kr/. The Family Party for Peace and Unity in Korea completed the registration of its candidates who will be running for 254 local election districts, and held a ceremony on March 4 to launch its campaign. The ceremony was covered three times by KBS.
Summary of True Father's words:
If you wish to deal with the false world at once, your actions must be clear and you have to take responsibility for your actions. What good is it to announce something for which you do not take responsibility for? The word is out at how fearsome the Rev. Moon is.
No matter how hard people tried to dissuade them, people were joining our movement. Students brought friends to the church. Look at what they have become now. The very people who were persecuted have now grown to become people who calls the shots in the world. Heaven and earth must change.
Hawaii has served as a haven for people who were inept at working. You have to wake up.
What good is it to have blue eyes, brown hair and white skin? Members should not keep their nails long. That's where all the bacteria gather.
We may not have money but we know how to make money. It is good if you can work for ten to twelve hours a day.